5 Warning Signs of a Bad Cosmetic Surgeon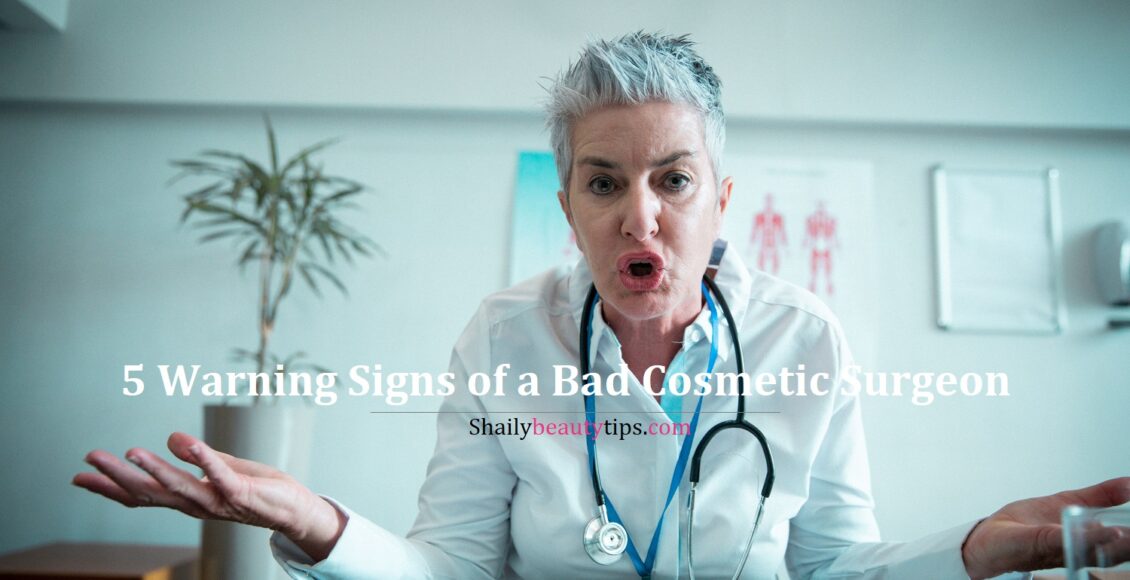 A cosmetic surgeon is a medical professional who deals with the reconstruction of a person's physical appearance. Cosmetic surgeries have been around for a long time and have been used to alter the physical appearance of a person, but they can have serious health consequences, especially if they are not performed correctly. Not just anybody can perform them. Therefore, it is advisable to seek a cosmetic surgeon who has a good training history and all the necessary certifications to ensure that the surgery you receive is of high-quality standards.
Here are some warning signs of a bad cosmetic surgeon, which will help you determine if you want to continue with your choice of surgeon or move on and find another.
1. Training Does Not Match the Field
When seeking a cosmetic surgeon, you should make sure your surgeon has specialized training in the procedures that you have requested. Your cosmetic surgeon should have enough knowledge of anatomy, surgery, and other medical facilities. The best thing would be to find a surgeon who has undergone training in the top schools to ensure they have been exposed to the proper training. A well-trained cosmetic surgeon will have no problem discussing their training and can answer your questions better. They will not hide the information from you.
2. Unhappy Patients
The best way to determine if your surgeon has expertise is by asking their patients. You should also talk with former patients and ensure that your surgeon has no history of bias or has been reported for unethical behavior. If a number of former patients had unsatisfactory outcomes and have needed procedures like a facelift revision to correct poor results, consider looking for another cosmetic surgeon.
3. Inconsistent Surgery
Cosmetic procedures such as breast augmentation and facelifts are done differently from one case to another, depending on the type of patient and what they want to achieve. If you want the best results from cosmetic surgery, ensure that your surgeon is always consistent in their work. Refrain from being tempted by the urgent nature of a bid to get your surgery done quickly.
4. Go with Your Gut Feeling
Your gut feeling is usually right. It would be best to trust your instincts when looking for a cosmetic surgeon, as it will help you determine whether or not the surgery is safe enough for you to risk. This can save you valuable time and money.
You must ensure that if you are searching for a cosmetic surgeon, you are not just looking at them on paper but working with them face-to-face. Before you make any final decision, meet with them and have an in-depth conversation so they can get to know what you want and how they can help you achieve it.
5. Unqualified Staff
A medical practice always uses a qualified staff to prescribe medications and stitch wounds. Cosmetic surgery requires special knowledge that cannot be acquired overnight. Your best approach is to check any cosmetic surgeon's credentials and ensure they have been qualified with some cosmetic surgery training. Also, you are paying for their expertise and experience, not their employee. This will come with time if the surgeon has been trained adequately before starting their career. You must thoroughly check the qualifications of any cosmetic surgery staff member before the surgery begins.
Conclusion
You need to know that cosmetic surgery should never be taken lightly. It is an opportunity to enhance your appearance and contribute positively to your life. You need to do some research before choosing a cosmetic surgeon.