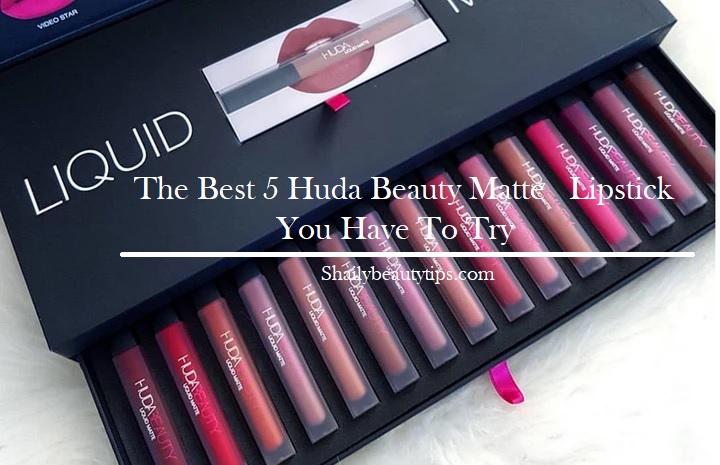 The Best 5 Huda Beauty Matte Lipstick You Have To Try
Any make-up look is incomplete without Matte Lipstick . Wearing Matte Lipstick is not only a style or fashion, but it also gives your lips care and protection from sunburn and dust. It takes better care of your lips in the way of exfoliation and hydration to avoid chapped lips. The mate Lipstick are made of colours, oils, waxes, moisturizers, and lip balms, these things help to make your lips softer and beautiful.
There are so many popular brands for lipsticks in markets like Lakme, Maybelline, Huda Beauty, Blue Heaven, Elle-18, Revlon, Nykaa, MAC, Lotus, L'Oreal, Colorbar, and, Masaba and many international brands. These brands deal with so many Lipstick styles such as shiny, mate, glitters, nude colours Lipstick to match your requirement of wearing lipstick on every occasion.
If you are in search of perfect Mate lipstick looks, then Huda Beauty lipstick is the end of your search. Huda Beauty lipsticks offer you many styles of matte lipsticks which make you fall in love with the Lipstick. This lipstick set is trending, as the colours of lipsticks are not at all common but at the same time, they are very exclusive. Huda Beauty is a brand that is being most popular these days among every age group of users.
Here are the collection of Huda beauty Matte lipsticks, Huda beauty matte liquid lipsticks for your gorgeous, soft, smooth, and perfect look. Huda Beauty Liquid Matte Lipstick is fabulous lipsticks, these are not too dry like other lipsticks. However, contains moisturizers & oils for your lips care. The shades are extremely pigmented and long-lasting and easy to blend. Huda beauty offers creamy liquid lipsticks, traditional matte bullet lipsticks, high-impact lip glosses, and contouring lip pencils that are ideal for overdrawing.
Huda Beauty Liquid Matte Lipstick
For the perfect matte looks for any special occasion or casual style, Huda Beauty liquid matte lipstick makes your appearance eye-catching and attractive. The 25 shades of liquid matte lipstick and 2 shades of metallic finish are available by Huda Beauty. The matte looks sometimes result in the cracked lips and spoil your looks. The long-lasting liquid matte lipstick has the liquid consistency for easy blending and smooth finish looks. The right way to make it long-lasting is that you need to give some time to let it dry once you apply the lipstick.
Huda Beauty Demi Matte Cream Lipstick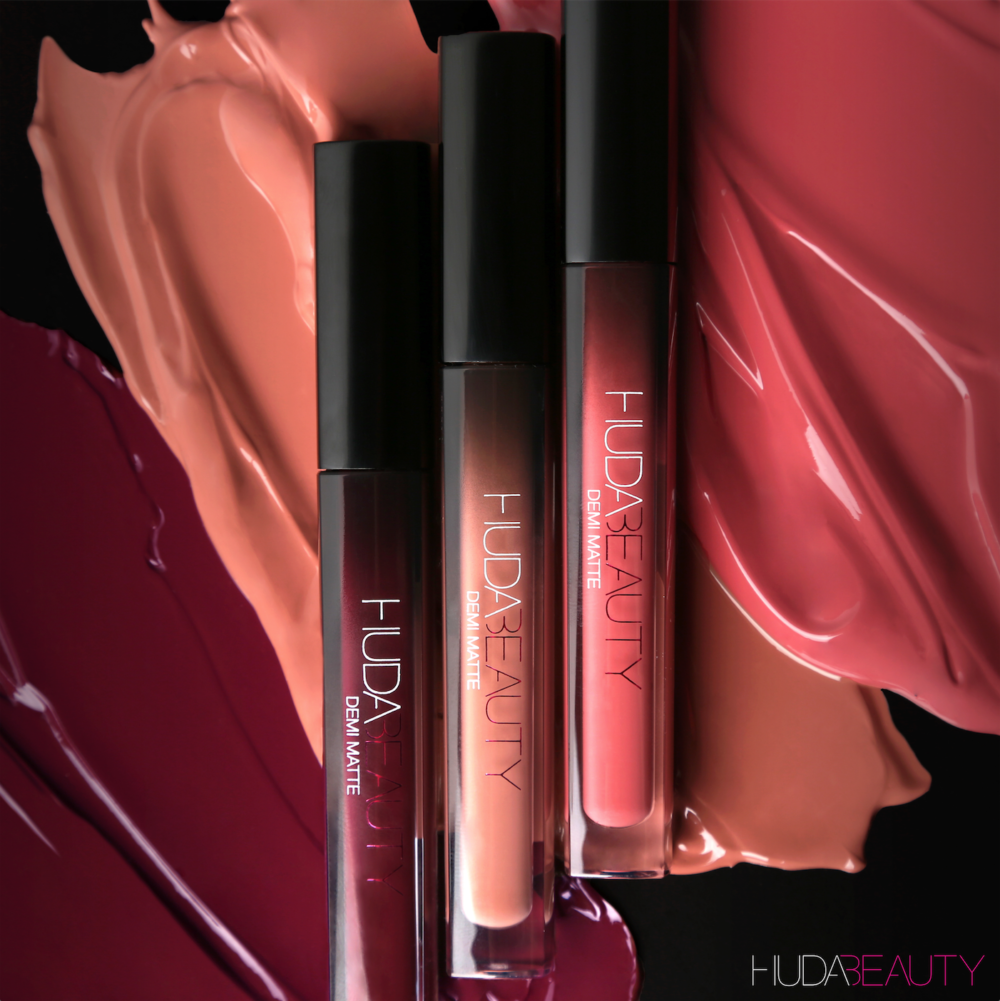 A creamy matte lipstick by Huda Beauty is made for creamy and velvet looks. This helps your lips look completer. The long-lasting Huda beauty Demi matte cream lipstick is designed for the extra superb looking. Demi matte style has a variety of nude shades for natural looks. The 15 creamy lipstick shades of mostly nude colours and few bold shades are in the collection of Huda Beauty. The liquid and cream base lipstick keeps your lips hydrated and beautiful. The perfect looks for the velvet and creamy lips, the lipstick should be applied evenly with a single layer.
Huda Beauty Lip Contour Set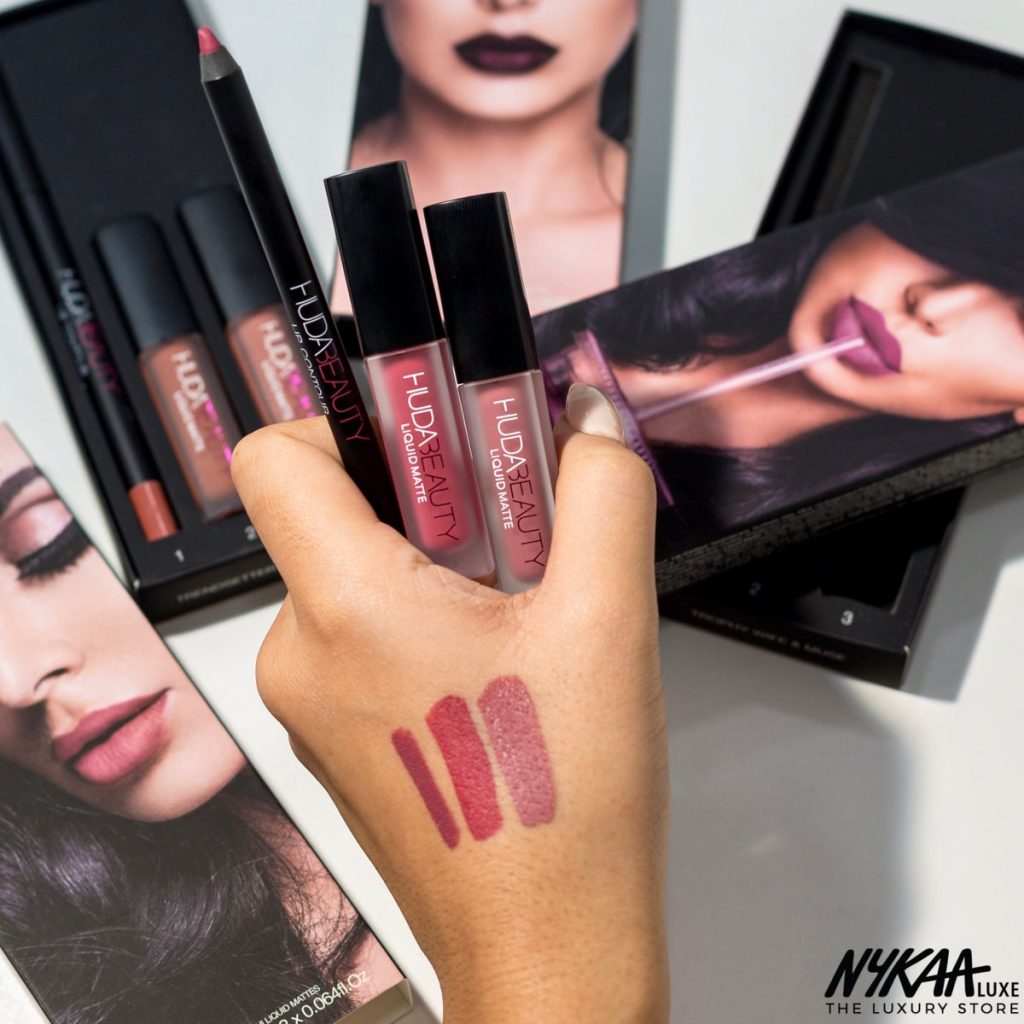 Huda Beauty Lip contour set is the set of 2 small liquid lipsticks with a lip-pencil to create a Contour look and overdrawing your lips easily. It contains one Huda beauty lip liner, 2 Huda beauty liquid lipsticks. The lip liner is provided to give a perfect and beautiful shape of your lips. The shades of the two lipsticks are the same, but one is lighter than the other one. The lighter shade for the middle side of the lips and dark one is for the outer side of the lips that is for perfect pout pose. The lipsticks can be also be blended before it gets dry to get a new exclusive appearance. The lip contour set by Huda beauty is travel friendly and easy to carry for full make-up looks.
Huda Beauty Power Bullet Matte Lipstick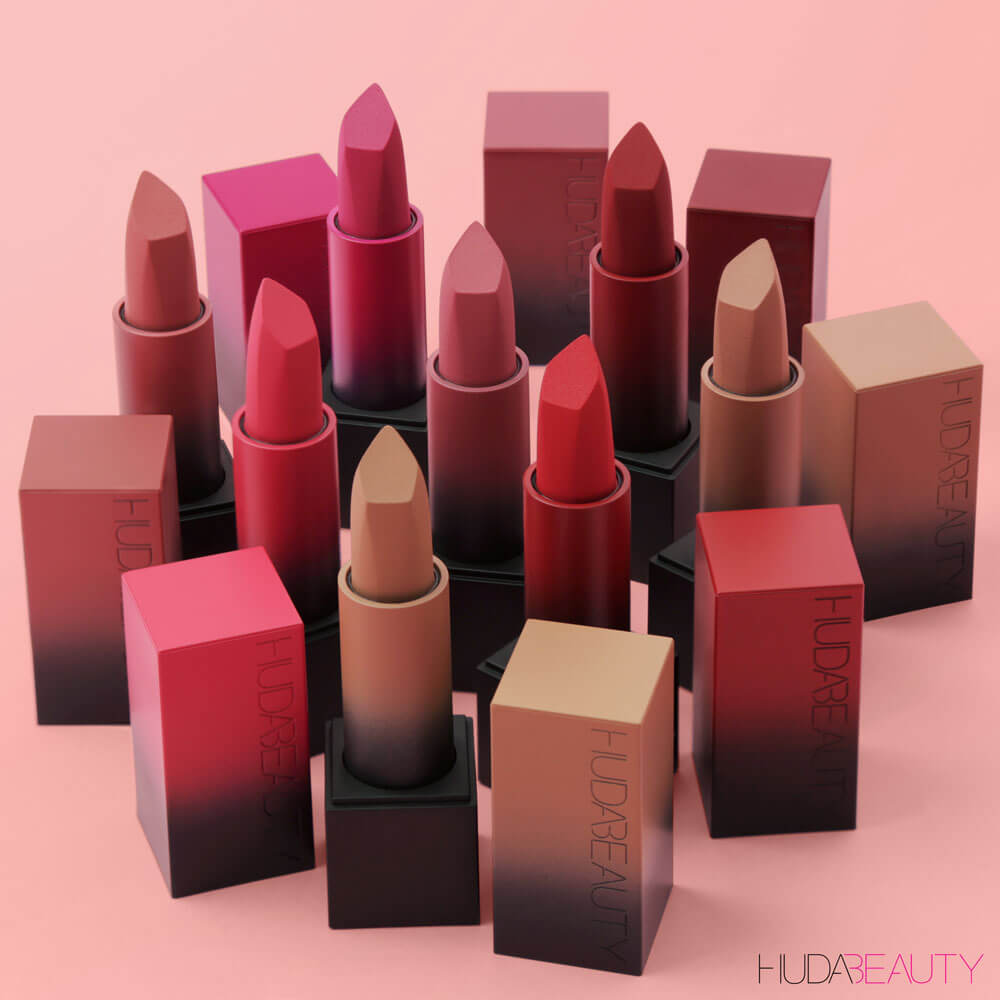 A highly pigmented matte lipstick by Huda Beauty offers stunning looks and unexpected comfort. The 22 shades of Huda Beauty Power bullet matte lipstick are suitable for any occasion with the different collections as "Icon Collection" it has the smooth, sexy & bold colours such as hot pinks, fiercest reds, and sexiest beige tones. & "Roses Collection" is inspired by the beauty of Roses and the shades are beautiful and comfortable. The exclusive power bullet matte shades are designed for your special wedding day, Anniversary, or valentine date.
Huda Beauty Matte Liquid Trophy Wife Lipstick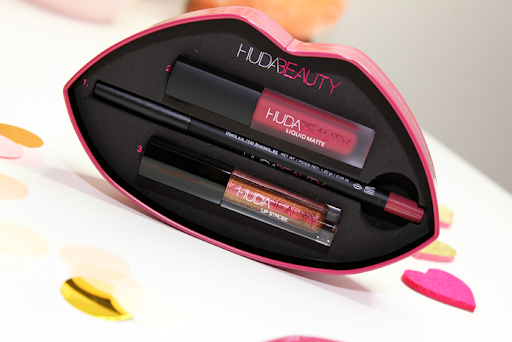 The most popular selling new matte lipstick by Huda Beauty matte lipsticks. The comfort wears matte lipstick with an exclusive liquid formula to maintain the hydration of your lips. The lipsticks are lightweight and long-lasting staying power, even a thin layer coat on lips might get a perfect matte look. Huda Beauty Matte liquid Trophy wife lipsticks are amazing with a transfer-free finish. The Huda beauty lipsticks complement the beautiful looks completely.