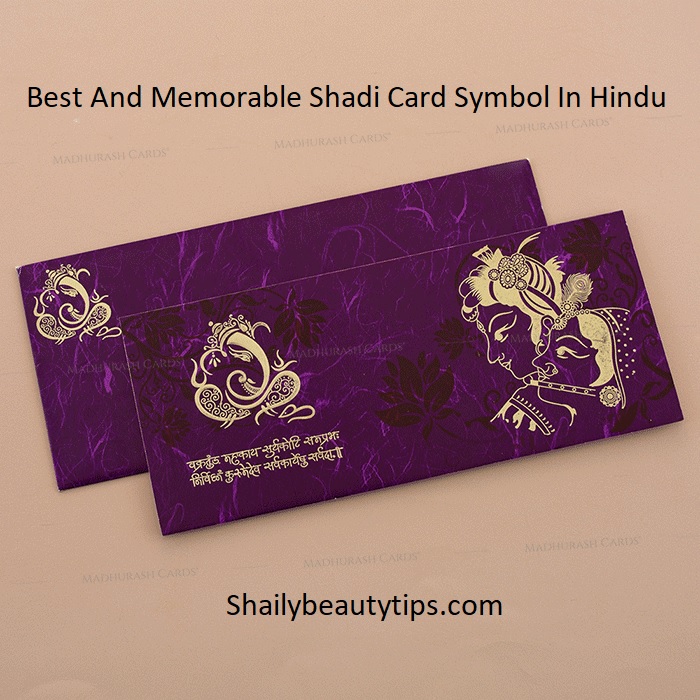 Best And Memorable Shaadi Card Symbol In Hindu
Both bride and groom decide the perfect Shaadi card is such the toughest work. Not only the wedding card design, but writing on the inside of the card is equally important. The matter of the wedding card is good, it affects as many people as possible to invite your guests to who will be invited to your wedding. Through the wedding card matter, people get to know the wedding details
For example, the venue of your wedding hall, the marriage date, and even the bride and groom's family can be known by your right wedding card. You can get lots of designs for your wedding card such as peacock, Diya, swastika and OM, Lord Ganesha and many more.
Indian wedding cards are written in both languages like English and Hindi. But remember that the word you used in the card should be very simple language so that the people easily understand. The main purpose of distributing the card is to get blessings from your guests. Blessings are very important for both bride and groom.
Here are Some Symbols and their Meaning Which You Can Add to Your Shaadi Card-
Ganesha symbol
Swastika symbol
The symbol of OM
Kalash Symbol
Heart sign
Peacock design
Radha Krishna design
1. Ganesh Symbol
Indian people strongly believe that Ganesh Murti brings good luck. Weddings are a big day so when you make a card then prefer to add the Ganesh symbol on your wedding card. They believe that through these cards couples get lots of blessings. It will be a happy start.
2. Swastika Symbol
Put these symbols on your card to collect the happiness and peaceful life for the would-be couple.
3. The Symbol of OM
OM is the symbol that signifies the deep Indian culture in our society. Hindu people believe that the Om symbol can save our life.
4. Kalash Symbol
This symbol of Calash symbolizes bliss and joy.
5. Heart Sign
Heart signs are very popular for couples.  On your wedding day, the two hearts are connected with each other. So when you choose the card to invite your friends, relatives and neighbours for your wedding day, the heart sign on the cover page will be the perfect one.
6. Peacock Design
These designs in your Shaadi card will be unique. This design inspired everyone. Your card looks so awesome.
7. Radha Krishna Design
When the talk about love first comes to our mind, it is Radha Krishna. The goddess picture in your card not only makes your card adorable but also brings your wedding a happy vibe. This design of your Shaadi card really matters on your special day.
Some people prefer to add some heart-touching shear, quotes and beautiful wedding lines to your shade card. Through these cards, people remember your wedding.
After designing your Shaadi card then comes the Shaadi card matter. In this card design is not only important but the Shaadi card matter is also important. After choosing the colour you have to add some lines. Someone starts their card with the line "Subh Vivah" and the details about the couple's family. Through this card, everyone knows the details about the bride and groom. Also, you can write the lines "Sri Ganesha". Starting with this line gives your card a traditional touch.
These Shadi cards matter in Hindi articles hopefully helpful for you. Above this article, you will get some Shaadi card design ideas and also know about Shaadi cards. I hope everyone likes my article. Thank you!