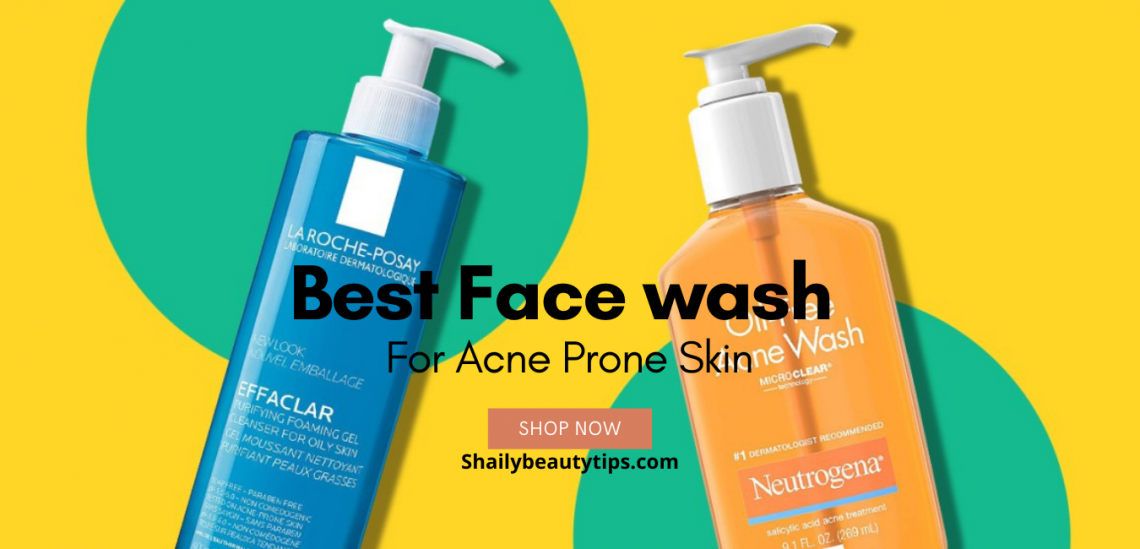 Best Face wash For Acne Prone Skin
From ancient days the whole human being, especially the ladies are much concerned about their skin. And our most interest is all about our face. There are mainly four types of skin- oily, dry, normal and sensitive. Oily skin is too much irritating as oils continuously seep from the face. It easily absorbs dirt. It is very hazardous to manage. Again and again, we have to use tissue or another solution to reduce the oiliness. Heavy weighted moisturizer or makeup can be harmful to it. Next is dry skin. It causes a lack of water in the skin. In this stage, the skin becomes so rough and tend to be cracked. It demands heavy moisturizer and essential oils for soothing. So this face wash becomes a boon for the skin.
Harsh chemicals can damage this type of skin. The third one is normal skin. It is the best skin type. As it demands no extra care and is suitable for all-weather and every cosmetics. And the fourth one is sensitive skin. It is the riskiest one. All cosmetics or products are not acceptable to this skin. It always needs too much care.
We have to use always mild products to nourish this type of skin. Even this skin becomes the reason for many sleepless nights of numerous ladies. Sensitive skin is very acne and rash prone skin. Though oily skin also is the source of acne.
Do You Know What Is Acne?
Acne is a type of skin disease. When the hair follicles become clogged with excess oils and dirt and dead cells. Then it appears in the form of a little bump. Now the question will be how do you clean or remove the acne from your beautiful face! It is too important to use the right face wash for acne-prone skins. In this article, we are going to give a list of the best face cleansers for acne-prone skin.
A-List Of Some Best Face Wash For Acne
If once the acne occurs on your face. It makes our faces ugly. Even it is the highest concern from teenagers to adults. Mainly from the teenage, the acne gets started. So let's focus on the best face cleanser for acne-prone skin in the following.
1. Himalaya Neem Face wash
In ancient days, when there was no more population of cosmetics. Then the herbs, leaves of many trees, many useful spices, sandalwood etc. were used as the treatment of any kinds of wounds and skin diseases.
To retain this idea, the Himalaya company had launched a face wash in the name of Himalayan Neem Face wash. Neem has packed with anti-bacterial quality to fight against acne.
And the face wash was also turmeric in it. Turmeric helps to reduce whiteheads, blackheads, acne scars. This face wash has the potential to control excess oil in your skin. It is fully soap-free. According to the price, Himalayan Neem Face wash is one of the best effective face washes.
Pros:-
Always available in the Indian market.
It is not harsh and effective.
Himalaya neem face wash has anti-bacterial property neem.
It has also turmeric.
This face wash restraints additional oil.
It can clean dirt well.
Also, it has been dermatologically experimented.
It treats acne well.
Cons:-
Buy From-
2. Cetaphil Gentle Skin Cleanser
Are you looking for the best cleanser type face wash for acne? Then here it is Cetaphil gentle skin cleanser to fight against skin disease. It prevents to clog the open pores. And also fights against pimples, black and whiteheads. Dermatologists have approved it as one of the beneficial cleanser for acne prone skin. It is suitable for all skin type.
Pros:-
The Cetaphil face wash is a mild cleanser.
It prevents the pores to be clogged.
This face wash helps to remove pimple.
Approved by dermatologists.
Suitable for all skin types.
It is available in a decent packaging.
Cons:-
It has the existence of paraben.
Buy From-
3. Neutrogena Face wash
Neutrogena is one of the best face washes for acne-prone skins. It is effective for both oiliness and acne. It has salicylic acid. This acid actively helps to fight against acne and blackheads.
It goes deep under the layer of skin. Neutrogena face wash cleanses the skin well and reduces the extra oil. It also cleanses the pores. So that it is very helpful to prevent acne. The dermatologists also have preferred this as a decent exfoliator. The packaging is also good.
Pros:-
Best for oily skin to reduce oil.
Best for acne.
It has salicylic acid.
It can clean our skin deeply.
Good for blackheads.
Dermatologically examined.
Free from alcohol.
The packaging is well.
Cons:-
For dry to normal skin, it may feel a little dry.
Buy From-
4. MCaffeine Neem Face wash-
MCaffeine is now the popular name among the beauty freak people. It is famous among numerous YouTubers also. It is made in a combination of neem and caffeine. Neem has anti-bacterial agenda for preventing acne. Caffeine can improve the quality of the skin. It maintains the good health of our skin.
Pros:-
It has neem, caffeine.
Helps to remove acne.
It also reduces excess oil.
It can clean our skin well.
Helps to brighten our skin.
Cons:-
The packaging of this product is a little messy.
Buy From-
5. Lotus Herbal Tea Tree and Cinnamon Anti Acne Oil Control Face wash
The name of the face wash indicates that it is the perfect one to fight your acne. The existence of tea trees and cinnamon make this face wash very beneficial.
As these have the capability to remove acne and scars. Even it also helps to prepare your skin acne-free for future days. Not only acne, it moreover reduces the additional oil from your skin. This face wash is able to provide you with a clean and bright face.
Pros:-
Budget-friendly and easily you can get it in the market.
It helps to prevent acne.
Helps to reduce acne scars.
It curtails extra oil.
Cons:-
It is slow in work. So you have to wait patiently.
Buy From-
6. Aroma Magic Neem and Tea Tree Face wash-
Where the neem and tea tree both include together in a single package. Then it must be a good one to use. Neem is anti bacterial and tea tree has also anti acne agents. Both can fight against deep acne. It is a pure and natural face wash.
Pros:-
The price is pocket friendly.
It is 100% natural.
It has no alcohol, soap, artificial fragrance and colors.
It combats against acne well.
It helps to get brighten skin.
It is also clinically proven.
Cons:-
It is not perfect for sensitive skin.
Buy From-
7. Clean And Clear Pimple Clearing Face wash-
One of the most popular and ancient brands is Clean And Clear. Once, from teenagers to adults everyone used to go for this face wash only. From the name of this face wash, you can understand that how much effective is this! It has neem, lemon which are all anti-bacterial. Neem helps to decrease pimples, acne. Lemon helps to clear all scars, bleak heads etc.
Pros:-
Easily got in the shop.
Reasonable at cost.
It has neem and lemon.
Helps to remove acne.
It can be able to reduce excess oil.
Cons:-
The packaging is just okay type.
Buy From-
8. VLCC Tusli Acne Clear Face wash-
VLCC is one of the best face cleanser for acne prone skin. It is also an ancient renowned brand. Tulsi leaves are very helpful to treat various diseases. And it is too good for the skin. So the VLCC face wash has Tulsi as its hero ingredient. It has many microbeads. These beads exfoliate our skin deeply.
Pros:-
Reasonable to buy.
It has the good property of Tulsi.
It has microbeads for exfoliating.
VLCC Face wash has also packed with Vitamin E.
It can peel off makeup from face.
Cons:-
Buy From-
9. Kaya Acne Free Purifying Cleanser-
In nowadays, Kaya is a very prominent name among those who are concern about their skin. The name itself suggests that it can combat against acne. And Kaya facewash itself is also a good cleanser for intense cleansing. It has salicylic acid in it.
Pros:-
It consists of salicylic acid.
Prevents acne from the skin.
It can clean the skin deeply.
It is able to remove blackheads.
Cons:-
Parabens are in it.
It retains also sulphates.
Buy From-
10. Jovees Oil Control Face wash-
The face wash Jovees consists of Tea tree. We all know that Tea tree is too much effective on acne. It is a natural face wash. And it fights against the acne and the scars. It also controls spare oils from face.
Pros:-
Inexpensive to buy.
It helps to remove acne.
It is able to remove blackheads also.
Jovees face wash controls oil.
It is a pure natural face wash.
Cons:-
It is not made for sensitive skin.
Buy From-
11. AHAGlow S Foaming Face-
This face wash works like both face wash and scrub. It contains glycolic acid. Glycolic acid helps to work like a scrub. Scrub can remove all the dirt from our skin. And it also prevents acne well. In a word, it is able to give glowing skin.
Pros:-
This face wash is very useful to resist acne.
It also reduces blackheads and whiteheads.
It can be used as a scrub that is able to clean deeply.
Provides a soothing effect.
It has Vitamin E which nourishes the skin.
Cons:-
It is partially harmful to sensitive skin.
Buy From- 
12. Avene Cleanance Gel-
Among multiple face wash, Avene Cleanance Gel face wash is one the best face cleanser for acne prone skin. It has a lot of avene thermal spring water.
This water helps to sooth your skin. And also it keeps our skin more healthy. For water, it is able to maintain the proper PH balance within your skin. It excellently fights against acne. Also is able to combat the black and whiteheads. You will feel soft after using this face wash.
Pros:-
This cleanser gel diminishes acne.
It also can reduce blackheads and Whiteheads.
Avene can conserve the PH balance of our skin.
This cleanser cleans our skin very well.
Avene makes our skin so delicate and soothing.
Cons:-
Buy From- 
13. The Body Shop Tea Tree Skin Clearing Face wash-
We have already realized that how much useful the Tea tree oil is! In this face wash, there are Tea tree components. It is much active in fighting against acne. Even this face wash is very powerful to give you excellent skin.
Pros:-
The brand of this face wash is so reputed.
It can reduce acne.
This face wash can lighten the acne marks from your skin.
Also, it controls additional oil.
Gives a glow on your face.
Cons:-
It is better not to be used on sensitive skin.
Buy From- 
These are some best face cleansers for acne prone skin. We have spoken of every useful ingredients with which the face wash were formulated. Even the pros and cons can help you to choose your preferred one.
Conclusion:
In the above, some best face wash for acne-prone skin are mentioned. These all are mostly available in the market of India. Most of the face wash is made with good components which have the capacity to compete against acne. Not only acne, but it also is able to lessen acne scars, blackheads and whiteheads.
So you will get more benefits in a single face wash. But you have to maintain yourself a bit more. With the usage of face wash, you have to keep aside junk and oily foods.
Junk foods are also the reason for excessive acne. You have to drink more water and keep hydrated always. Maintain a healthy routine, food habit and quality sleep can help you to stay looking fresh and gorgeous naturally.