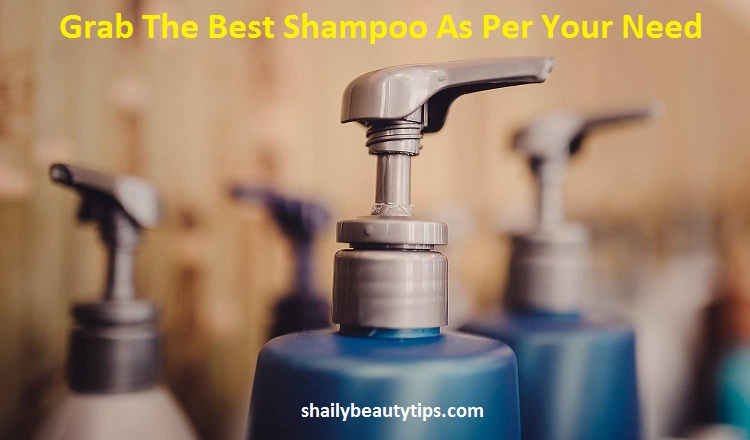 Grab The Best Shampoo As Per Your Need
In the ancient days, the word 'champo' was so famous. What is it? The mothers or grandmothers massaged the head, scalp, and hair by pressing decently with oil or any other herbs, etc. From this Hindi word, 'champo', the word 'shampoo' was derived. Shampoo is also an item that is used to massage or press our head, scalp, and hair. In the recent era, there are countless variations of shampoo in the market. And it's tough to claim one among them which is the Best shampoo in the world. First of all, we need to know about the benefits of shampoo.
Benefits of Shampoo:-
Nowadays, a week without using shampoo is beyond our thinking. As it has lots of benefits, we are obliged to use it.
Shampoo firstly cleans the dirt, pollution, excessive sticky mess from your hair.
It can give your hair a silky and shiny look.
Shampoo can remove dandruff from the scalp.
The Best shampoo for hair growth can help to regrowth of your hair.
The Best shampoo helps to remove lice from your hair too.
Some Best Shampoo For Removing Dandruff:-
Dandruff is the most common problem among numerous people from girls to boys. It's a type of scalp disease. It's too odd to go out with a head full of white chunks of dandruff. Excessive dandruff can be the reason for rashes on our skin. For dandruff, sometimes your scalp may be infectious. Anyway, we have to find the best shampoo in the world to remove dandruff.
1. Nizoral A-D Anti Dandruff Best shampoo:
When you will go to a doctor to get the solution for your dandruff issue. Most of the doctors will prescribe Nizoral anti-dandruff shampoo. It has ketoconazole which is the best effective element to fight against dandruff. And so that it's the most popular Best shampoo in this matter.
2. Head & Shoulder Anti-dandruff Bestshampoo:
One of the vastly popular names is Head & Shoulder Classic Clean Anti-Dandruff Shampoo. It is dermatologically tested and has proven its capacity. The hero ingredient is pyrithione zinc which can control the spread of dandruff on the scalp.
Buy From- Amazon
3. Remedies Anti-Dandruff Therapy shampoo:
The famous dermatologist Dr. Joshua Zeichner has recommended us Kemedies Anti-Dandruff Therapy shampoo. This Bestshampoo is also loaded with pyrithione zinc, Chinese botanical elements, and other ingredients which are helpful to remove dandruff.
Buy From- Amazon
4. Neutrogena T/Sal Shampoo:
Neutrogena is a prominent brand nowadays. This shampoo contains 3% salicylic acid. Salicylic acid has lots of benefits from fighting against dandruff, irritation to remove the excessive oil from your scalp.
5. L'Oréal Paris EverFresh Anti-Dandruff Bestshampoo:
The most fashionable name and the craze of younger in recent years. Among so many excellent products of L'Oréal, one of its best editions is L'Oréal Paris EverFresh Anti-Dandruff Shampoo. It has no sulfate, so it's safe to be used. It easily helps to remove dandruff after using a two to three-time.
So you can try these above-mentioned shampoos for your dandruff issue.
Some Bestshampoo For Hair Growth:-
Presently, whenever we go out, we have to stay not only under a scorching great of Sun but also in pollution too. The heat, pollution is harmful to our hair as well as our skin. Apart from that, today's generation is crazy to eat junk foods. Having excessive junk foods, their stomachs may disturb a lot and liver function may be hampered. And for all these reasons, they are starting to face hair loss problems. We all know that hair is the pride of women. But nowadays, hair fall has become the most wanted anxiety among women from teenage to old age. So there is some best shampoo for hair growth, which we are going to mention below.
1. Redken Extreme Length:
Redken becomes popular for its hair growth shampoo named Redken Extreme Length Bestshampoo. The shampoo is made of Biotin formula. We all know that biotin is an essential component of our hair and skin. And it has that essential component that helps to prevent hair breakage and to grow new hair.
2. Amway Satinique Hair Fall Control:
One of the most popular brands with huge quantity products. Among so many good products of Amway, the Satinique Hair Fall shampoo is the famous one. And it also got Patent for its best quality. This shampoo firstly tightens the thin layers of our hair and prevents us to fall more. Besides this, its Enerjuve Complex helps in the regrowth of hair.
3. Biotique Bio Keep Fresh Growth Protein:
There are limitless reasons for your hair loss. Even you can't detect for what you have lost your hair. But the basic reason can be the lack of protein in your diet. As your hair also demands protein to keep healthy. So you have to deliver protein through shampoo and for this Biotique Bio Keep Fresh Growth Protein Shampoo is for you. It is loaded with neem, amla, essential protein elements, anti-bacterial formula, etc. So it can help to grow your new hair certainly.
4. Trichup Complete Hair Care:
This is an excellent shampoo with the goodness of Vitamin B12, Aloe Vera, and other herbs. It can fight against the itchiness of the scalp, prevent hair fall and help to grow hair. this also enables to keep the roots of hair strong enough. It can clean our hair well and give a smoother texture.
5. Watermans Grow Me Shampoo:
One of the modern formulas added to shampoo for hair regrowth is Waterman hair growth shampoo. The name of the shampoo is Grow Me Shampoo Grow More Excilir for hair growth for men and women. First of all, it is fully sulfate and paraben-free. This brand is based in the United Kingdom. It is compressed with Argan oil, Caffeine, and Biotin. These elements can give shine to your dull hair. The protein formula helps to keep the hair healthy and bless us with new hair. It also keeps our scalp fresh and healthful.
The above spoke of shampoos as the best shampoo for hair growth, which is available in the market.
Some Best Shampoo For Silky Hair:-
As hair is the pride of every woman. So that the hair needs to look more silky and shiny. The silky smooth hair raises the beauty of a woman's face. Some women are blessed to have silky hair naturally. But in this polluted world, the hair becomes dry, rough, and frizzy. So to get silky hair, many prefer artificial straightening or smoothing. These are better to be avoided. As they are harmful to your hair. But there is some best shampoo in the world that can give you your desired hair. Let's check them out.
1. L'Oréal Paris 6 Oil Nourish:
Applying oil on hair is now backdated. Most people hate oil massage. But oil is the best component that gives you a shiny look in your hair. So the great brand, L'Oréal has invented an excellent shampoo with six essential oils- coconut, jojoba, argan, almond, olive, and camelina oils. The richness of these six oils keeps you healthy and prevents breakage. It makes your hair soft and smooth.
2. TRESemme Expert Selection Keratin Smooth:
One of the most famous brands in recent years. We all know that Keratin protein is too good for our hair. And the TRESemme shampoo is blessed with Keratin. So after using this shampoo, your hair will be so delicate that you fall in love with it. The shampoo has also argan oil. It helps to clean our scalp deeply.
3. Herbal Essences bio: renew Argan Oil of Morocco:
We all are crazy to get shiny hair. And for that, we are ready to invest in the best shampoo in the world. Herbal Essences bio: renew Argan Oil of Morocco Shampoo is one of the best suggestions. As the argan oil in this shampoo is taken from Morocco. Not only that but it is also packed with Vitamin E and antioxidants. This shampoo protects our hair from pollution and UV rays. It makes our frizz-free and glossy.
4. Pantene Pro-V Silky Smooth Care:
Pantene is also a renowned brand in the market. It's one of the best creations is this Pro-V silky shampoo. It has Keratin technology which protects our hair from pollution and dirt. And keep our hair bouncy and lofty.
5. Wow Apple Cider Vinegar Shampoo:
Vinegar is the most common ingredient available in our kitchen. But hair with vinegar is quite unexpected. But it works so well. It helps to return shine on the dull hair. It also helps to clean our scalp. And makes our hair silky, shiny, and smooth.
So you can use any one of these mentioned shampoos.
Conclusion
This article will help you choose the best shampoo in the world. From dandruff removal to get silky, shiny hair, these shampoos are suitable for any type of hair. So try this soon.