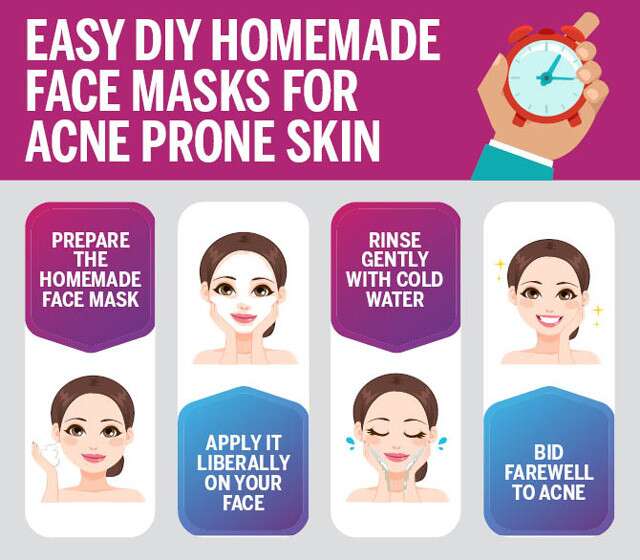 Do You Want To Know The Best Face Packs of Acne Prone Skin?
"Cleansing, Toning And Moisturizing"
In short CTM, is a must-do job in our daily life? Today we have to go out for earning our living. Sunlight, pollution, dirt, germs everything is absorbed by our skin. Especially, those who have oily skin and sensitive skin have to suffer a lot. Because the scorching heat can be the cause of your tan. And pollution, dirt, germs can be the cause of your acne. There are so many people who have acne-prone skin. This type of skin is very risky for experiments of any kind of chemical products And this type of skin needs extra care. So the face wash or the cleanser is not enough for this acne-prone skin. Now, what will be the way?
If you really want to take care of your acne-prone skin, then starts to use face packs. The face pack is a thick mixture of some skin-friendly ingredients. It has to be spread on your face adequately. Then wait some time for drying. After drying, it is removed like a mask. In this article, you are going to be given some best face packs for acne-prone skin.
A-List Of Five DIY Best Face Packs For Acne Prone Skin
As a face pack has a thick consistency, it can clean the pores of your skin from the depth. Acne is also a big issue that makes beautiful faces look unpleasant. If you try the face packs with homemade ingredients. It will surely impress you without any expense. So let's try some Do-It-Yourself best face pack for acne-prone skin.
1. Turmeric And Honey Face Pack-
A kitchen without turmeric is just impossible to think. Turmeric is an essential ingredient that is always available in your kitchen. And honey is also the most popular particle in every home. Turmeric has anti-inflammatory power. And honey has a moisturizing effect. So mixing both of them can give a wonderful face pack for acne. Even it will give a radiant glow to your place after using consistently.
Usage:-
First, mix turmeric and honey into a bowl and make a thick mixture.
After washing your face apply it on your face and keep it for 10-15 minutes.
Lastly, wash it with lukewarm water.
2. Turmeric And Neem Pack-
The two most important ingredients of your face pack are easily obtainable. Turmeric has an anti-inflammatory agent and neem has an antibacterial agent. Both can fight well against deep acne and acne scars.
Usage:-
First, collect some neem leaves and wash them well.
Then crumble the neem leaves into a grinder.
In the mixture add a half tablespoon of turmeric and blend it well.
After applying it, let it dry for 15 minutes.
Lastly, wash it with lukewarm water.
3. Aloe Vera Face Pack-
It is the most common plant in every corner of a house. Aloe Vera has lots of good qualities. Taking Aloe Vera juice on an empty stomach is very beneficial. Like this, Aloe Vera is very essential to fight against acne. And it gives a cooling effect on the skin irritation too.
Usage:-
First cut some Aloe Vera leaves and wash them properly.
Then take out the gel inside from the leaves and apply it to your acne.
After 10 minutes you can wash it with lukewarm water.
3. Honey, Gram flour And Yogurt Face Pack-
Honey and yoghurt are both able to moisturize our skin well. Yoghurt also removes the deep and dark scars from our faces. And the gram flour or besan has a huge capacity to brighten our skin. It also tightens our skin and combat acne deeply. So this will be the best face pack for acne-prone skin.
Usage:-
Take a bowl and add gram flour, yoghurt and honey.
Mix all these very well and make a paste.
Apply it on your whole face and neck too.
After 10-15 minutes clean it with lukewarm water.
4. Tea Tree Oil and Egg White Face Pack-
Tea tree oil is one of the most demanding ingredients. As it has loaded with antibacterial components. On the other hand, egg white consists of a natural conditioning effect. It can tighten our skin. These two things make the best face pack for acne-prone skin.
Usage:-
Take a bowl and mix an egg white and one drop of Tea tree oil well.
Apply the smooth paste on your face.
Let it dry for 10 minutes.
Wash it well with lukewarm water.
Apart from these five mentioned DIY face packs, there are some good readymade face packs available in the market.
Kama Ayurveda Anti Acne Face Pack- This face pack is mainly created to treat acne, pimples on your skin. It consists of so many useful components like – ashwagandha, liquorice, vitiver etc. Use this face pack twice a week for a good result.
Biotique Bio Clove Face Pack- The full name of this face pack is Biotique Bio Clove Purifying Anti Blemish Face Pack for Oily and Acne-prone skin. This face pack is natural and made with clove, turmeric and other natural ingredient. It can remove the acne well.
Richfeel Anti-Acne Face Pack- It is one of the best face packs for acne-prone skin. It has been compressed with powerful agents. It removes the dead cells from the skin. And also reduces acne.
Vaadi Herbals Anti Acne Neem Face Pack-It is also a most promising face pack. It consists of neem, clove, turmeric. These all have the capacity to fight against acne from the depth. It can purify our skin and make it glowing.
Aroma Magic Anti Acne Calamine Face Pack-Calamine has lots of benefits on our skin. It can reduce excessive oil and remove acne, dead cells from our skin. So this will be the best face pack for acne-prone skin.
Conclusion
If you have time for yourself, then try the DIY face packs obviously. But if you have a busy schedule. Then go for the market-ready face packs. But a healthy lifestyle can get rid of this acne forever.