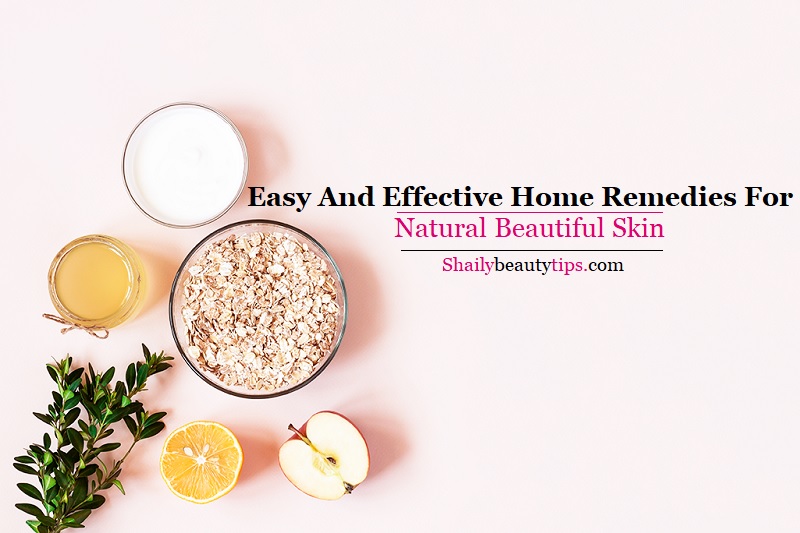 Easy And Effective Home Remedies For Natural Beautiful Skin
Remember the days when having Beautiful skin was just a woman's priority! Everyone nowadays wishes for softer, smoother, and, of course, blemish-free radiant. With our hectic schedules, irregular eating habits, insufficient sleep, and pollution, getting beautiful, picture-perfect, glowing skin has become challenging, if not impossible.
These three words you probably hope never to hear describe your skin as hyper pigmented, dull, and lifeless. But, when hormones, dry weather, or sun damage knock on your door, this dirty vocabulary may be far too realistic.
So what is the good news? You probably already have the materials for a skin-saving treatment in your cupboards.
There's a home remedy for everything, whether you need moisture, exfoliation, or toning help – and whether you want results in an hour, a day, or ten days. To acquire glowing and smooth skin as soon as possible, use any of these tips.
1. Honey
Honey is not just for your cornbread or the bees. It moisturises and nourishes your skin while also functioning as an acne remedy.
The trick is to use raw honey that has not been treated and still contains beneficial microbes.
The bacteria collaborate with your body's natural immune system to minimise inflammation and irritation while also fighting acne-causing germs. It can even aid in the healing and lightening of acne scars.
Honey's advantages don't end there. It exfoliates your skin organically, eliminating dead scells that dull your complexion.
If you're allergic to pollen, celery, or bee venom, test the honey on a small patch of skin first. Once the honey is on your face, you don't want to experience an allergic response.
Application:
Honey can be applied directly to the face or combined with other ingredients to increase the effects. As an acne treatment, combine 3 parts honey and 1-part cinnamon. Allow it to sit for 10 to12 minutes before rinsing it off. Another method is to combine 1/2 teaspoon honey, 1 teaspoon baking soda, and 1 teaspoon olive oil. The baking soda exfoliates the skin more effectively, while the olive oil moisturises it. Apply the honey mask on your face and leave it on for 10 minutes before rinsing it off.
2. Turmeric
Turmeric is a wonderful spice with antibacterial characteristics that will never let you down. Turmeric is a powerful antioxidant that aids in achieving that lovely glow.
It contains curcumin, an anti-inflammatory compound that aids in puffiness reduction. Turmeric not only provides your skin with a healthy glow but also rejuvenates it and keeps dull skin at bay.
Turmeric fights free radicals that cause skin damage and boosts collagen formation, which keeps skin supple and youthful.
Application:
Mix a cup of gram flour with half a teaspoon of turmeric powder (chickpea flour). To make a smooth paste, add enough milk/water and mix thoroughly. Mix a few drops of rose water. Apply this turmeric paste to your face and neck and let it dry. After that, give it a good rinse in cold water.
This is an important step to include in your skincare routine this summer.
3. Orange
Vitamin C is present in oranges, and it helps in the detoxification process. A glass of orange juice every day might assist in clearing the complexion and refreshing the skin quickly. Orange also helps to reduce acne and firm the skin because of its Vitamin C and a citric acid component.
Application:
Make it a habit to squeeze a couple of oranges first thing in the morning. Add a touch of salt and black pepper to this freshly squeezed juice and drink it with other breakfast staples. Alternatively, you can produce a smooth paste by grinding a few pieces of orange peel with a few drops of rose water. Apply this peel paste to your entire face and rinse with lukewarm water after 15 minutes.
4. Milk
Milk is one of the mildest and nutritious items in your refrigerator-that works wonders for your skin. Just wiping your face with raw milk removes dirt, tan, and other impurities from your skin, leaving it soft and moisturised. Try the following home treatment for bright to get the most out of this fantastic ingredient.
Application:
One teaspoon gram flour, one teaspoon honey, and two teaspoons of raw milk mix into a bowl. To make a smooth paste, combine all of the ingredients in a mixing bowl. Allow drying after applying evenly all over your face. To reveal soft and shining, rinse with lukewarm water and pat dry.
5. Aloe Vera Gel
We don't need to tell you about aloe vera's numerous skin and hair advantages. Aloe vera not only heals and soothes irritated or sunburned skin but also rejuvenates and nourishes it. Including aloe vera in your regular skincare routine will help enhance skin texture and prevent various skin disorders.
Application:
Take a tablespoon of aloe vera gel and put it in your mouth: one teaspoon honey, a pinch of turmeric, and a cup of milk. Combine the ingredients and apply them to the face in a uniform layer.
Allow it to sit for 20 minutes. Using lukewarm water, rinse and towel dry.
6. Besan(Gram Flour)
Over the years, this has been a tried and trustworthy agent in homes. When it comes to achieving healthier, brighter skin, Besan has never disappointed. Besan is also known as gram flour. It is a natural exfoliant that aids in removing dead skin cells. You don't need to go out and buy expensive cosmetics or face packs. Besan works miracles by bringing healthier, younger skin to the surface.
Application:
Besan prepared by combining it with liquids such as water, milk, or other components. It administered to the skin in the form of a pack. Sugar sometimes used to help with exfoliating.
7. Yoghurt
The silky smooth texture of yoghurt says, "Put me on your face!"
If your yoghurt hasn't screamed at you recently, it's worth reconsidering how you consume this delightful treat.
It's a natural moisturiser, and adding other skin-friendly components like honey, aloe vera, or turmeric is simple.
You can experiment with different yoghurts until you find one that you enjoy.
The extra creamy texture of Greek yoghurt, for example, makes it easier to apply, especially if you're adding more ingredients.
However, regardless of the brand or type, you should usually stick to plain, unflavoured yoghurt.
Application:
Use only enough yoghurt to cover your face, around 1/3 to 1/2 cup.
You can use it alone or can mix it with a teaspoon or two of honey, olive oil, or turmeric to give your skin an extra boost.
8. Saffron
Saffron is beneficial to our skin. It makes skin tone lighten and gives it a healthy glow. Acne, pimples, and blackheads can all treated with this product.
Saffron soothes our skin and reduces the appearance of dark circles.
Application:
Add a few strands of saffron to water and allow 5 to 10 minutes to use on your skin.
Then mix this water with milk, honey, or turmeric to make various face masks.
Apply to the skin and let on for 5 to 10 minutes before washing with cold water.
Allow airing to dry.
9. Lemon
Vitamin C and citric acid are plentiful in lemons. Vitamin C is a potent antioxidant. It helps to retain skin suppleness by increasing collagen formation. It also aids in the lightening and moisturizing of our skin. It's particularly effective on discoloured knees and elbows.
Lemons have antimicrobial properties that help to prevent infections and acne. They also help to cleanse our bodies.
Application:
Every day, a glass of lemonade strengthens our immunity, detoxifies our bodies, and keeps our skin nourished and beautiful.
If you want to use lemon on your skin, you should first do a patch test. Prepare a 2:3 solutions of lemon juice and water and gently apply it on your skin using cotton. Allow 10 minutes before washing with cool water.
10. Banana
Bananas are excellent for our skin. They're high in potassium, vitamin A and B, and other nutrients. They keep our skin hydrated and moisturized. They have potent anti-ageing properties as well. They aid in the prevention of wrinkles and fine lines.
Acne and pimples can be treated with bananas. Acne scars and pigmentation can also be treated with them.
Application:
Here will tell you how to Care for Your Skin With Bananas: Apply a mashed banana to your skin and keep it on for 15 to 20 minutes. After that, rinse with lukewarm water. One ripe banana, 1 tsp honey, and 1 tsp lemon juice can also be used to make a facemask.
Banana also peels aid in the lightening tone and the reduction of dark circles. Gently massage your skin with banana peels. Allow 10 to 15 minutes before washing with water. Allow airing to dry.
Individually and in combination, these natural therapies are helpful.
You may easily combine a few of them, make a paste with them, and apply it to your skin.
Instead of reaching for dangerous lotions that promise you the world and white-paper-like skin, look around your home for all of these natural substances.
So, what remedy are you attempting today?