Garnier Provides The Best Micellar Cleansing Water
Travelling throughout many places in a day will attract germs and dust to the face, so don't worry about the dust. Garnier micellar water is to help you out. There are many such brands available that provide micellar water, but those are made with low-quality products. Using them is not safe for the skin. Garnier Cleansing water is available in the market at every shop, or you can purchase it from the online market. This water helps remove the dirt as well as dust easily from the face without creating irritation on the face. Products of Garnier are known as top quality products, and they are maintaining the legacy as well.
4 Types of Garnier Cleansing Water

1. Garnier Micellar Cleansing Water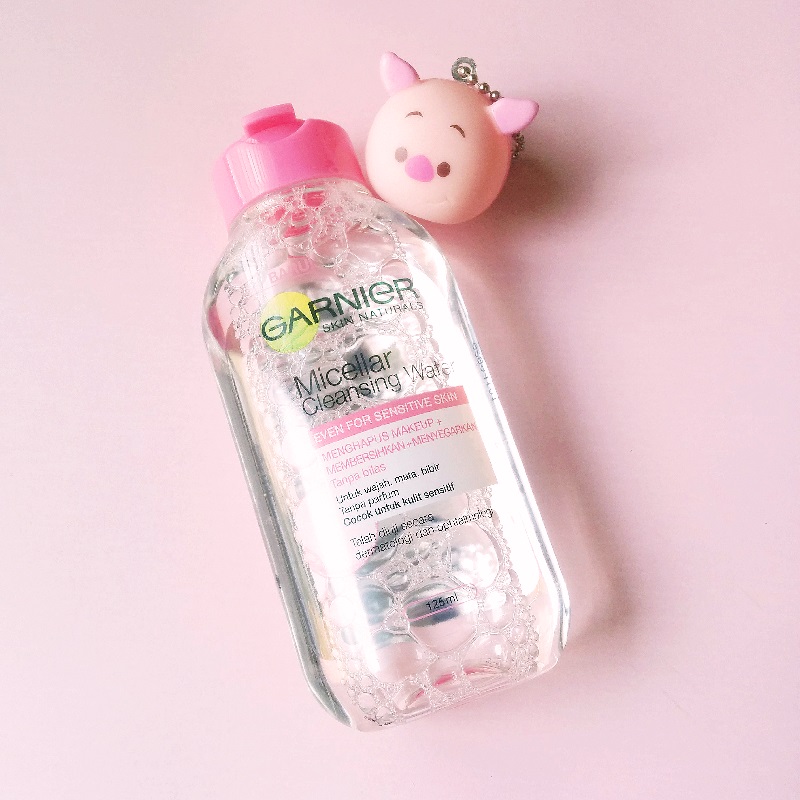 This micellar water comes with 125 ml of liquid present inside it. Gently remove the make-up with one single swipe. Garnier cleansing water act as a magnet that helps to lift the whole make-up and feel free from heavy make-up items. It comes with no alcohol, parabens or fragrance, as well as this is used as a makeup remover. It is best for sensitive skin people. Women can easily clean the skin without water, which is the best option for busy travel days. Garnier micellar water price is around Rs 180. 
Applying process is very simple. You have to add some micellar water onto cotton, press it lightly on the area where make up is done, wipe it up, and it will take away all the dirt and make-up from it.
2. Garnier Skin Naturals, Micellar Oil-Infused Cleansing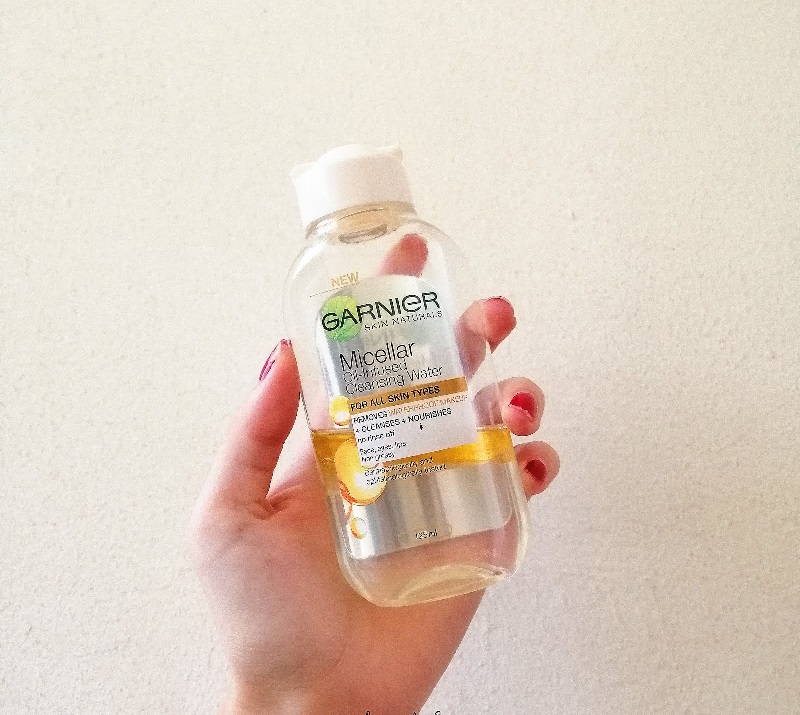 This product helps to remove dust and pollutant particles from the face. This Garnier cleansing water is manufactured in huge quantities since a lot of people purchase it. This is available in the offline and online markets as well. Better you can get it through offline since in online you have wait for some days even. Garnier micellar water for oily skin treatment is done perfectly. People find it comfortable to use it on their faces to deal with oily skin. It contains argan oil which helps to nourish the skin even better. It is suitable for all skin types and skin tones, just those who have sensitive skin kindly ask the doctor whether it is suitable for you or not.
3. Garnier SkinActive Water Rose Micellar Cleansing Water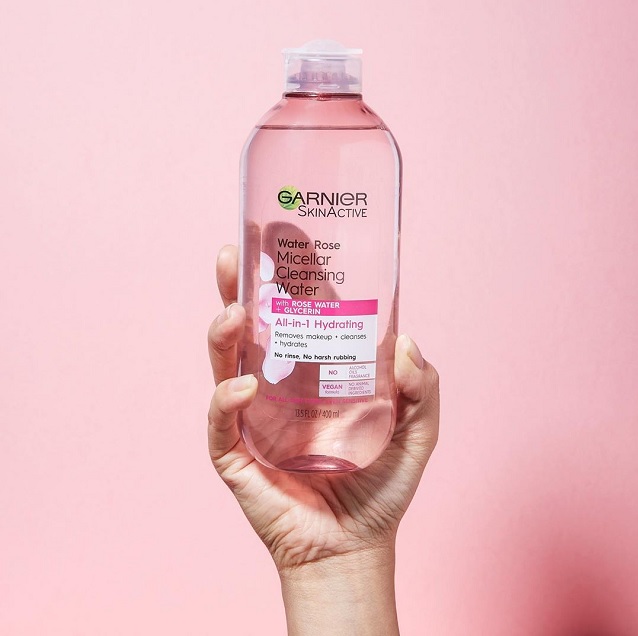 This is Garnier cleansing water rose in which comes with hydrating cleanser water, which works as a facial cleanser. It helps to remove the heavy makeup even in an easy manner. Garnier micellar water ingredients come with 919097 Aqua, Propanediol, Rosa Damascena, Flower water, Glycerin, Sodium Benzoate as well as Citric Acid. It is gentle on the skin, so using this product will not cause any problem. The Garnier rose micellar water is used as vegan and formulated without any alcohol, dyes, phthalates, oils and fragrance. Garnier micellar water price in India is around Rs 700. 
4. Garnier Skin Active Cleansing Water For Waterproof Makeup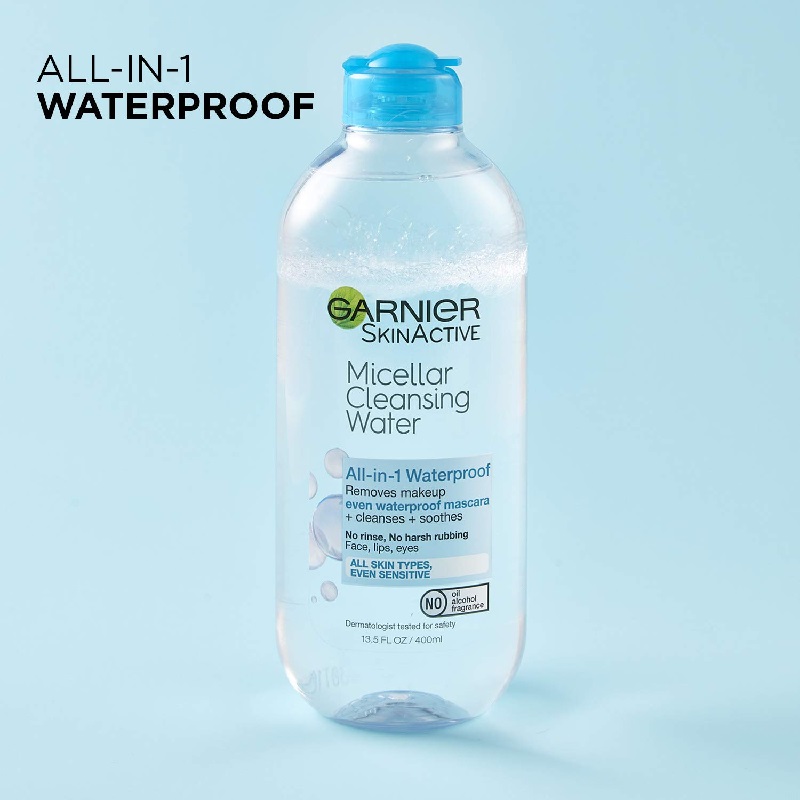 Garnier cleansing water is used for removing the powerful and sticky make-up. It is safe to use in the eye and even for removing lipstick as well. Garnier active skin is much effective, as well as it is gentle even. It's simple. Micellar cleansing water lifts away dirt, makeup and excess oil present in the face. Garnier micellar water ingredients India comes with water, Cyclopentasiloxane, isohexadecane, potassium, phosphate, Sodium chloride, Hexylene Glycol, Dipotassium Phosphate, Disodium Edta, Decyl Glucoside. Use Garnier pure active water on your makeup area or lips to remove the sticky lipstick, then gently wipe it without harsh rubbing, and after that, you will see the magic. And same features are available with Garnier cleansing water blue.
Review
Garnier micellar water review, in this section, you will find a great option for removing makeup. Using this product will let you clean your face, as well as you can see the bright and clear face of yours. Garnier micellar water small can be easily carry out to any place with a purse even. In this small bottle, you can use it to clean your face 20 times. Garnier micellar water benefits are a lot which has made people buy it multiple times. Some people go with Garnier micellar water 700ml since they work as makeup artists, and it is much necessary for their profession. 
Frequently Asked Questions
Which Garnier Micellar Water Is The Best?
Ans: Garnier Skinactive all in 1 Hydrating Micellar Cleansing water.
Why Is Garnier Micellar Water Bad?
Ans: Micellar water has ingredients like polyhexamethylene biguanide. For that, it is consider bad, but still, the company claims that it is good enough to work with.
Is Garnier Micellar Water Good For Your Skin?
Ans: Yes, it is good for the skin, and it helps to remove dirt, makeup, and oil even. It helps to clear out the pores, which helps in toning the skin.
Is Garnier Micellar Water Good For The Face?
Ans: It is good for the face since it helps to remove dirt. Makeup and oil. It is free of alcohol and helps to promote skin hydration while reducing irritation.
How To Use Garnier Micellar Water?
Ans: Take a cotton pad and pour some micellar water onto the pad till it is soaked. Press the cotton pad on that area, which helps cleanse and gently swipe across your face to take out the impurities from the skin. After that, all the impurities will vanish.
Is Garnier Micellar Water Good For The Face?
Ans: It is good for the face since it helps to remove dirt. Makeup and oil. It is free of alcohol and helps to promote skin hydration while reducing irritation.
Should You Wash Your Face After Using Micellar water?
Ans: There is no requirement to use water after using this product.
Do Dermatologists Recommend Micellar Water?
Ans: When it comes to skin type, micellar water is the best product with formulas made for dry, sensitive, and combination skin. Board-certified dermatologist Fusco says that they are especially great for acne-prone skin types. They remove trapped debris from the skin but don't dry it out.
Is Garnier Micellar Water A Toner?
Ans: Garnier cleansing water is a face cleanser and makeup remover, but it is not a toner. 
Why Shouldn't You Use Micellar Water?
Ans: Micellar water can be bad for those people who are congested skin that prone to breakout. This is because the water ingredients leave a surface residue on the skin, which can act as a film.
Can I Use Micellar Water Every Day?
Ans: Micellar water can replace any daily cleansing routine.
What Is The Bad Ingredient In Micellar Water?
Ans: Micellar water has garnered attention because the ingredient polyhexamethylene biguanide is present in many brands of micellar water and is suspected of causing cancer.
Is Bioderma Better Than Garnier?
Ans: While the bioderma broke down the mascara more smoothly and held up well with the black liquid liners, if you will put a dent in the super stubborn urban decay waterline pencil, it has liquid lipstick.
Does Micellar Water Clog Pores?
Ans: No, they don't clog pores. They are great alternatives for wipes.
Why Is Makeup Wipes Bad For You?
Ans: Makeup wipes are full of harsh and harmful chemicals that disrupt the pH balance of your skin and its acid mantle.
What Is The Difference Between The Pink And Blue Garnier Micellar Water?
Ans: The blue bottle is designed to remove waterproof makeup, and the pink bottle is the original formula.
Which Is Better, Nivea Or Garnier Micellar Water?
Ans: They don't have any perfume in them even though the Garnier one has a slight scent of orange, whereas the Nivea one has a bit more chemical scent. They cleanse your skin very nicely, and Nivea micellar water cleanses a bit more effectively.
Is Micellar Water Good For Ageing Skin?
Ans: It feels moisturized as per the doctor. The oil that has micellar water leaves behind as per one doctor. The doctor recommends using the micellar water if you're on the go but don't as a regular facial cleanser and moisturizer.