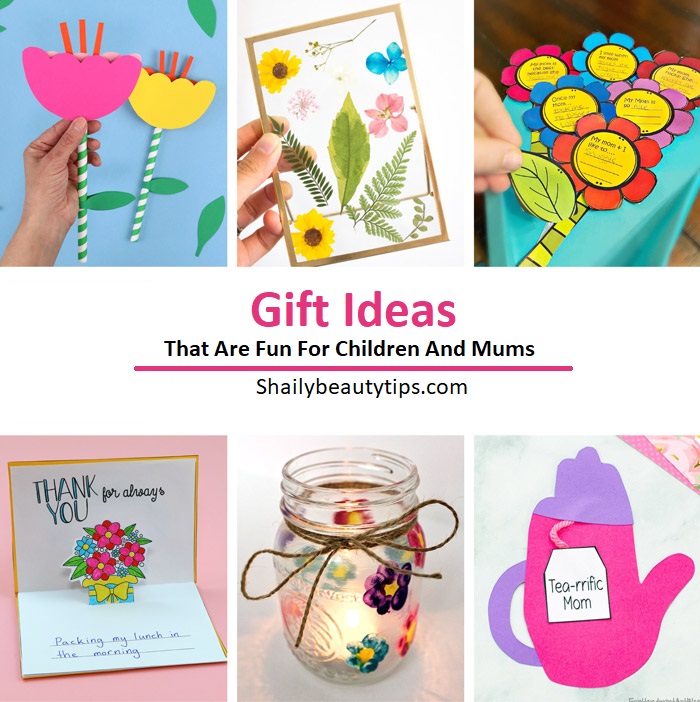 Gift Ideas That Are Fun For Children And Mums
The season of gifts is here again! For many parents, this means the annual struggle of coming up with something that they can truly love and enjoy – not just some present that will get shoved away in a closet a month later. That's why I've put together this list, featuring gift ideas for everyone from babies and toddlers to teens and adults that are guaranteed to get loved!
When it comes to giving gifts, it can be difficult to find the perfect one. One of the best ways to make your gift-giving experience easier is by using customized Gift Ideas That Are Fun For Children and Mums. You can find a customized gift idea such as Family Beach Day on this website.
Why Personalized Gift Ideas Are Beneficial For Children
If you are looking for a fun and unique gift for your child, personalized gift ideas are the way to go! Personalized gifts offer children a sense of uniqueness and specialness that can make them feel loved and appreciated. In addition, personalized gifts give parents a chance to share important messages or memories with their children in a fun and memorable way.
Here are Some Great Personalized Gift Ideas for Children:
Make a custom book together as a family. This is a fun and easy way to create a lasting memory together!
Create a custom art project together. This can be something as simple as coloring in some lines or making a picture together.
Write each other sweet notes or letters. Sometimes the simplest things can mean the most to children. handwritten notes are always special!
Take family photos using props that represent your child's favorite things. For example, if your child loves dinosaurs, take pictures of them wearing dinosaur costumes!
Have a playdate at home! This can be done with friends or siblings, either indoors or outdoors. Children love playing together and personalizing their experience makes it even more special!
What Makes A Great Gift Idea
Many people think of gifts for children as items like bikes or toys. However, many other great gift ideas can be fun for children and mothers alike. Here are a few ideas:
1. Get a kids' book – If you are not sure what to get the child in your life, a book is always a great choice. There are so many different kinds of books out there, that it's hard to go wrong. You could get them a new book, or buy them an old one they've been wanting.
2. Tickets to a show or game – This is a great gift for children that love going to events. They can choose whatever event they want to go to, and you can get tickets together as a family. Plus, it's always fun to go out with friends!
3. A day at the playground – This is another great gift idea for kids that love spending time outdoors. You can buy tickets together, or go to any number of different playgrounds around town. This is also a great gift for mothers who have trouble getting their kids to leave the house!
4. A day at the spa – Another great gift idea for mothers is a day at the
Tip 1: Give Your Child What They Want
One of the best ways to get your child to enjoy a gift is to give them what they want. This is especially important when it comes to gifts for children.
If you're not sure what your child's favorite toy or game is, there are a few things you can do to figure it out. First, ask them what they're interested in. Once you know their interests, you can start looking for gifts that match those interests.
Another way to get your child to enjoy a gift is to make it something special. For example, if your child loves baking, give them a baking gift that has their name on it. This will show them how much you care about them and their hobbies.
Finally, don't forget about mum! Give her a gift too! Her favorite hobby could be something your child is interested in, so give her a gift that celebrates that interest. For example, if your mother loves cooking Italian food, buy her an Italian cookbook.
Tip 2: Find The Best Gifts For Toddlers And Kids
Whether you're shopping for a toddler or a kid in your life, it can be hard to know what to get. But don't worry – we've got you covered!
Here are some gifts that will be loved by toddlers and kids of all ages:
A toy car: Kids love cars, and they'll love playing with one that's theirs alone.
A Customized hoodie: Custom printed hoodies can be one of the best gifts to give. You can customize them with a family photo and personalize them with your child's name or your own.
A puzzle: Puzzles are great for keeping kids entertained, and they can help them develop their problem-solving skills.
A playset: Kids love things that allow them to role play and have fun. A playset is a perfect gift for this kind of child.
Books: Kids love reading, and books make great gifts for any age. They can be read aloud to a toddler or kept as toys for a more active child.
Disney-themed Gift Ideas
If you're looking for Disney-themed gift ideas, you can't go wrong with a subscription to a Disney box! These Disney Subscription Boxes come loaded with all sorts of goodies, including character mugs or embroidered patches, along with more specific items like exclusive hair bands or products. There are multiple options to choose from, so whether you're looking for something for your own little one or as a gift for a Disney fan in your life, there's bound to be a perfect box waiting for you!
Disney is one of the most well-known and popular brands in the world, so it's no surprise there are a lot of Disney-related subscription boxes out there! Here are a few that we think would be perfect as Christmas gifts for children or mothers:
1. The Disney Movie Club – A monthly box full of movie-related goodies like collectible pins, t-shirts, and more. It's perfect for collectors or kids who love watching movies!
2. The Disney Store Kids Club – This subscription box is full of exclusive merchandise from Disney Store stores all over the world! You can choose to receive either a monthly or quarterly box, so it's perfect for kids who love shopping at Disney Stores (or for moms who want to spoil their kids a little bit!)
3. The Magical Delivery Service – This box is filled with fun things like play money, coloring books, and more! It's perfect for kids who love sending mail or for moms who want something fun to do with their daughter/son on rainy days.
The Best Gifts For Mums Right Now
There are so many great gift ideas for mothers this year, and we've picked out some of our favorites! Whether you're looking for a unique present or something practical, there's something for everyone on our list. Scroll down to find the perfect gift for your mum this Christmas.
1. A new book: A mother loves nothing more than getting lost in a good book, and a new title is always a welcome addition to her bookshelf. Choose something interesting and challenging, or lighter and more enjoyable – whichever floats your mother's boat!
2. A relaxing spa day: Mothers often feel stressed and overloaded, so giving them a chance to unwind is always appreciated. Book her a treatment at one of London's best spas – they'll love you for it!
3. Tickets to see their favorite band live: Mums are some of the biggest music fans out there, so why not give them the ultimate treat? Get tickets to see their fave band play live – they'll be thrilled!
4. An experience: What mother wouldn't love an unforgettable experience that she can share with her family? Choose something exciting and offbeat – you never know, it might just turn
Tips For Buying A Mum–Centered Gifts
One of the best gifts you can give to a mum is to buy her something that she will enjoy. You don't have to spend a lot of money on a gift, but it should be something that she will use and love. Here are some gift ideas that are both fun and practical for mothers:
1. A trip to a nearby amusement park: This is a great gift for children and their mothers alike! They can ride the rides, play in the arcade, and enjoy some delicious snacks.
2. A new book or magazine subscription for mum: This is a great way to show your appreciation for all the time she spends reading and enjoying herself. She will love knowing that you took the time to find her something special.
3. Tickets to an upcoming concert or show: This is a great gift for any mother – whether she loves music or not! She can relax and enjoy the show with her friends, or bring along her child to see his or her first concert.
4. A piece of jewelry from a favorite store: This is a timeless gift that will always be appreciated by the mother who wears it. Choose something unique and beautiful that she has never seen before.
Gifts That Kids Want To Receive
There are so many great gift ideas for children and mothers this holiday season! Here are a few of our favorites:
1. A new toy! Toys are one of the most popular gifts for kids, and they love getting something new every year. If you're not sure what to buy your child, consider buying them a toy that they can't wait to play with.
2. An activity book! Activity books are a great gift for kids because they never get old. They can keep their activity book as a reminder of all the things they've accomplished over the years.
3. A special mug! Mugs make great gifts for children because they're practical and cute at the same time. Your child will love drinking their morning coffee or tea from their very own personal mug.
4. A new game! Games are another favorite gift for kids. They can be enjoyed by both boys and girls, and there are a variety of different games to choose from.
5. A new set of headphones! Kids love listening to music, and a new pair of headphones is always a hit. Whether your child is young or old, they'll love having some new headphones to listen to their favorite tunes with
Conclusion
If you're looking for a gift that's both fun and unique, why not consider giving a children's book? There are so many different genres available, and even if your recipient isn't reading yet, they'll still enjoy flipping through the pages. There are also plenty of board games and other toys that can be enjoyed by both kids and their parents. Finally, nothing beats a homemade gift – something that shows you took the time to think about the person you're giving it to. Whether they're a parent or a child themselves, everyone will love something special from you!