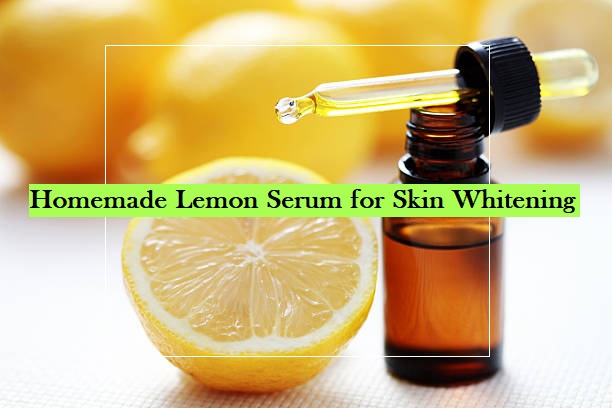 DIY Lemon Serum For Permanent Skin Whitening and Removing Tan
Flawless skin remains only a dream, given our hectic lifestyle. To add to that, many other factors like pollution, harmful UV rays from the sun, stress, and improper diet can damage your skin further and give you an imbalanced skin tone. If this wasn't enough, many of the cosmetic products available in the market these days contain harmful chemicals and additives that cause additional damage to your skin instead of making it healthy and glowing. Let's know about vitamin c and its features
Vitamin C And Its Features
Vitamin C, for those unfamiliar with the term, is an excellent anti-oxidant that aids in the creation of collagen, which results in beautiful skin and helps keep wrinkles at bay. When taken regularly, vitamins C and E can help to prevent the damage caused by the sun's harmful ultraviolet rays.
But here's where things get problematic. L-ascorbic acid, the official term for pure vitamin C, is a highly unstable substance that oxidizes rapidly whenever it comes into contact with air or sunshine. In other words, even before you purchase your vitamin C product off the market shelf, it is most likely worthless in some capacity.
Rather, it operates in the opposite direction, acting as an oxidant rather than an anti-oxidant instead of other antioxidants. So far, I haven't even touched on the subject of how much money you have spent on your priceless product. Checking the color of the product you are using is one way to determine whether or not it is of high quality. A yellow tinge indicates oxidation. However, because most manufacturers include aroma and color in their products, checking for oxidation is not very dependable.
Aside from that, for vitamin C to be effective, the formulation you are using must include a minimum of 5 percent vitamin C moreover because most manufacturers do not disclose the amount of vitamin C they use in their formulations. Even if the product you have purchased is fresh, you cannot be certain that it will be effective for your needs. It's possible that it's not powerful enough to be effective on your skin. Have you ever puzzled why those high-end, heavily marketed products don't function even though they have all the necessary ingredients? The short answer is that it is insufficiently potent.
Getting The Lemon Care For Skin
To remedy this, we shall prepare something at home that is both fresh and effective. Yes, you can make your vitamin C serum at home. We will manufacture a very tiny batch that will last you no more than a week and be completely free of any fillers or extraneous components. First and foremost, remember to use it exclusively at night. As soon as your skin becomes accustomed to it, you may want to start using it during the day as well. However, you should always follow up with decent sunscreen because vitamin C makes your skin photosensitive. I find it more convenient to utilize it solely at night.
You Will Need
2 tablespoon of Aloe Vera gel (Prefer fresh, natural Aloe Vera gel, if you don't have a plant, you can use Patanjali Aloe Vera gel)
1/2 tablespoon of vitamin E oil
1 tablespoon of fresh lemon juice
7-8 drops of lemon essential oil
How To Use
Firstly, in a bowl, take 2 tablespoons of Aloe Vera gel, 1/2 tablespoons of vitamin E oil, 1 tablespoon of fresh lemon juice, and 7-8 drops of lemon essential oil. Mix this mixture well so that all the ingredients get mixed well together.
Now store the mixture in an airtight container, and you can store this serum for again use
Before applying this serum, wash your face and then apply this all over your face and neck. Gently massage it for two minutes. Leave it overnight and rinse it with normal water.
Methods other than the traditional method of preparing vitamin c based skincare products
We will start with a batch that has a 5 percent concentration of potency. Once your skin has become accustomed to it, you could increase the percentage to 10%. However, the highest suggested dosage is 20 percent, so make certain that you never, ever surpass this limit in any circumstance.
The following is a list of everything we will require:
Vitamin C powder in its purest form (l-ascorbic acid) a quarter teaspoon
Distilled water is water that has been distilled (or rose water). 2 tsp. of
1 teaspoon of glycerin
The capsule of vitamin E gel 1 capsule of vitamin E gel
An empty glass bottle to keep your serum in would suffice (you could clean and use an old podiatric medicine bottle)
How To Use
The vitamin C powder should be dissolved fully in the distilled water at this point. Pour distilled water into the bottle after dropping the two tablets into it. 
Continually shake the bottle until all of the tablets are disappeared. Because of the multiple handling of products, there will be no contamination.
Combine the glycerine and the other ingredients in a mixing bowl.
Puncture one Vitamin E gel capsule and pour in the contents. Adding vitamin E oil to your serum will help to keep it stable and will also provide additional benefits to you.
Once you've done that, store the concoction somewhere cool and dark.