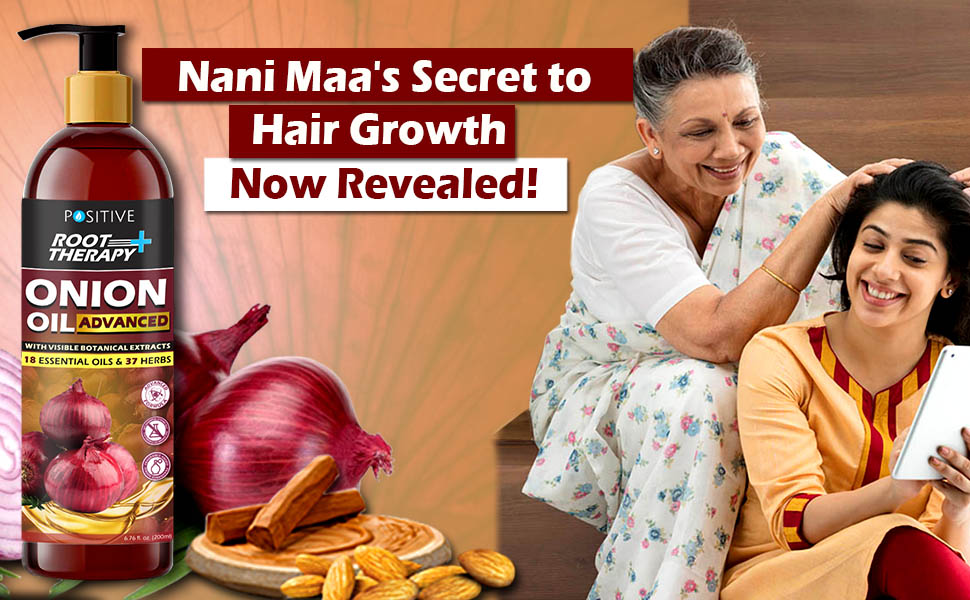 Read on to Know How This Onion Oil For Hair is Giving Amazing Results and Going Viral
The oil which is being talked about here and will be further discussed in detail is none other than POSITIVE Root Therapy Advanced Onion Oil. It is quite interesting to know, how research and innovation were used to come up with this product. The research that went behind it used both modern and ayurvedic approach to get the best of both worlds. By using such methods of research, POSITIVE came up with a formula which penetrates deep into the scalp and strengthens hair from the roots.
Let's get into the root of how all the ingredients were combined together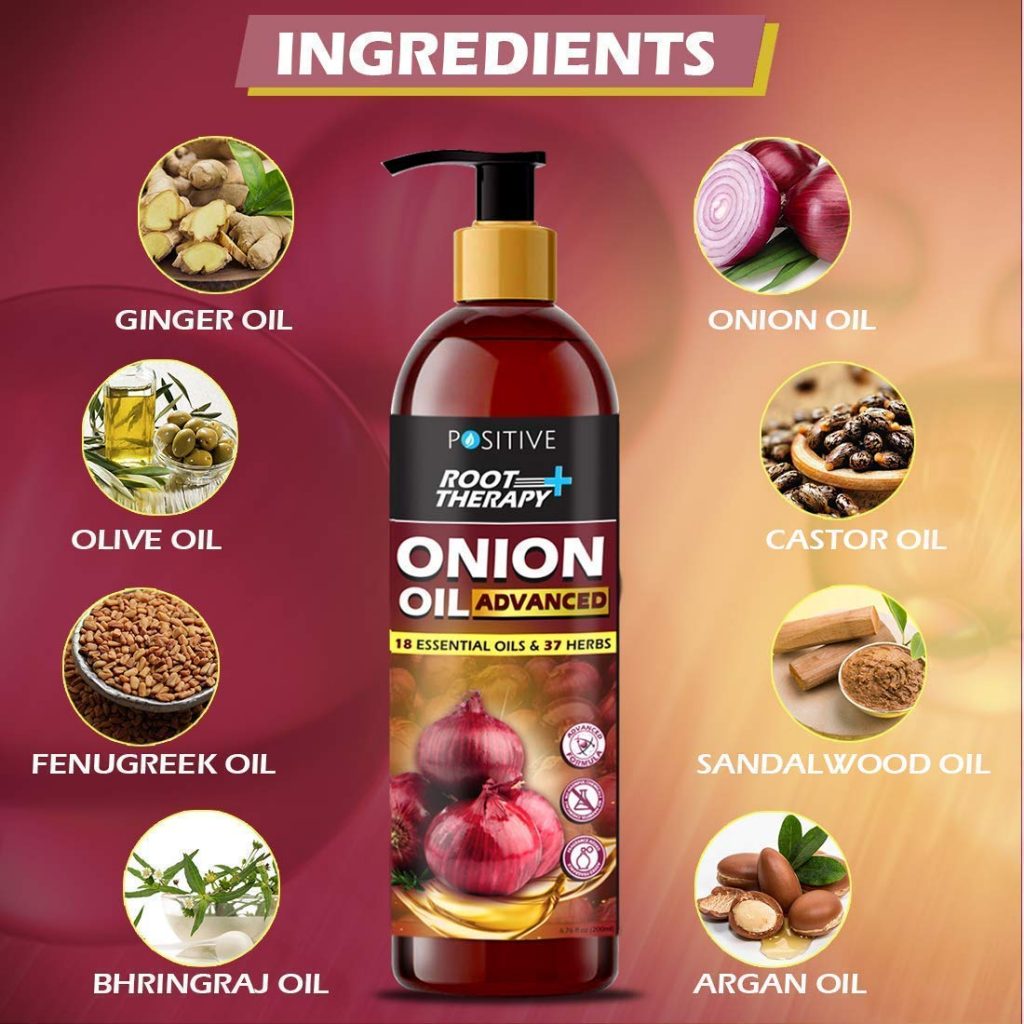 Since ages, onion has been known as a great source of sulphur and sulphur is usually found within amino acids. Amino acids are known as the key components of keratin. As keratin is rich in sulphur, it is required for the growth of strong and healthy hair. So, the POSITIVE Root Therapy Advanced Onion HairOil is made from the goodness of onion and a proud blend of 18 essential oils 37 chosen herbs. These ingredients were specifically chosen keeping in mind all the hair issues that one might suffer from and hence it is a very efficient product.
No doubt these ingredients would help you fight your hair problems, but, your hair also needs to be repaired from within. What we eat plays an important role in nurturing our hair. Check this article to know more about foods that give you glossy and strong hair: Healthy Foods of Glowing Skin & Hair

All the issues which the Onion Oil tackles
This Onion oil not only tackles hair fall and regrowth issues but apart from that it also takes care of a host of other hair issues. Pollution is one of the main reasons why our hair becomes so dull, frizzy and lifeless. Our hair needs to be taken care of and protected from the harsh weather conditions, heat and pollution from outdoors. With the regular use of Onion Hair Oil a protective coat forms against the pollution, on the hair to keep it safe from external pollutants.
The oil is curated for both men and women which makes it a must-have product for every household as everybody in the house can use it. Along with that, the oil works for people of all ages so starting from kids to middle-aged people, everyone can use it and enjoy the benefits. Also, the formula is made in such a way that it works for all hair types as well, whether it be coarse or thin. All of these facts about the oil make it a magical oil which caters to all the needs that one might have.
Let us talk about the result-oriented brand and user-experience of this oil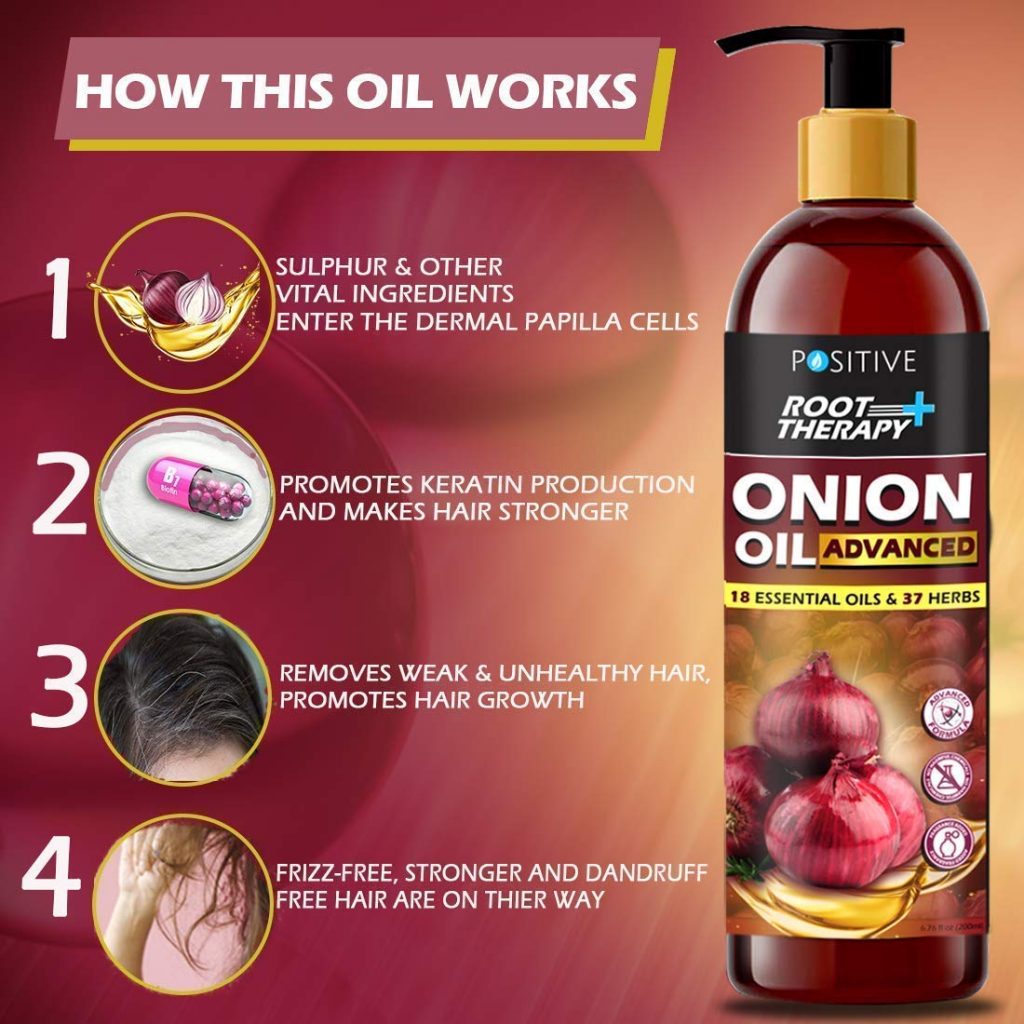 Now, the brand POSITIVE is a result-oriented brand which expertly combines research and innovation to come up with products which are free from harmful ingredients like parabens and gives all the results which are claimed by the product. The motto of the brand is as the name suggests, staying positive and feeling positive about yourself and your appearance. In its Root Therapy range, POSITIVE found the Onion Oil which is a unisex hair oil that can serve all the generations and all hair types.
Enough about the brand, let us know about the customers who are already using the oil. The reviews of this oil can be found on different e-commerce websites and/or on the official website of POSITIVE as well. This has become one of such products which barely receives any bad reviews. One thing is to be noted though, that the oil works wonders for those who use it regularly. You might see certain differences from the first use, but if you stop using it after using once, you will not be able to enjoy all the benefits that come with using the oil regularly.
People who have used this oil started seeing a difference after using it a few times and as they began using it regularly they were amazed by the end results and how their hair looked in just a few weeks. After continuous use of oil, and after a period of a few weeks, those who used the oil were highly surprised but how healthy and beautiful their hair looked.
If still in doubt, you can go check the results on the official website of POSITIVE and see how it is going viral all around. As what the brand believes, do not just get sold out by the claims, use it and see the results for yourself to know if it works.