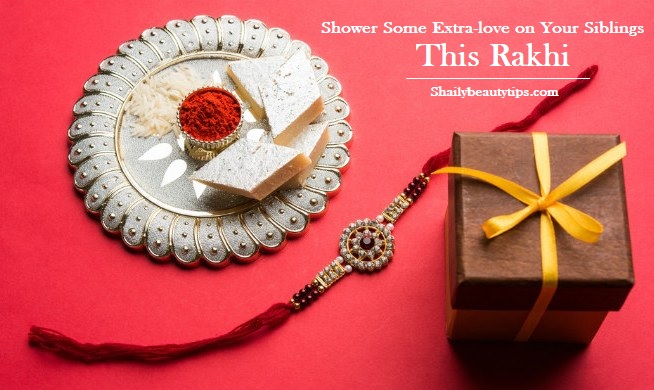 Shower Some Extra-love on Your Siblings This Rakhi
So, RakshaBandhan is here! This is the only time of the year when siblings forget their rivalry and start bonding with each other for a few minutes. Well, that bonding isn't for nothing. Rakhi is the time when brothers and sisters express their unconditional love and forget about any bad feelings. If you have a sibling, Rakhi must be a happening time for you. From sweets, colourful rakhis, to gifts, RakshaBandhan is all about celebrating the love between siblings.
The most expected thing during Rakhi is the rakhi gift. This is a non-negotiable part, and every sibling expects a gift that would make up for the months of fighting and bullying. Raksha Bandhan is a festival that is thousands of years old. It is prevalent in India where girls tie a rakhi (a sacred thread) on the wrists of their brothers. The tradition has evolved, and now everyone can tie a rakhi. The festival has deep-rooted significance in Indian culture. It is believed that the tradition of Rakhi originated as early as the pre-civilization era. Though we don't know what the festival might have looked like at that time, the present celebrations are worth waiting for.
We all had old memories of Rakhi when we used to run around the house, chasing our siblings down for a gift. The happy memories of childhood are something that we all carry. It would be really sweet if you could bring back the childhood memories to make your current celebrations worthwhile. Some of the siblings have drifted apart due to various reasons. Some siblings are emotionally close, but the present situation is forcing them to live separately. The geographical limitations shouldn't be a barrier when it comes to celebrating Rakhi. The festival is about the unconditional love between your siblings and you. You must try to make the occasion special for the ones you love.
We wait for so long to get a glimpse of the gifts on Rakhi. These gifts are the reasons why we expect throughout the year. It is indeed a great joy to wake up on the morning of Rakhi to get a sweet surprise from your brothers or sisters. The pleasure is unmatched, and it makes us feel loved. The main reason for the delightful attachment to gifts is that we get to keep something memorable with us. Even after our siblings move to other cities, through these gifts, we can cherish the happy memories that we had spent with them.
How to Choose a Rakhi Gift for Your Brothers and Sisters?
More than the Rakhis, sweets, and laughter, your siblings might be interested in the gifts! This is not a new thing as gifts have been a part of the rakhi celebrations for a long time. If you take out the gifts from Rakhi, there won't be any excitement left. Well, this is not materialistic. Gifts can make anyone happy. You don't need to spend fortunes on an expensive gift. Even a simple gift that has been well-thought can make your siblings feel good.
Finding the right gift is not that difficult if you understand the basics of it. Here is a detailed explanation of what kind of gifts you can choose for your brothers and sisters on the occasion of Rakhi.
Rakhi Gifts for Brother
Buying a gift for your brothers on Rakhi can be a tricky thing. They don't usually prefer showy gifts and any kind of emotions are often neglected. So, to find a perfect gift for your brother, try to remember all his favourite things. It could be a dress they've always wanted or a book they've wanted to read. While these gifts are good, they are specialized and don't cater to everyone's requirements. To gift something that will appeal to everyone, you need some excellent gifting ideas. Here are some awesome gifting ideas for your brother on Rakhi.
1. Homemade Rakhi
Homemade rakhis have a charm of their own. You can get as creative as you want with these rakhis. There are plenty of DIY options for you if you are willing to put in efforts to make your brother happy. The best thing about a homemade rakhi is that it will carry your personal touch. When your brother wears a rakhi made by you, he will feel emotionally connected to you. The underlying emotions that we often fail to express can come through with the help of a homemade rakhi. Fresh flower rakhi is a fantastic way to utilize this idea. Pluck some fresh flowers from your garden and string them together for a beautiful effect. You can also pick different flowers in colorful shades.
2. Cakes and Flowers
Homemade cakes are the best gifting ideas for Rakhi. The delectable aroma of a freshly baked cake will make your brother feel elated. Along with cakes, you can send a bouquet of fresh flowers with an attached card. Write a sweet message on the card that will make their day marvelous.
3. Personalized Rakhi
Personalized rakhis are another way to make your brother feel special. Write their names on the Rakhi or buy custom rakhis with special embossing. It will add an extra charm to your celebrations.
4. Miniature Figurines
Figurines are perfect for gifting as your brother will keep it with him for a long time. He can put it on his desk at home or office. Choose a figurine that has some special meaning to your brother. They are small, cute, and beautiful ways to tell your brothers that you love them.
Rakhi Gifts for Sister
When it comes to sisters, you can go wild with gifting ideas. From creative cards to fresh flowers, there is no shortage of options for sisters. Before choosing a gift, make sure that you know what your sibling prefers. It could be chocolates, flowers, dresses, makeup, or something that they can connect with. To help you make a choice, here are some perfect rakhi gift ideas.
1. Fresh Flower Bouquet
There is nothing better than a fresh bouquet filled with the choicest of blooms. Choose lilies, roses, petunias, or carnations to make your sister happy on Rakhi.
2. Floral Jewellery
When it comes to jewellery, you have unlimited options. But, floral jewellery is trending this season and are the perfect adornment for any girl. Pick jewellery in rich tones that would appeal to your sister.
3. Personalized Photo Frames
Select a photo of your sister and you and frame it in a beautiful frame. You can select a glass or wooden frames and gift them to your sister on Rakhi.
4. Makeup Essentials
Every girl loves makeup! This is the surest way to make your sister happy. Do some research and gift the perfect makeup product to your sister.
These were the various gifting ideas that you can opt for this Rakhi. Gift them to your siblings and watch their faces get lit up with joy.

Happy RakshaBandhan
Enjoy with your siblings