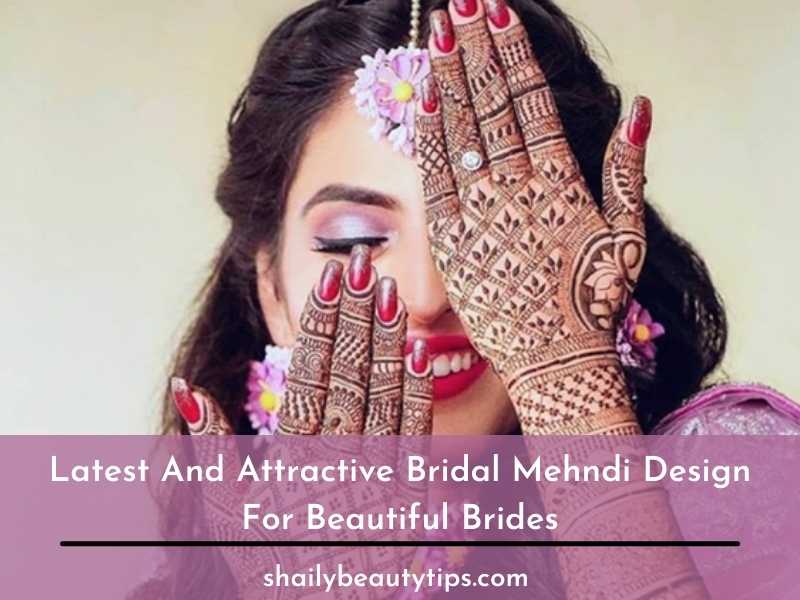 Latest And Attractive Bridal Mehndi Design-For Beautiful Brides
Mehndi is an important aspect of Indian weddings, and nowadays, women plan not just the mehndi design but also the decor, ideas, and even the mehndi favours! So here are some ideas for everything mehndi-related that a bride may think of.
When we think of a bride, we imagine her wearing heavy jewellery, dressed in a thick bridal lehenga, with her hands and feet covered with mehndi. Isn't that the basic look?
However, when everything from jewellery to lehengas is becoming more of a simple yet exquisite thing,' why should mehndi be left behind?
So, for all the brides who believe that less is more! Or it's just too tiring to sit there with your hands extended out for so long! Hello, brides and bridesmaids!! Say hello to these basic yet lovely minimalistic designs!!
For our brides, we've selected some of the most recent wedding mehndi designs for whole hands. Keep in mind that these are all for brides who want to go all out and have a bharwa mehndi design on their big day; if you're looking for something more minimalistic, check out our simple mehndi designs blog!
Mandala designed Mehndi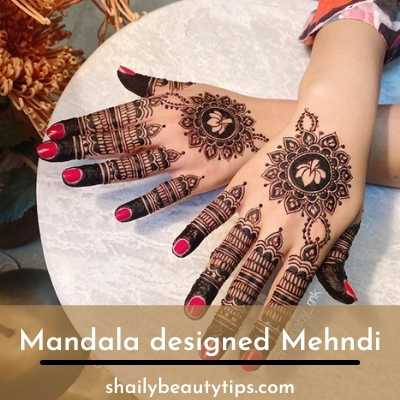 We're not unfamiliar with mandala mehndi designs. They have always been drawn on hands and are a key feature of traditional mehndi designs. These designs are created with concentric circles and are a visual feast for the eyes. They can liven up that mehndi covered hands like no other, with designs ranging from basic mandalas to sophisticated ones.
Peacocks and Flowers designed Mehndi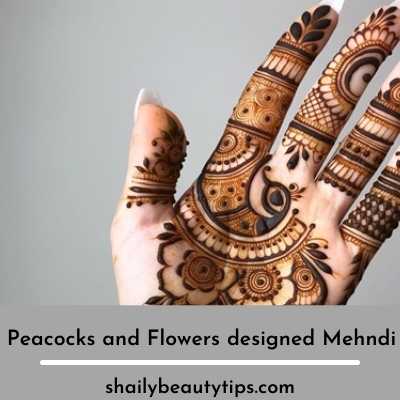 Thick strokes for the border and small strokes for filling in the design are visually pleasing. The overall pattern is so distinct that it drew our notice right away. Those distinctively patterned nails are another eye-catching feature of this simple mehndi design.
Multi-Pattern designed Mehndi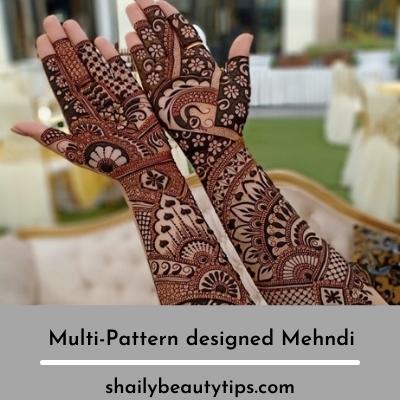 A well-coordinated mehndi design is usually soothing to the eyes. This simple mehndi art is ideal for any bride who does not want a minimalistic design but does not want a full-blown bharwa pattern.
For the fuss-free bride, a basic mehndi design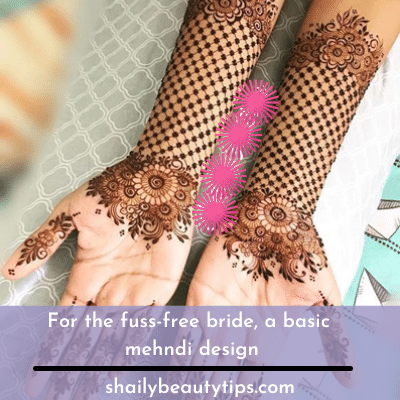 This is one of the most admirable and simplest wedding mehndi designs to take inspiration from for women who prefer to keep things simple!!
We adore this half-half mehndi pattern, which looks especially lovely when brides join their hands. I LOVE the engagement picture, which is why it's such a great option for your engagement mehndi!
Bridal mehndi design elaborated and beautiful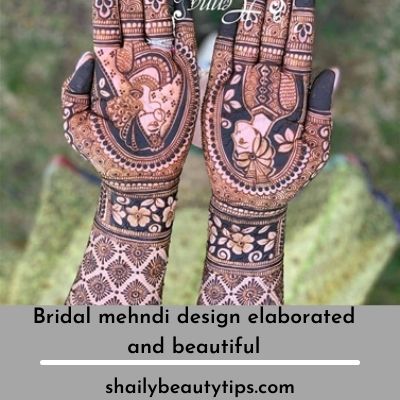 Make your bridal mehndi ultra-traditional with jaimala ceremonial themes, elephants, Kalash, and trumpets to symbolise the divine union's splendour.
The 'Miss-to-Mrs.' moment has arrived mehndi!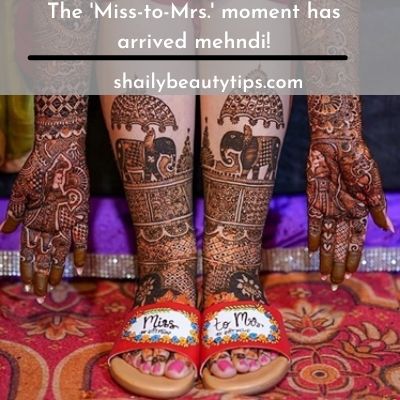 Maang Bharai is the formal moment when you become Mrs., and this one captures it so well. Congratulations on the remainder of the design's clever use of lotus patterns.
Mehndi with a Lotus theme and some personalization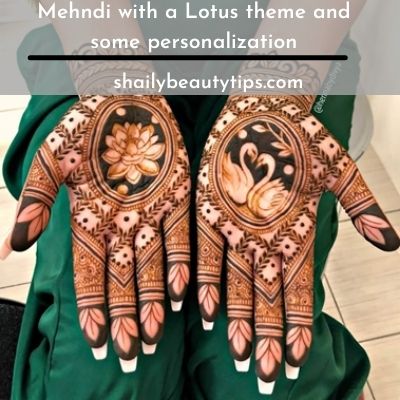 Have you noticed the two city skylines on this bride's forearm? Isn't this a great way to personalise your bridal mehndi design? Also, the lotus themes in this henna pattern are pretty stunning!
Mehndi is a traditional Indian tattoo pattern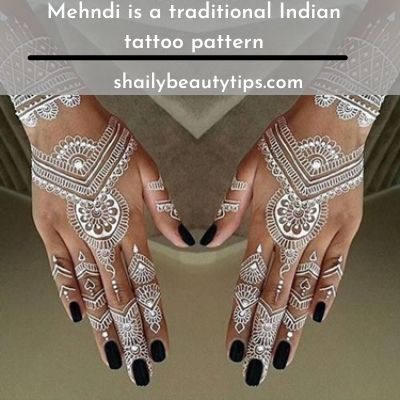 Such Indian mehndi designs full of floral, leaf, and paisley motifs never go out of style. They're traditional, detailed, and lovely all at the same time.
The traditional mehndi design dulha dulhan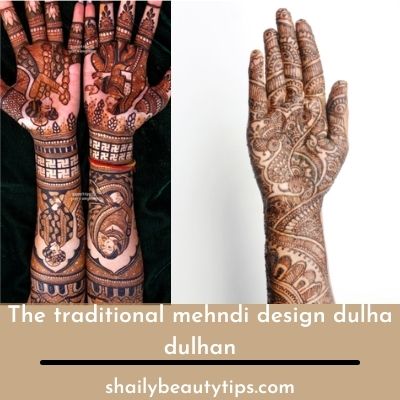 This classic Dulha Dulhan mehndi design has been around for a long time and for a good reason. It's traditional, full of lovely themes, and intricate enough to make you feel like you're wearing bridal mehndi!
For the traditional bride, a complete hand mehndi design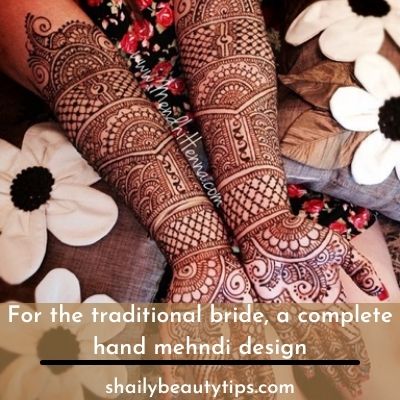 Have you always wanted your hands to get henna-painted up to your elbows for your wedding? If that's the case, then this sophisticated full hand mehndi design is for you. Get a beautiful nail design like this bride's to go with your traditional Indian mehndi and enjoy the compliments!
Henna design with intricate paisley designs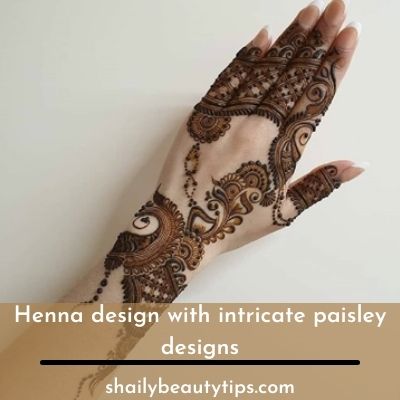 For obvious reasons, paisley, hearts, flowers, and leaf vines are always in style for bridal henna designs. They have a beautiful bridal look that other mehndi designs lack.
This floral mehndi pattern is simply stunning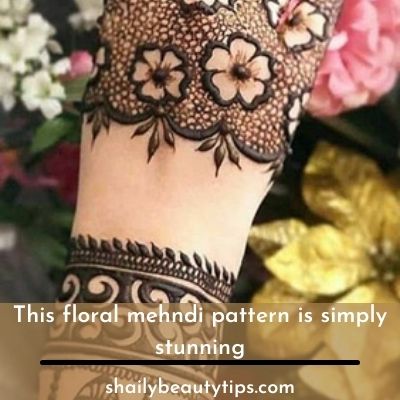 This hand mehndi has lovely flowery vines intertwined throughout it! What's not to like about that?
For the cheerful and cheery bride, a flower power mehndi design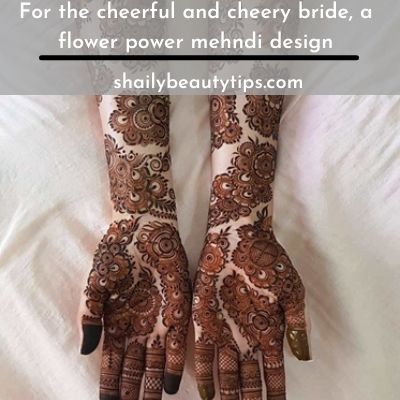 Flower strength is the focus of this bridal mehndi design. This mehndi design is a great flower package, thanks to the gorgeous flower themes of roses, lotus, leaves, and vines!
Dulha dulhan mehndi design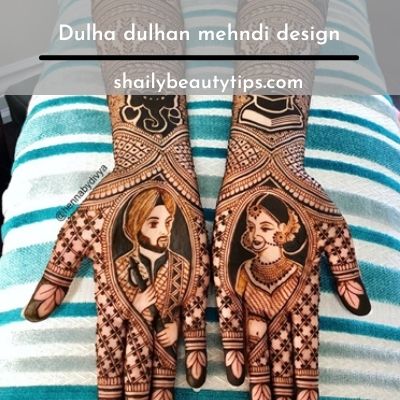 For one, this mehndi design is a twist on the classic dulha dulhan mehndi design, and I adore how the bride has personalized it to reflect her first date with her future husband! I'm sold, too, on the dancing dulha dulhan mehndi figures on her forearm.
Paisley Mehndi Beautiful in every way!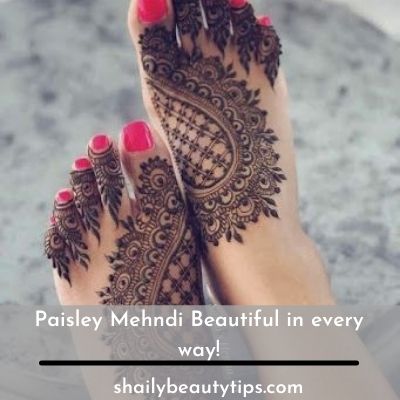 This mehndi design is perfect for a bride who doesn't mind many paisleys, which is a popular Indian mehndi theme.
What a lovely bangle style!
It's evident that brides adore bangle mehndi designs on their wedding day, and it merits all of the praise. Please take a look at another one that is so appealing to the eye that we're sure you'll be pinning it straight away!
The design of this Arabic bel is attractive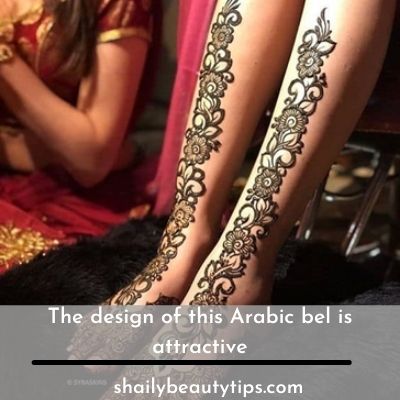 We've always liked the aesthetic of an Arabic bel pattern, but we never imagined it could be so eye-catching until we saw this bridal mehndi design. But look at that floral explosion! It's great for today's weddings!
There's nothing like a classic mehndi design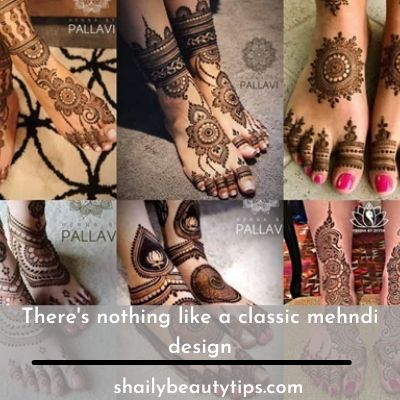 Let us take a moment to praise this classic design. Chequered patterns, leafy trails, precise horizontal lines, and alluring florals are all used to significant effect!
Heavy Grid Pattern Bridal Mehendi Design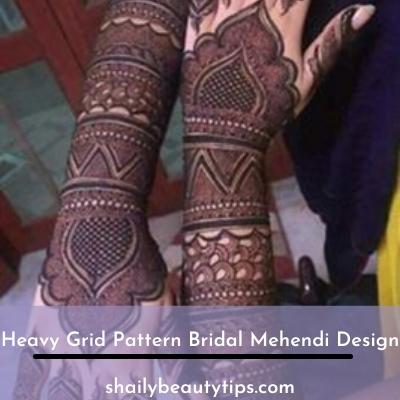 The Dulhan has chosen to take it up because dulha dulhan bridal mehndi designs are all the rage right now. Here's a lovely bride-groom photograph, with the groom applying sindoor on the bride's maang, which the bride proudly displays by interlocking her hands. Also, take note of the hearts on the groom's sherwani and the flowers on the lehenga. For a magnificent mehndi, pay more attention to the intricacies, but make sure you select a professional Mehandi artist.
Back Feet Bridal Mehendi Design with Lotus Motif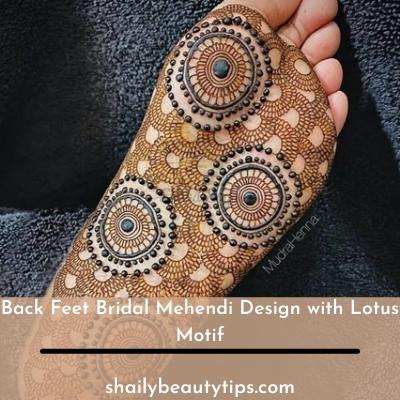 The back foot mehndi trend is fresh and unique, and we think it'll stick around for a while.
So you'd better store this one you don't come up with anything better.
While you may certainly experiment with other designs, lotus themes with flower elements and leaves look particularly nice on foot.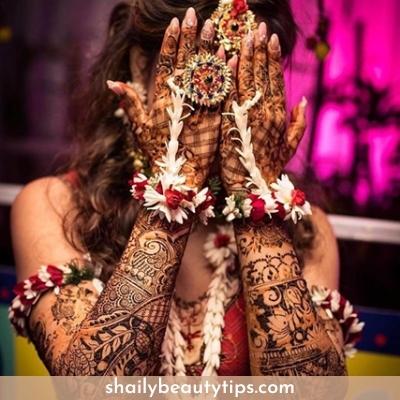 Given the enthusiasm with which Indian women regard their Mehendi ceremony, it's easy to see why they're on the hunt for the best bridal mehndi designs.
We hope your search has come to an end here.
In the comments section, tell us which bridal mehndi design you're going to try.
And once you've finalised your mehndi design, you'll undoubtedly want it to be as deep and dark as possible to show off your boundless love for him.