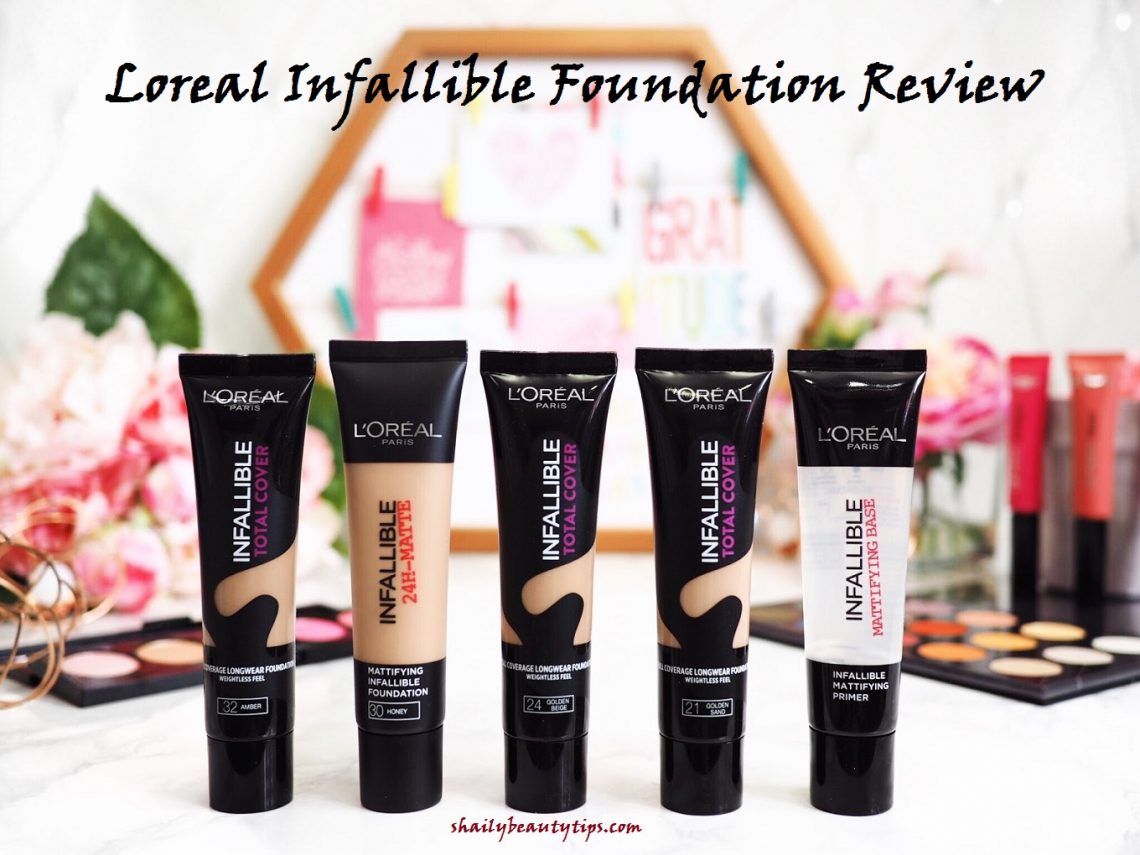 L'Oreal Infallible Foundation Review & Swatches
You use makeup while we go out for office, parties, functions, weddings and photoshoots. You wear makeup as per the occasions and events—bare and minimal makeup at the office and heavy makeup at weddings and other functions. But for every occasion, there are some basic products we use for our smooth and proper touch-up, which is the use of "foundation". Foundation is the essential base makeup essential for your skin before going out for events. Many people wonder which foundation would be best for their skin and can-do base makeup. Then I must say, Loreal infallible foundation is the best option of foundation among the others, and it lasts 24 hours in your skin. 
Why Use L'Oreal Infallible Fresh Water 24hr Foundation For Your Base Makeup?
L'Oreal is one of the leading beauty product brands in the market. The products of L'Oreal are always amazing. So today, I am here to give L'Oreal an infallible foundation review. It is the new launch of the loreal product as loreal infallible foundation 24hr fresh wear. The previous one was loreal Paris infallible foundation 24hr stay fresh, and it was also the best foundation to use. If you go and check, you can find many positive loreal infallible foundation reviews on the internet.
The new version of the loreal infallible foundation is very tempting, so I bought it after reading L'Oreal Paris infallible foundation review on sites and hearing many positive reviews from bloggers and YouTubers. The new foundation of loreal is amazing. The foundation is a long-lasting one and stays in your skin for 24 hours. Loreal infallible foundation 24-hour fresh wear gives a smooth and natural touch to the skin. Loreal infallible fresh wear foundation gives medium to full coverage to your skin.
It lasts all day and allows your skin to breathe properly. One of the best things is that this foundation does not make you feel heavy and clumsy. You can use this foundation for your office light touch up look. This formula has three oil absorbers, that is water, sweat and transfer. The ultra-thin liquid of loreal infallible foundation is fresh and healthy-looking on your skin.
Features Of Loreal Paris Infallible Foundation Fresh Wear 24 Hours-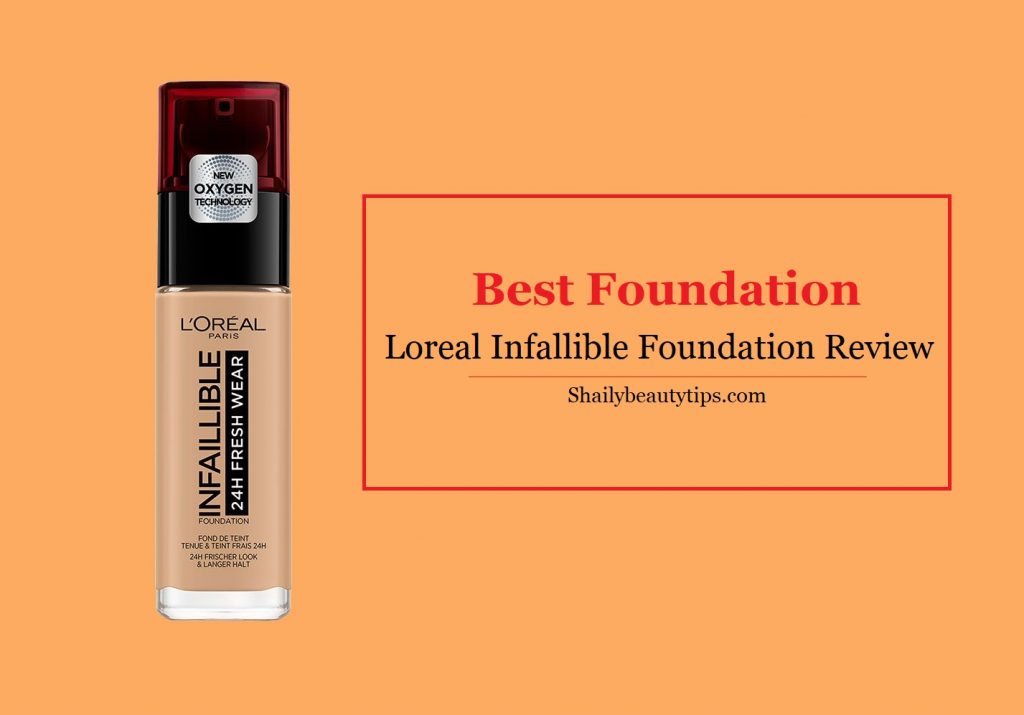 The ultra-thin liquid provides your skin with a smooth and gentle look. The colour is natural and stays for 24 hours on your skin. So, the makeup looks completely natural and fresh all day long. It does not make your skin dull after few hours. Rather it stays for 24 hours fresh. Thus, it is worth it is brand as 24-hour fresh wear. People have different skin types such as dry, oily or combination skin. The foundation is non-comedogenic and formulate with SPF, so it is suitable for all skin types. Loreal infallible foundation shades are 30 in total. This means that it covers all skin shades. You can buy the shade suitable for your skin accordingly. It has certain features which make it efficient as well as effective for your skin. Those are listed below-
It gives medium to full coverage to your skin.
It gives smooth and natural touch to your complexion.
Loreal infallible 24 hours fresh wear foundation is worth money and completely works on your skin gently.
The loreal infallible foundation does not dull your skin after hours of application but stays fresh all day long.
It has 30 foundation shades in total.
The foundation is waterproof, sweatproof or sweat resistant as well as transfer resistant.
Loreal infallible foundation satisfies all the needs and requirements and is designed by considering your skin aspects.
Application Of Loreal Paris Infallible Foundation On Your Skin-
Before applying Loreal foundation on your skin, wash your face properly. First, wash and cleanse your face properly. The second step is toning your skin. And at the third step is moisturizing your skin properly by applying moisturizer suitable for your skin. And then apply the loreal infallible foundation on your skin. You can use the foundation brush for applying the foundation properly and evenly on your face. So, it's okay if you do not have a foundation brush, you can use your fingers for applying the foundation to your skin. Tap the foundation all over your face, apply it gently on your face, and spread it on all parts of your face and neck. For the application of foundation, you can also use a beauty blender or sponge.
Ingredients And Price Of Loreal Paris Infallible 24 Hours Fresh Wear Foundation-
Loreal Paris infallible foundation has all the good ingredients. It does not harm your skin and does not have negative effects on your skin.
Cosmetic ingredients: water, isodedecane, alcohol denat, dimethicone, butylenes glycol, trimethyl siloxy silicate, peg- 10 dimethicone, perlite synthetic fluorphlogopite
Active ingredients: octinoxate 6.743250%, titanium dioxide 2.5910%
And many more.
It is completely high chemical free and does not cause damage to your skin. Loreal infallible foundation price in India cost RS 1200. It is for 30ML of foundation.
Swatches Of Loreal Paris Infallible 24 Hours Fresh Wear Foundation-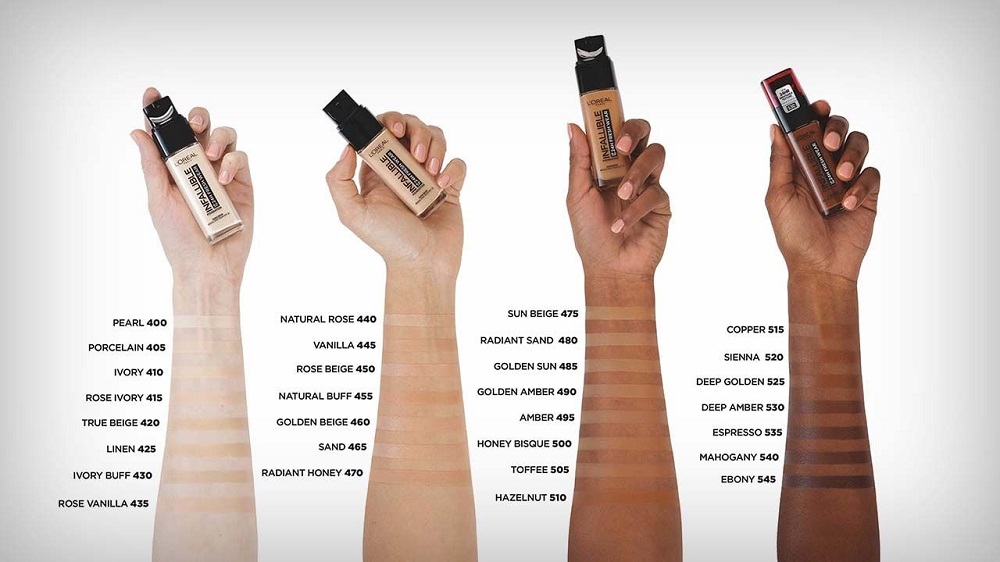 The loreal Paris foundation comes in a bottle. The foundation is in liquid form. So, it comes in a glass bottle with the printed brand name of loreal. The loreal Paris infallible 24 hours fresh wear foundation comes with 30 shades in total, and the shade name and number is mentioned on the red shut lock cap of the glass bottle of foundation. The glass bottle contains comes with pump dispensers. A pump dispenser is in use to pop out the liquid foundation out it. By the pump dispenser, you can use to control the amount of liquid foundation product needed for use and pump it out accordingly. 
This feature of the pump dispenser eliminates the wastage of foundation as you can pump out the required amount of product. The product comes in a glass bottle with a label and also displays the ingredients it contains. The foundation bottle is lightweight and attractive. You can carry your loreal Paris foundation in your handbag easily to anywhere. The loreal Paris infallible 24 hours fresh wear foundation comes with 30 shades in total internationally, but it has just launched 11 numbers of shades in total in India. The shade I bought for myself is the third last shade named "radiant sand". I bought the shade, which is 1 shade lighter. Thus, you can see from the loreal infallible foundation swatch that the foundation has a very smooth, liquid and runny consistency. 
The Premium Texture
The runny and liquid texture makes it easy to blend on your skin with your fingers. You can use a beauty blender, sponge or foundation brush as per your suitability and texture and coverage wanted by you. If it is quick and light coverage need, you can use the tips of the fingers for that. One more thing, this foundation can be used for your daily go-to go look and also for your office look. As it is said, the loreal Paris infallible gives a medium to full coverage, depending on your application. So, this foundation covers the acne spots and marks on your face. As I do not have any such marks, my face goes completely natural after applying this foundation, and currently, I just love this new foundation of loreal Paris. The finish is given by Loreal Paris infallible 24-hour fresh wear foundation is satiny.
The foundation stick is not available or launched. It only comes in liquid form. Loreal infallible foundation matte is the previous old product by loreal, which gives a matte finish. I have a dry skin texture, so this foundation is suitable for my skin type. Loreal foundation in the shade "radiant sand" is suitable for my skin, and I have used it several times after buying. 
As I said, it gives a completely natural look to my face and neck. So I recommend you buy the newly launched foundation by Loreal Paris that is loreal infallible foundation 24-hour fresh wear. Use can choose the shade suitable for your skin shade. You should always go for a shade lighter than your actual skin colour.
Conclusion-
Loreal Paris infallible 24 hours fresh wear foundation comes with a good packaging bottle of glass and looks attractive and tempting. The loreal foundation is travel friendly as it is lightweight. The foundation comes in 11 shades in India. You can find this newly launched foundation at online shopping sites easily. I bought Loreal foundation from amazon.
Trust me, this foundation is worth money and gives even touch to your skin by a small amount of it. It is really good for people who have a dry skin texture. It stays on your skin all day long, and you look natural.