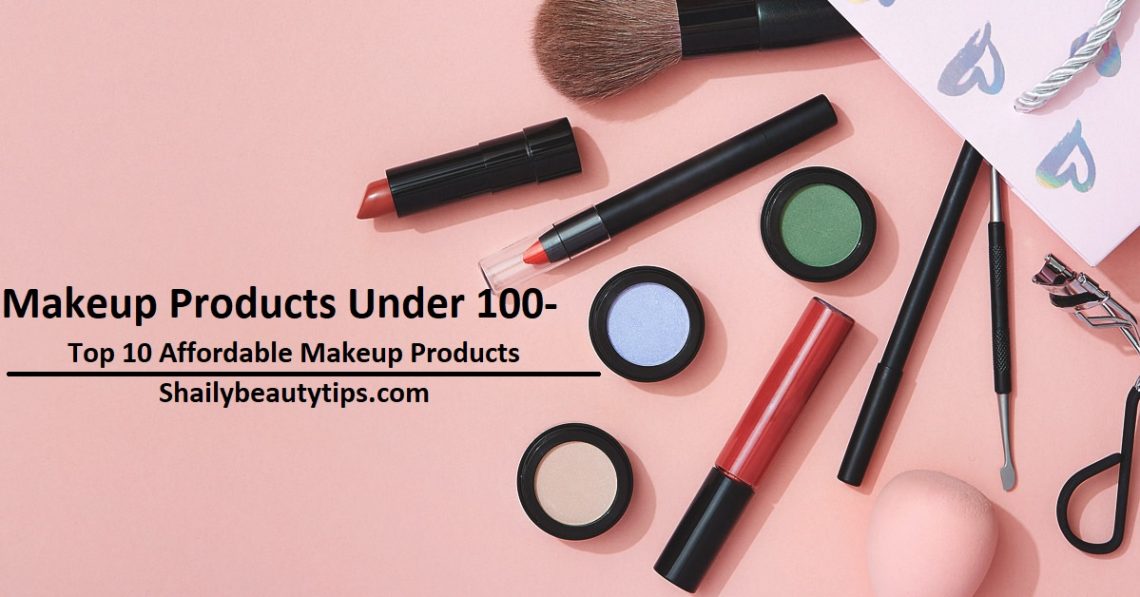 Makeup Products Under 100- Top 10 Affordable Makeup Products
Cosmetics are also called makeup. But in recent years, makeup means decorating our face with additional cosmetics like foundation, eye shadow, eyelash, blusher, contour, glitter etc. It is asserted that girls can not step out without makeup. Not only for passion, but makeup also has created a good profession for many beauty lover girls and boys. But the main obstacle to collect makeup products in our vanity is money. It claims a big budget. But don't worry. There are so many makeup products available in the market which can fulfil your wish. Because they are the Makeup Products Under 100 only, today in this article, we will list our top 10 makeup products under 100.
Top 10 Makeup Products Under 100 Only
Hello! Beautiful Girls. We know that skincare and makeup are the obsession of a girl from teenage to old age. So Just applying lipstick, eyeliner, and a bindi can make a girl look gorgeous. Some so many girls believe that only costly products have the power to adorn you beautifully. But this doesn't seem right. You can adorn yourself with makeup products under 100. Yes, there are many varieties of makeup products under 100, which give you an excellent look. Let's check out the list of top 10 makeup products under 100.
Garnier BB Cream:
Numerous girls have to take makeup daily. So for this, regularly applying the primer, foundation, contour etc., within a specific time is too tough. And regular use of these products can harm your skin for the sake of profession or your desire when you have to take makeup daily. Of course, BB cream for you and Garnier BB cream may be your best choice for the daily makeup base. Garnier is also a well-known brand. It is so light in texture and not too sticky. It gives you a clammy glow at your budget. These products include makeup products under 100 is so popular. It is beneficial for regular usage and easy to carry in a purse or vanity bag.
Price– 99/- for 9 gm.
Blue Heaven Concealer Xpression Makeup Stick:
As your skin tone may be uneven, which is your most concern. To hide the black spots, blemishes from your skin, you may think to use an expensive concealer. On the other hand, you are thinking of the price, relax and take the Blue Heaven Concealer Xpression Makeup Stick. It includes only makeup products under 100. It works amazingly on your skin to hide the dark spots. You can use it before applying the foundation. Yes, you can use it daily.
Price- 90/-
Lakme Rose Loose Powder:
Hearing the name of the ancient popular brand Lakme, your eyes become bigger. But no need to worry. Lakme Rose Loose Powder is makeup products for under 100 only. It is also an amazing product. This is only used after applying foundation to your skin. It helps to set your makeup well. As the loose powder consists of quality ingredients, it gives a pinkish glow to your skin. You never feel oily.
Price- 80/-
Lakme Perfect Liquid Foundation:
Where are the foundation lovers? Do you want to know about a branded foundation within your pocket pinch? Yes, it is possible to purchase a foundation. The brand Lakme has launched a nice foundation in the category of makeup products under 100 only. Suppose you wish to buy a foundation for regular use within your budget. Then it is the best. It is available in a small glass bottle with a tight cap. You can carry it everywhere as you wish. It is not too sticky. It gives you a misty look.
Price – 86/- for 27 ml.
Miss Claire Single Eyeshadow:
To convey a completely gorgeous look in your makeup, eye makeup is the most important. Eye makeup can enhance the charm of your face. So for eye makeup, eyeshadow is the most important one. But an eyeshadow palate claims a good amount of money. Are you upset about that? Then stop worrying. There is Miss Claire Single Eyeshadow which comes with makeup products under 100. It is very much satisfying and high pigmented. It is available in black, metallic, shimmery gold, copper, Burgundy etc. colours.
Price – 95/- for 2 gm.
Ella 18 Kajal:
Whatever the shapes of your eyes are. A kajal has the power to provide an attractive eye. But you may think within a low budget, is there any good kajal available in the market! Yes, it is available. Ella 18 Kajal entails in the list of makeup products under 100. The new version of this kajal is so good. It gives a slight matte and velvety finish. Elle 18 Kajal claims waterproof and long-lasting. It is also easy to wear.
Price – 65/-
Lakme Eyeliner:
Lakme Insta liner is not the recent makeup product under 100. It has been retaining its good name for so many years. Even our mothers also used it in their youth time. The low budget Lakme Insta Eyeliner is an excellent product with a thin, user-friendly brush. It is long-lasting and gives a perfect black line to your eyes. It's not be faded by the splashing of water. Your eyes become elegant after wearing this eyeliner.
Price – 100/-
Elle 18 Color Burst Lipstick:
We never can ignore our lips when proper makeup looks. But your pocket money tells you to avoid it because of a few pence. No worries now. Elle 18, the ancient famous beauty brand, has embarked on a bundle of fantastic lipsticks in your list of makeup products under 100. So many charming colours are available in the market at a low price. It claims long-lasting. It comprises jojoba oil and cocoa butter. These give your lips a nourishing effect. It is pigmented.
Price – 100/-
Lacto Calamine Lotion:  
Lacto Calamine is a lotion that conjointly works as a tinted lotion. It's a mixture of attention and makeup because it evens the complexion giving a sleek look to the skin. It's enriched with china stone clay and glycerol that controls extra oil. it'll rejuvenate any skin irritations and offers a recent look to the skin. With this product, one will fancy daily while not makeup.
Price – 89/- for 60 ml.
Maybelline Colorshow Nail Paints:
As a beauty freak girl, head to toe is important to adorn. So why do you ignore your nails? There are Maybelline Colorshow Nail Paints in the list of makeup products under 100. There is a variety of several lovely colours.
Price – 75/-
Conclusion
We have proven that money doesn't matter. If you want to decorate yourself, here is the list of Makeup Products Under 100 only. 100 rupees is low enough. It may not be a problem for anyone to pack her bag with a wide range of makeup products. What do you need? Foundation, loose powder, nail polish, eyeliner, lipstick, everything are now in your budget. Just pick your favourite one and present yourself as more gorgeous. The makeup products under 100 surely fulfil your desire.
Recommended Articles