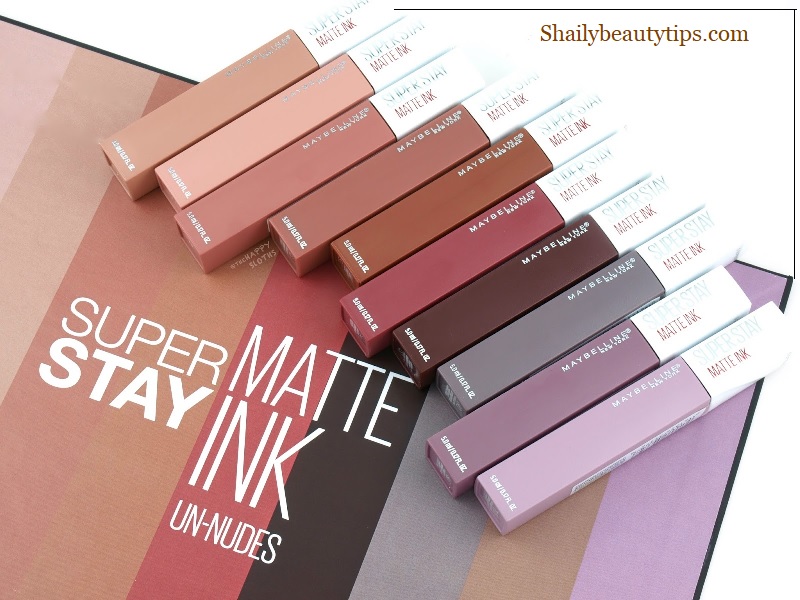 Maybelline Superstay Matte Ink Product Description and Review
As we all know, Maybelline is one of the most famous cosmetics brands. The Maybelline Superstay Matte Ink Liquid Lipstick gives you a long-term matte finish in various shades, including simple nudes, classic shades of red, mauve-pink, and everyday peaches.

They have an affordable, wide range of Maybelline Super stay Matte Ink liquid lipsticks that are high-pigmented and give long-lasting wear. Therefore, I will share a Maybelline Super stay Matte Ink liquid lipsticks review.

Maybelline Superstay Matte Ink products might contain parabens and might not be vegan. It is completely smudge-proof and waterproof and stays long without getting dirty. Its brand claims it will remain for 16 hours.

A unique arrow application creates a flawless matte finish, leading to a more precise application. The formula is long-wearing and won't transfer for up to 16 hours.

These matte lipsticks are budge-proof and set into a dry matte finish. However, they retain their sticky texture even after set, so your lips will not be completely dried or cracked.

Details of the Product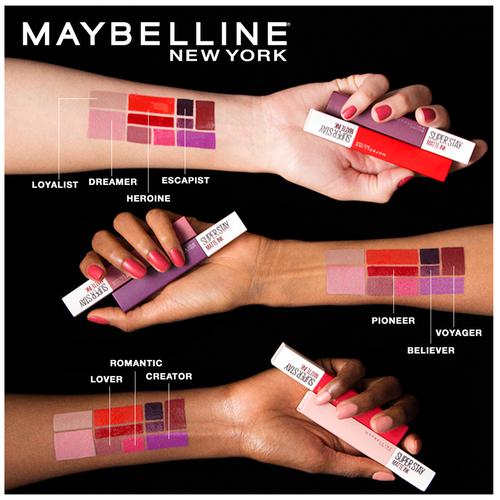 From light lipstick shades to bright lipstick shades, Maybelline's eye-catching liquid matte lipstick shades are vibrant and beautiful. The gorgeous shades of this drugstore lipstick have a smooth matte finish that lasts all day.

Maybelline SuperStay Matte Ink Liquid Lipstick is a highly pigmented lipstick with super-saturated shades ranging from classic red to nude to bright and bold lipsticks. This long-wear lip colour delivers intense colour and is designed to flatter a range of skin tones.

Ingredients of Maybelline Super Stay Matt

Dimethicone, Trimethylsiloxysilicate, Isododecane, Nylon-611/Dimethicone Copolymer, Dimethicone Crosspolymer, C30-45 Alkyldimethylsilyl Polypropylsilsesquioxane, Lauroyl Lysine, Alumina, Silica Silylate, Disodium Stearoyl Glutamate, Phenoxyethanol, Caprylyl Glycol, Limonene, Aluminum Hydroxide, Paraffin, Benzyl Benzoate, Benzyl Alcohol, Citronellol, Parfum/Fragrance,

May Contain: CI 45410/Red 28 Lake, CI 77891/Titanium Dioxide, CI 15850/Red 7, CI 77491, CI 77492, CI 77499/Iron Oxides, CI 45380/Red 22 Lake, CI 15985/Yellow 6 Lake, CI 19140/Yellow 5 Lake, CI 42090/Blue 1 Lake, CI 15850/Red 6, CI 17200/Red 33 Lake, Mica]. F.I.L. D197345/2.

The Product Claims:
The formula that lasts a long time
Up to 16 hours
Waterproof and intensely pigmented
To give you an amazing matte finish
Review of Maybelline Superstay Matte lip ink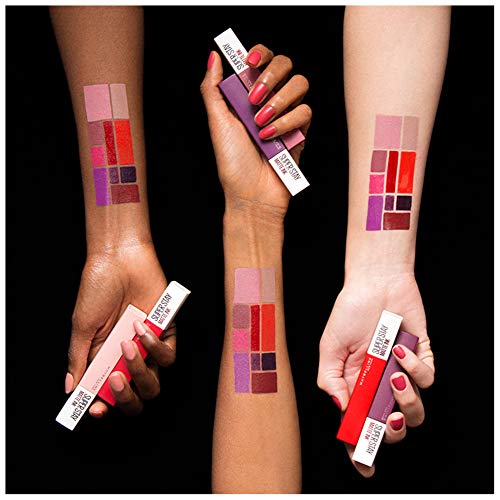 The formula is very comfortable and will last me throughout the day without overdrying. Water and food will not affect it, and whenever I want to take it off, I'll need to use a waterproof makeup remover. I'm right now using the Garnier micellar water so that it will stand up.

I like Seductress because it is light pink, the Pioneer. After all, it is red with pink undertones, Seeker because it is brown with reddish undertones, Amazonian because it is nude with brown undertones, and Transformer because it is wine-coloured.

It seems like most light nudes are so white-based that, even if you have a lighter skin tone, they won't be as flattering, but this one is. They also smell like vanilla cake, by the way.

It comes in many new colours, and the pigmentation is impressive because they're long-lasting and glossy. Maybelline new york super stay matte ink always lasted a long time on my lips, but this formula is a glossy, matte finish.

There is no cracking or flaking as with other liquid lipsticks. It is claimed to last all day long and is also smudge- and transfer-proof.


There is a significant amount of oxidation after application, and I noticed a slight change in the shade after a couple of hours. I found the formula quite sticky and felt heavier on my lips.

This lipstick gives a hydrating and moisturizing effect on my lips, and I can cover them easily with a single swipe. It is quite pleasant and pigmented, and it lasts a long time.

The brush-shaped applicator makes it easy to apply. Without a doubt, Maybelline super stay matte ink is the best lipstick I have ever used. It doesn't get streaky and gummy on lips. Ink lipstick gives a smooth application and velvety finish.

Packaging

Maybelline New York superstay matte ink liquid lipstick packaging consists of long plastic tubes with a cap and solid-coloured body that represent the lipstick's colour inside, making it easy to identify the lipstick's shade. It comes with good packing and protects the product. The packaging of the products will secure the products.
Maybelline superstay matte ink has a delightful, large, and leaf-formed doe-foot tool for a simple application that works impeccably, especially around the corners and blueprints of the lips. Thus, the wipe has a sharp tip that describes the lip well and gives a simple look with no work. The size of the cylinder is ordinary with a nice measure of the item at the expense paid and continues for around 3-4 months on the off chance that we use it on an everyday schedule. By and large, the bundling appears to be somewhat weighty and awkward; however, the utensil is exceptionally precise and agreeable to utilize.

Surface

This ink lipstick has a medium-thick consistency that floats and covers the lips effectively with no pulling and dying. It doesn't appear to be uneven, yet the thick surface causes it to feel a bit smooth and thick all the rage. In any event, when the lipstick has dried totally, it actually feels a touch tacky.

Texture

Lipstick has a cheap and rubbery completion that makes it not exactly equivalent to most other long-wearing matte lipsticks. It doesn't have the dry completion of the matte texture and has the subtlest hint of a sheen that causes it to show up more ink-like.

Interestingly, don't rub or press your lips together until they dry absolutely on the grounds that they stick and make sketchiness together like a paste finish. These lipsticks aren't for individuals who incline toward sheer, lightweight tones.

Because of thick consistency, you might feel substantial however, following one hour, no tenacity there. You probably won't need lip liner since this item is smirch, so it doesn't come out until you eliminate it.

To eliminate this Maybelline lip tone from the lips, utilize bi-stage cosmetics removers like cleaning oils and water-based cosmetics removers. 

A few layers can be applied without the concern of breaking or disintegrating. Nonetheless, subsequent to applying the one layer on the lips, permit it to dry for a legitimate matte completion. It requires around one moment to dry. Then, at that point, you can apply more layers however, permit each layer of shading to dry prior to applying the following.

The equation is extremely pigmented and kind of velvety. They have a kind of sweet vanilla smell. The plan of Maybelline ink is 100% smear evidence and waterproof, as they guarantee.

Indeed, it is somewhat awkward right away, yet in general, it is astounding lipstick. In light of its thick consistency, it strips from the internal lip line. I've tracked down that a typical solitary layer is more viable than various ones.

Fortitude

The dependability is great. It adequately stays for 8-10 hours without draining or smearing the overshadowing. It looks great for the length of the day and never looks obscured.

Since the colour focuses layer by layer, it stays on even after a slick and substantial supper, drinks, and kisses, making it difficult to eliminate everything simultaneously. That is what deals with its life span.

It fairly chips from the internal lip line and on occasion in like manner from the center before the day's finished. It depends upon the situation. Else, it perseveres through long for me. Be that as it may, reapplication is authentically not a basic way with this lipstick.

Different Shades of Maybelline Superstay Matte Ink Swatches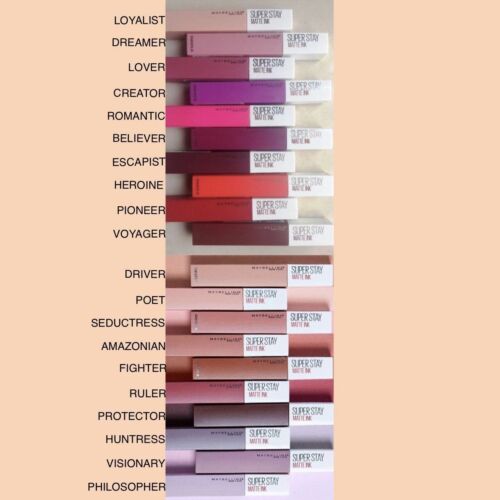 Different shades of Maybelline superstay matte ink coffee edition swatches


Different shades of Maybelline superstay matte ink Pink edition swatches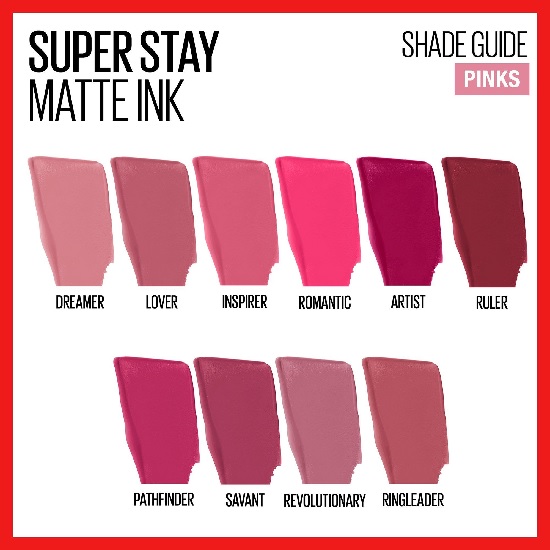 Different shades of Maybelline superstay matte ink Spiced edition swatches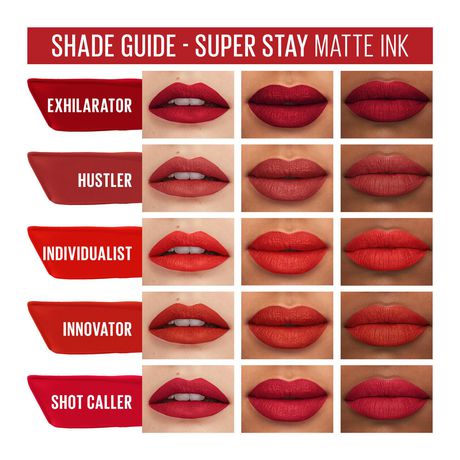 Maybelline super stay matte ink conceals

Tracking down the best lip concealment for your complexion may some of the time be overpowering. To discover a shading that features and compliments your skin, a figure first and foremost your complexion and hints whether it is warm, cool, or nonpartisan.

Maybelline earthy colored shades: The shade 250 searcher is a delightful earthy colored shade, Chai 18 shade is a profound earthy colored shade with warm suggestions, The shade 70 Amazonian is a rich caramel brown, and Voyager is a beautiful earthenware brown. 

There are excellent conceals in the purple shading family you can browse, Creator (lighter shade) and Escapist (hazier shade), and Believer – an awesome eggplant purple. 

Superstay matte ink red version: Ambitious is a warm red, Pioneer is a rich and profound block red, and Dancer is a brilliant genuine red shade that will work for most complexions. You can likewise attempt Heroine, an exceptionally dazzling orange-red, practically coral, and the shade Self Starter is a corroded red with tangerine hints.

The author is the ideal striking wine conceal, while Shade Ground Breaker is an orange-conditioned rich earthenware. Shade 65 Seductress is a dusty blushing beige with cool connotations.

Shade Artist is a dim plum tone with a hint of dazzling fuchsia, while Ruler is a block-hued lip conceal with a hint of rosewood. 

The shade Delicate is a mauve lipstick that looks beautiful on a wheatish complexion. The shade 15 Lover is a cool-conditioned mauve with pink suggestions.

85 Protector has a wonderfully rich chocolate concealer. The shade 'Wayfarer' is a rosy block that complements all complexions. The shade 60 Poet is a perfectly delicate, pink-beige that will suit reasonable and medium complexions.

Maybelline Super Stay Ink Bare Matte Completion:

Driver: delicate beige naked
Flexible – warm sweet naked
Temptress – dusty rose naked
05 Loyalist – a peach-based naked that suits for reasonable appearances
Pros of Maybelline Superstay Matte Ink

Simple To Use
Shades that compliment all complexions
Enduring and Pigmented
Mattifying
Move Proof, Smudge-verification and waterproof
Saturating and doesn't dry out lips
Great inclusion with a solitary application
Smooth and velvety surface skims without any problem
Great decision for evening wear just as office wear and party wear
Resilience is stunning
Cons of Maybelline Superstay Matte Ink

Thick and a little tacky definition 
The inward lip line drops perhaps a little. 
Hard to clear off the lipstick 
Outline

Generally, Maybelline super stay matte ink fluid lipstick is a stunning lipstick that ink your lips as long as 16 hours of fluid matte tone. This profoundly pigmented shading has a durable and no exchange recipe. It has different shades that match all delights. The plan is unbelievably acceptable. However, Maybelline superstay matte ink sets aside some effort to dry and abandons a somewhat cheap inclination. This is the best choice for those searching for a respectable, enduring matte lipstick.

FAQs

How to take off Maybelline superstay matte ink?

Albeit any oil-based remover functions admirably to eliminate this lipstick, nonetheless. I have tracked down Maybelline's SuperStay Eraser lipstick remover works best to remove this item.

Is Maybelline SuperStay matte-ink kiss-verification?

Firstly, Maybelline superstay matte ink lipstick isn't eliminated while eating oily food or while drinking. Along these lines, as it is water-confirmation and non-adaptable. As we all know, Maybelline superstay matte ink is a kiss-verification lipstick generally.

Is Maybelline SuperStay matte-ink vegetarian?

A few fixings make them non-vegetarian. Thus, Maybelline superstay matte ink isn't 100% veggie lover and, furthermore not a mercilessness-free item.
SBT highly recommend putting it on your lips like a lip balm if you have extremely dry lips and still want to use liquid lipstick.

Shailybeautytips