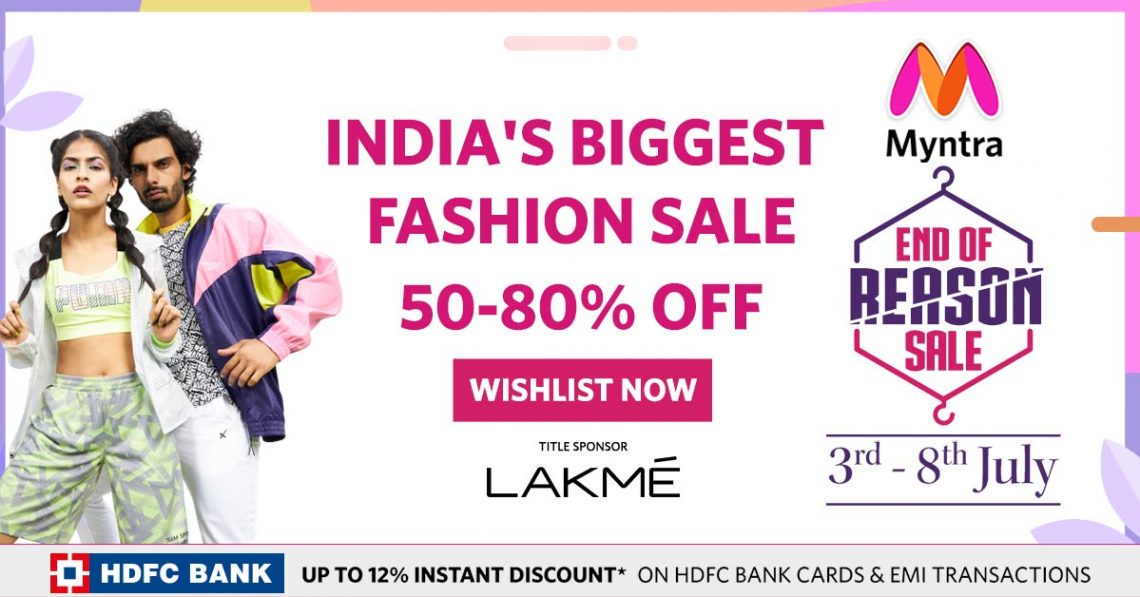 Saree Lovers, Myntra EORS has Got You Covered
Versatility in types of clothing is something you will find in every woman's wardrobe, from formal wear and casual wear to western wear and ethnic wear, being prepared for every possible occasion is very important. Fashion plays a major part in helping you fully express yourself, and for every Indian woman, her cultural heritage is forever an inseparable part of her identity. Luckily, the ethnic fashion industry is not at all lacking in clothing options for one to proudly display their ethnicity, but the truth is, nothing says "Indian" better than women sarees. Women sarees have been, are and always will be the staple clothing for women, and if you have been looking for a chance to go on a saree shopping spree, Myntra EORS (End of Reason sale) has got you covered!

Over the years, women sarees have become globally loved clothing, and naturally, various different styles have also cropped up. Each with a uniquely fresh element that has all been brought together in Myntra's women sarees collection. This collection features a wide range of sarees in different styles, patterns, fabrics, and not to mention heavy discounts on all your favourite ones! Here are some of the best women sarees you can find on Myntra:

Banarasi Saree
Banarasi sarees, made in the Banaras region of Uttar Pradesh, is made of pure silk and is embellished with gold, zari or silver brocade engravings and embroidery, sometimes only at the borders and sometimes throughout the entire fabric. This embroidery makes Banarasi sarees quite heavy and gives an extremely royal look that is not to be missed out on.
Organza Saree
Organza sarees are made from the organza fabric, which is made from silk. Unlike pure silk, organza is sheer and has a slight shine to it that looks very sophisticated. As the fabric is extremely thin, organza sarees are known to be comfortable for the wearer. It has a delicate look and is easy to handle, making it ideal for beginners.
Kanjeevaram Saree:
Also known as Kanchipuram, Kanjeevaram sarees are a speciality from Tamil Nadu, India. They are made from pure mulberry silk and usually have broad, contrasting borders. Overall, Kanjeevaram sarees have a very minimalistic and elegant look that you can wear best with some fine jewellery.
Bandhani Saree
Bandhani sarees have a unique, tye-dye style that is made by manually pinching the fabric to form various, intricate designs. Typically from Gujarat and Rajasthan, Bandhani sarees are lightweight and comfortable, especially for everyday use as well.
Paithani Saree
These are a staple from the state of Maharashtra, also made from silk fabric. Zari is woven into the fabric in a plain weave, giving it a very simple look. These are usually popular in solid-coloured or multicoloured styles.
Along with these women sarees, many others like ready-to-wear ruffle sarees, printed sarees, leheriya sarees, chanderi silk sarees, and many more are also available at Myntra EORS 2021. Full of vibrant colours, unique styles and beautiful fabrics, this collection has every saree you need to stock up on. Start shopping!