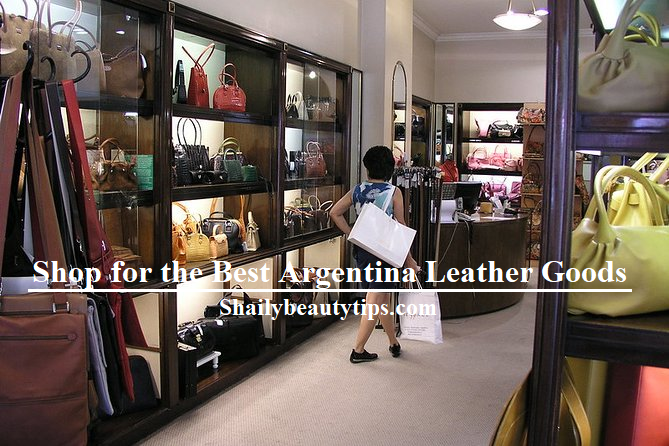 Shop for the Best Argentina Leather Goods – Best Leather
Argentina is widely popular for providing some of the best leather goods. Therefore, every individual that visits Argentina, especially for shopping, has leather products at the top of the list. Besides, Argentina leather goods are considered superior quality and are available only at specific spots in the world.
Argentina is known as the biggest manufacturer of meat across the world. It is famous for producing top-quality leather goods as well. There are many good leather stores present in Argentina that can provide both durable and affordable leather goods.
The leather goods sold in Argentina mostly have cheaper rates along with high quality. However, due to the huge number of leather shops in Buenos Aires, it is better to understand the steps to get the best Argentina leather goods.
The tips given below can help anyone to buy leather goods in Buenos Aires:
1. Best Quality
A huge number of Argentina's leather goods are mostly exported overseas, so it is required for every person to check the quality before making the purchase. It is also vital to perform quality control slightly. You need to guarantee the type of leather you are buying, whether it is top-most quality or not.
You can begin by checking out the seams and stitching on the products and whether there is any difference in the actual product color. This indicates the fact that the color on the surface of the item is dyed.
If you can feel the leather to be rough and stiff, then it is highly probable for it to have been covered up to hide the errors in it. Every leather comprises of a leather mark. Also, first-grade leather mostly has a smooth and soft texture. This superior quality leather should never contain huge marks.
2. Affordable Price Range
There is a street in Buenos Aires that is quite popular for offering good quality leather products at a cheaper rate, i.e., Murillo Street. Besides, this city has a countless number of shops the city. These shops are well-known for selling a stylish bright set of leather shoes, belts, jackets, bags, etc.
However, some of the designs available might not be the latest, and the quality across all of these shops might differ incredibly. Therefore, you must check everything properly before deciding to purchase. The local small shops are not considered ideal because they don't have newer or softer leather goods available for purchase.
3. Top Leather Jacket
The popularity of leather jacket has been growing continuously across the years. The majority of people choose it due to its flexibility and the ability to last through all the seasons. Therefore, it becomes the first choice for almost everyone.
It is also possible to get yourself a customized leather jacket in Argentina. Many tailor shops in Argentina are highly recognized. These shops offer the best fit and lower price for you to get your jacket done within a few weeks. It includes tailors like Bettina Riza.
Many other shops in Argentina provide stylish clothes, including the fringed biker jackets that are currently very famous in the world.
4. Have Knowledge Regarding Leathers
While trying to select leather jackets, it is essential to understand leathers. The most widely available and economical leather here is the Calfskin. It is known to be long-lasting and as well as the best choice for a custom leather jacket. Another variety of leather that is softer than previously mentioned along with lightweight.
5. Carpincho Leather
There is a variety of leather present in Argentina, out of which carpincho leather is unique. This is the leather that is the first selection of gauchos. Also, this leather comes from the world's biggest rodent, known as Capybara.
6. Best place for Handbags
This also a great destination for handbags. Presently, it is known that smaller brands or designers sell their private sets from their apartments or studios. Although, to visit the showrooms you must book beforehand.
7. Best Leather Shops
Argentina is also well-known for housing some of the top brands, for example, Prune. Since these kinds of brands provide a huge collection of stylish handbags, shoes, jackets, wallets, and similar leather goods for women, some of these brands also consider the color of the season and offer the best deals.
8. Stylish and Comfortable Shoes
There are countless options for leather shoes available in Argentina. It includes the huge, clumpy platform footwears for women along with the availability of other latest trends. For men, there are many types of handmade leather shoes available. But you must check the quality before buying it.
9. Good Quality Cowhide Leather
This is another variety of leather. It is a great option due to its flexibility and durability. Besides, the cowhide rugs can be maintained easily and are natural. These rugs also add up to the beauty of your room.
10. Shopping without Tax
In case you are looking to buy leather goods, you must search for the shops that have a global blue tax sticker on their windows since it helps you get back the 14% tax on your leather products.