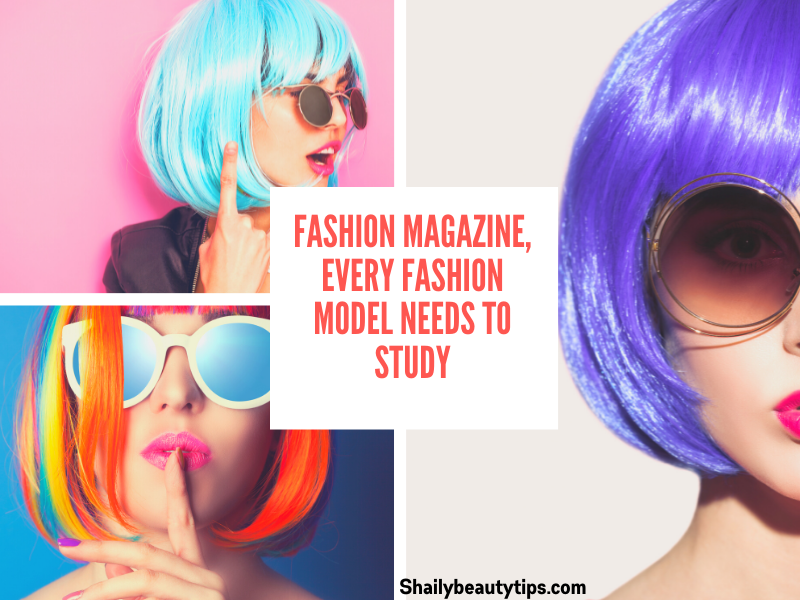 Fashion Magazine, Every Fashion Model Needs To Study
Fashion is an important aspect of life, and each of us has our style, especially fashion models. However, some people are born fashionistas but need some guidance for being a model. Thanks to fashion magazines, they have helped everyone understand fashion and improve their sense of style according to trend. Fashion magazines have a deep understanding of new trends and styles, and they can help integrate these aspects into their looks with ease. These magazines will ensure that you get the style transformation you deserve as you are a fashionable model. Whether you want to look ultra-chic and fashionable or need some fashion inspiration best alternate is a fashion magazine.
Going with the trend is too much important for a fashion model. They need to suffer from a hectic schedule or in this busy and hectic life. There's nothing like lying down and relaxing with your favourite fashion magazine to make you feel better.

Why It's Important To Read A Fashion Magazine For A Model?

It is important to read fashion magazine because these are based on the latest trend and portray them uniquely. In fact, you may gain inspiration from articles about famous women in the fashion industry or celebrity interviews.
In today's era going with the trend is important, especially for models. For up to date, they love to read the magazine because Style magazines are a perfect way to stay up to date on what's going on in the world of fashion, as long as you keep in mind that they're designed for marketing clothing and accessories. For a model, it is necessary to focus on the clothes, patterns, and fashion concepts to go with the trend.

Top 10 Magazine For Fashion Model

To assist you, we are compiling a list of the top 10 fashion magazines so you can select the best one for you. You may discover a new trend with the help of these magazines.

Vogue Magazine
Elle Magazine
Harper's Bazaar Magazine
Femina Magazine
Woman's Era Magazine
Man's World Magazine
Cosmopolitan Magazine
FHM Magazine
Verve Magazine
GQ Magazine
1. Vogue Fashion Magazine-
Vogue, a fashion magazine, contains American fashion and lifestyle publication. It was published in 1892. Vogue India is the world's best fashion publication for women. Vogue magazine subscription is for all the fashionistas out there. It is a monthly publication covering subjects such as fashion, makeup, fashion, and lifestyle, beauty, trend. Vogue is a lifestyle publication that keeps you up to speed also contain the best and trendy material. It also reviewed novels, plays, and music.

2. Elle magazine-
It is the largest international fashion magazine.
This Magazine features both inclusive and creative content and the latest fashion trends and coverage of critical women's issues. Elle even explores lifestyle and cultural information, politics, also the latest trend and relationship tips, making it a must-read publication.

3. Harper's Bazaar Magazine-
This Magazine is one of the finest fashion magazines. Harper's Bazaar, with its New York City design, gives you the latest from admired designers as well as must-have beauty tips from experts. Harper's Bazaar considers itself to be the go-to fashion magazine for "women who are first in line for the latest, from trendy to couture." It is addressed at more specialized and selective Indian women. This publication discusses current fashion trends and some tips, celebrity style fashion, travel, makeup tips, outfit and clothing inspiration, music, weddings, artists, cuisine, and lifestyle.
4. Femina Fashion Magazine-
All your fashion and beauty ideas in one spot, from the latest creative style inspirations to straight off the runway. We bring you all the latest fashion updates and off-duty looks to the latest looks to the most memorable red carpet moments. Your go-to resource for nailing any celebrity look and staying on top of the latest trends. With all the new fashion, style, trends, and explore, feel the world of fashion FEMINA.
New fashion trends, makeup, wellness, fitness, leisure, food, cuisine, as well as marriages, brides, celebrities, music, work, and much more are all covered in the pages of the magazine. Femina Magazine is aiming only at new fashion model and young Indian women and Quite stylish.
5. Woman's Era Magazine-
Woman's Era covers a wide range of subjects, like fashion, cooking, movie and book review, fitness, relationships, appearance, lifestyle, travel, and technology, as well as social and current event commentary. Poems and some short stories are also included. After Femina, it is the second most famous women's magazine.
Woman's Era Magazine is a women's interest magazine of Indian roots. This magazine is a great source of inspiration for modern Indian people! Woman's Era Magazine, a women-centric design and lifestyle publication, features a wide array of stories on topics such as fashion, cooking, film and book reviews, fitness, relationships, makeup, lifestyle, travel, and technology, as well as commentary on celebrities and current affairs.
6. Man's World Magazine-
Man's World Magazine is another Indian men's fashion magazine and India's first men's luxury lifestyle magazine, having been created in. It not only has a tonne of fashion pages with styles, ideas, advice, and news, but it also covers other facets of Indian men's lives such as fashion, lifestyle, motorcycles, electronic gadgets, sports, grooming, books, films and television, theatre, wine, food, music, exercise, adventure, adventure, and experiences.
7. Cosmopolitan Magazine-
The fashion magazine COSMOPOLITAN, which was once regarded as a Bible for young people.
Cosmopolitan Magazine, a monthly women's fashion and culture magazine of American origin, is now available in Indian Edition. Currently, Cosmo Magazine is one of the most popular publications aimed mostly at female readers. Relationships, fashion, sex, fitness, jobs, as well as self-improvement, celebrities, lifestyle, horoscopes, and beauty are among the subjects included in the journal. It also contains media stars' careers, aided in the promotion of great brands and charities, and encouraged millions of young women worldwide.
8. FHM Magazine-
This FHM Magazine is an Indian version of FHM, a British men's interest publication. The magazine's cover features high-profile figures such as top models, actors, and artists. FHM India's focus has recently shifted from random celebrity shoots to concept-based celebrity shoots. This Men's Magazine features dating advice, fashion trends, beauty advice, viral content, life hacks, sports, also movies.
9. The Verve Magazine-
This is India's first leading luxury lifestyle publication for women. Verve is famous for its strong focus on people, with interviews with celebrities and well-known people, also coverage of Bollywood news, and a medium for discovering new talent. This women's lifestyle magazine focuses on the latest fashion trends and fashion tips and ideas, arts and culture, cooking, travel, makeup also.
10. GQ Magazine
GQ Magazine is an Indian version of GQ Magazine, which originated in the United States. It is a monthly fashion also lifestyle publication targeted directly at male readers. Currently, GQ is the second fully foreign-owned magazine to be published in India. The Indian version of GQ fashion magazine, a men's lifestyle magazine, features articles on food, movies, exercise, sex, music, travel, sports, technology, and books, as well as articles on food, movies, fitness, sex, music, travel, sports, technology, and books.