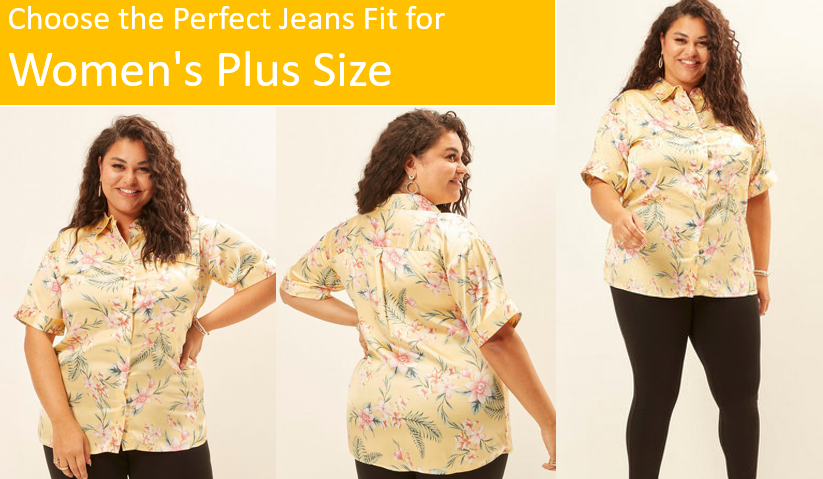 Choose the Perfect Jeans Fit for Women's Plus Size    
Sizing jeans, especially plus-sized ones for women, require essential skills before shopping and filling the wardrobe. That is because not all companies have an identical size for their jeans. So, buyers should keep accurate measurements to figure out what's the best fit for their bodies.
Being plus size does not necessarily mean that you are about to leave fashionable styles and embrace bland baggy pants. Today, women's apparel companies have plenty of Women's Plus Size clothes, including denim. And once you come across them, you will feel like throwing away your fat jeans. After all, when you can refill your wardrobe with bottoms that enhance and highlight your curves, why compromise with something less?
However, selecting these plus-size pants is not a child's play. The secret to finding the right fit is knowing what ideally suits your body shape to enhance your strong areas and downplay the weaker ones. This article will walk you through all that in simple words.
For Women with Hourglass-shaped Body
A typical person with an hourglass-shaped body has almost an identical width of shoulders and hips. They have a narrow and well-defined waist.
Women with an hourglass-shaped body need products that fit flawlessly at their strong points – the waist and hips. They need to wear pants that wrap around the thinnest part of the waist to maintain equal proportions. Flared, skinny, or high-waisted denim might be the best choice.
For Women with Pear/Triangular Body
A pear-shaped triangular body means that the shoulders are narrower than the hips. A defined waist adds to the overall appeal of women having this body shape.
The best products are the ones in a darker shade. It can be a dark shade of black, blue, or bottle green, as per your preference. Straight leg or boot-cut jeans are the best for a triangular-shaped body. Wear denim with a light-colored top to have the most appealing dress combination.
For Women with an Inverted-Triangle Body
Women with an inverted triangle body shape have wider shoulders than their hips. To balance the figure, they must pull attention away from their body's upper part.
Therefore, the best option for this body shape is trying out jeans with some design or ornamentation in the pockets. Buy light-colored pants because they bring better attention to the body's lower half. Low-rise ones are also another option that will make your torso look elongated. However, you should stay away from high-waisted pants.
For Women with an Apple/Oval Body
The oval-shaped apple-like body has a slightly undefined waist, whereas the hips and waist are of the same width. They have a round torso with a large bust.
As the weight is concentrated at the shoulders and hips, dark shades of denim are the best choice. Look for pants that have a wide waistband. One can also go for high-waisted products to give the waistline a more defined look. You can also go for boot-cut ones.
Final Words
With so many options for every body shape, it is hard to choose Women's Plus Size dresses, especially jeans. One needs to understand that it is not always about looking slim but flaunting the way you look in the best possible way.
Also Read – 8 Ways To Improve Your Plus Size Dressing Skills