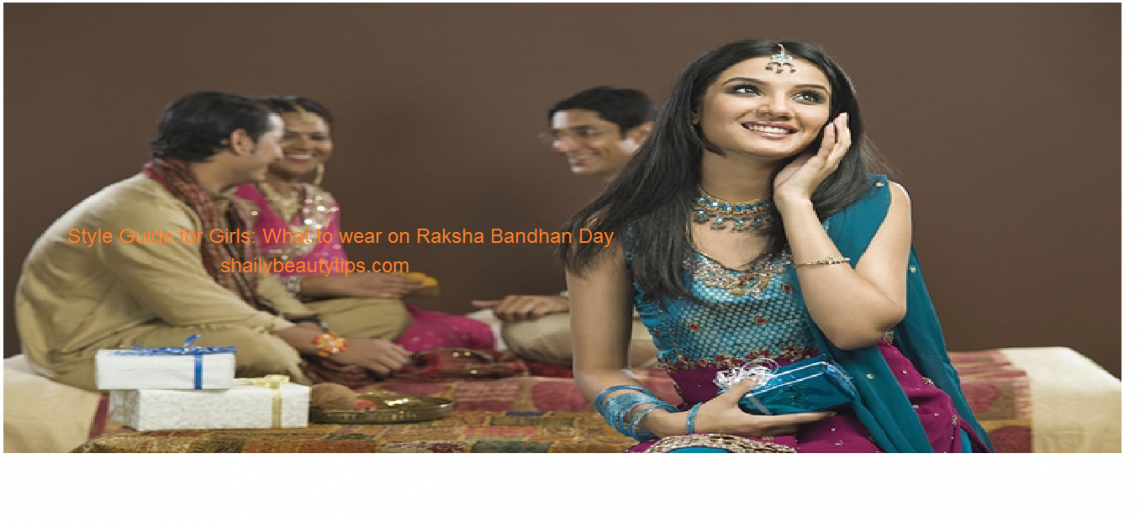 Style Guide for Girls: What to wear on Raksha Bandhan Day
Raksha Bandhan 2021 is coming and are you still thinking about how to look elegant on the occasion? What to wear on that day? Don't worry we will help you with a handful of trendy ideas to create your perfect look.
Raksha Bandhan is the festival of emotion. It reflects our Indian tradition. So why not wear something that combines trends with tradition? So let's pick your favorite outfit and don't forget to order customized rakhito get ready for Raksha Bandhan 2021.
Outfit Tips For Girls for Raksha Bandhan
Follow the tips to get a complete look for your special family occasion.
Palazzo Set with a Lovely Dupatta
A gorgeous block-printed palazzo set with a dupatta that is colored in contrast can give you the perfect look on Raksha Bandhan 2021. You can style up your royal blue colored palazzo set with golden bangles or you may go for silver jewelry to complete your look.
Trendy Saree
Saree is the traditional outfit that Indian girls love and in such a family occasion of Raksha Bandhan, a georgette Saree can be your perfect choice. To make your look simple and still elegant you can pair your solid-colored Saree with an embroidery blouse. It will enhance your festive look for sure.
White Lehenga
Lehenga is an outfit that is gorgeous itself and when you wear it makes you gorgeous too. If you are confused about wearing such a heavy outfit then you must go for a white lehenga that is classy enough. You can also contrast your white net lehenga choli with a deep pink ethnic crop top with minimal jewelry.
Red Anarkali Set
Red is the color when you choose for your outfit undoubtedly it makes you the center of attraction. So you can get ready for this Raksha Bandhan 2021 with a golden ethnic motif red Anarkali set. The layered Anarkali kurta with golden pencil pants is pretty enough to flatter your look. A golden earring with this Anarkali dress simply makes you stunning.
Flared Maxi Dress
The most trendy outfit you can select for this Raksha Bandhan occasion from your wardrobe is a flared maxi dress. You can also style it with a trendy jacket from your collection. You can go for a designer coral maxi dress that doesn't need any other accessories to complete your look except a long stylish earring.
Floral Printed Cotton Kurta
If you want to look simple but pretty on the day then go for a parrot green cotton Kurta designed with floral print. Cotton is the material that undoubtedly enhances your looks when you choose your attire. When there is a lovely latkan with your kurta it is simply pretty. While you pair this with white or silver pencil pants, it makes you look elegant. A silver mirror earring with bangle sets is the perfect jewelry to match with this.
Jaipuri Long Skirt
Indian girls desire to have a Jaipuri long skirt in their wardrobe. Paring the dark-colored Jaipuri long skirt with an off-white bottom up can be the perfect combination to go for the Raksha Bandhan festival 2021.
Gown Dress
You can also choose a beautiful gown from your wardrobe to wear on Raksha Bandhan occasions. No matter whatever sleeve pattern it has, it is simply elegant. A mirror or floral-designed navy blue gown with minimal jewelry can make you ready perfectly for that day.
These are the top trendy outfit ideas to get ready for Raksha Bandhan 2021. Now it's time to pick one of them according to your choice and collection and enjoy the occasion vibrantly with laughter and happiness.
About The Author
Anurag Malik is content manager at Rakhi Celebrations, an online rakhi delivery shop. He loves to share his ideas on social media on lifestyle, health, business and more.