Bridal Kalire Designs The Best Of The Best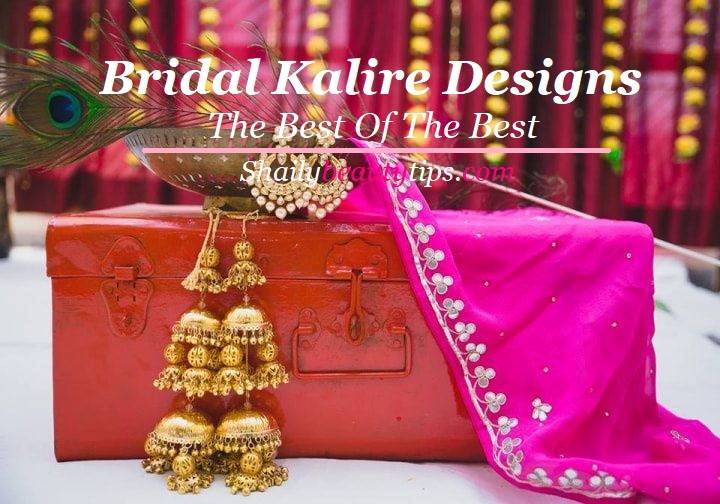 With all of the excitement and anticipation that comes with embarking on this new period of your life with your spouse, your wedding is also an opportunity to put all of your fashion and style skills to the test. There is so much to choose from, from your bridal cosmetics to your wedding lehenga, the options are almost endless! Your bridal kalire designs, on the other hand, is an area where you have a lot of room to express yourself. Brides use to have to stick with the traditional golden kalire because the options were limited. But now there are so many options (like this floral kaleere, seashell kalire, bridal kaleere with pom-poms, tassel kalire, and so on!) that you can match your bridal kalire designs to your wedding outfit or you can simply choose a contrasting pair, whatever suits you the best!
Consequently, let us immediately save our favorite and most popular bridal kalire designs in preparation for "The Big Day."
The 25 Most Up-To-Date Bridal Kalire Designs
Today, we decide to do a little digging and locate the greatest wedding kalire designs for you to be inspire by. We hope you like! We offer a wide variety of kalire designs to choose from, including traditional floral kalire, coconut kaleere patterns, designs ornamented with simple white shells, and designs embellished with bright pom-poms and tassels. So, future brides and grooms! Choose the most beautiful bridal kalire design for your ideal wedding day by putting your stylish hats on!
1. This Bewitching Bridal Kalire With Pearl Embroidery Has Captured Our Hearts.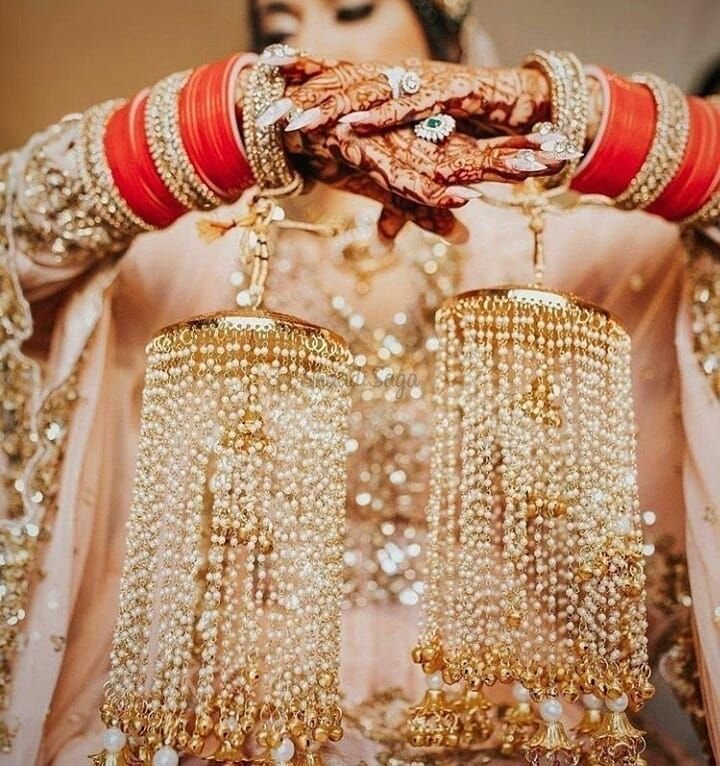 The first one on our list had everything we could possibly want in a wedding kalire, and it is the one we chose. This stunning piece of jewellery is embellishing with pearls, jhumkas, and other embellishments. We can't help but like the bride's sense of style even more for pairing her elaborate kalire with other items of hand jewelry that are just as stylish.
2. Kalire, The Floral Bridal Kalire, Has A Special Place In Our Hearts! After All, They Are Very Stunning!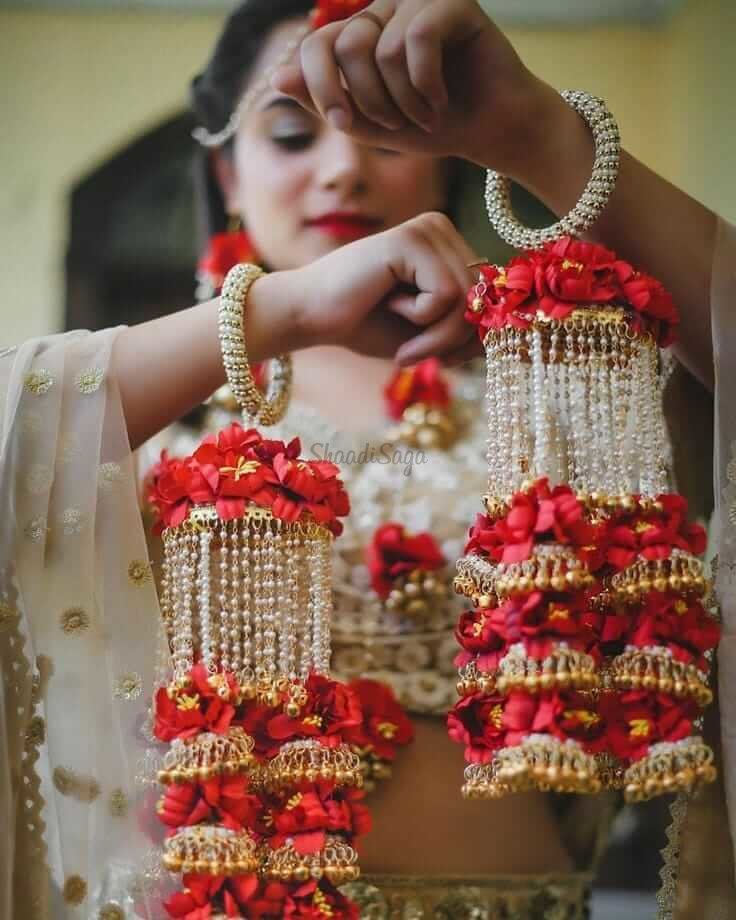 They instructed her to wear red on her wedding day, and she turned it into something spectacular. Using these lovely red flowers to adorn this wedding floral kalire is a great idea in our opinion. Adding to the allure of this lovely necklace are the little beads embellishments and the ghungroos at the bottom.
3. On The Occasion Of Her Wedding To Gautam Kitchlu Last Year, Kajal Aggarwal Was A Picture Of #Bridal Goals Perfection!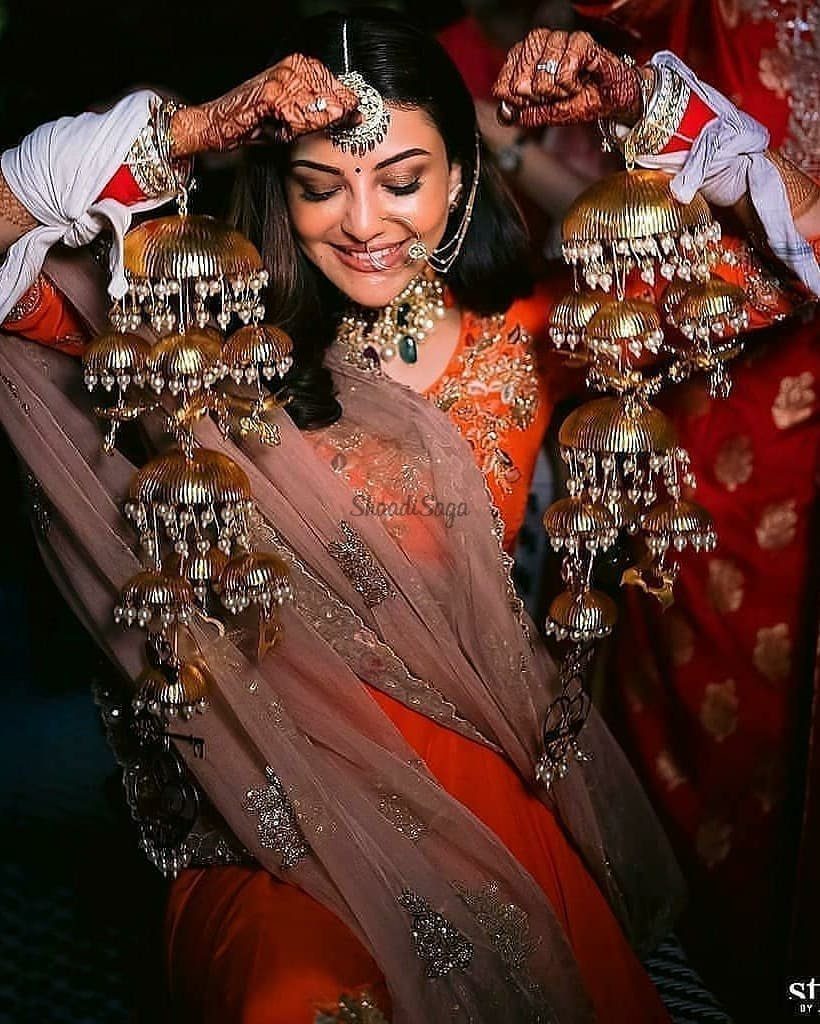 Our favorite B'town divas never fail to provide us with significant fashion inspiration, particularly when they decide to tie the knot with the love of their life. When Kajal Aggarwal chose to tie the knot last year, she dazzled everyone with her stunning wedding attire. It's impossible to take our gaze away from her massive Mrinalini Chandra bridal kalire designs, which is really magnificent.
4. Adorable Mini Kalire Are Becoming More Popular Among Modern-Day Brides, And We Can See Why!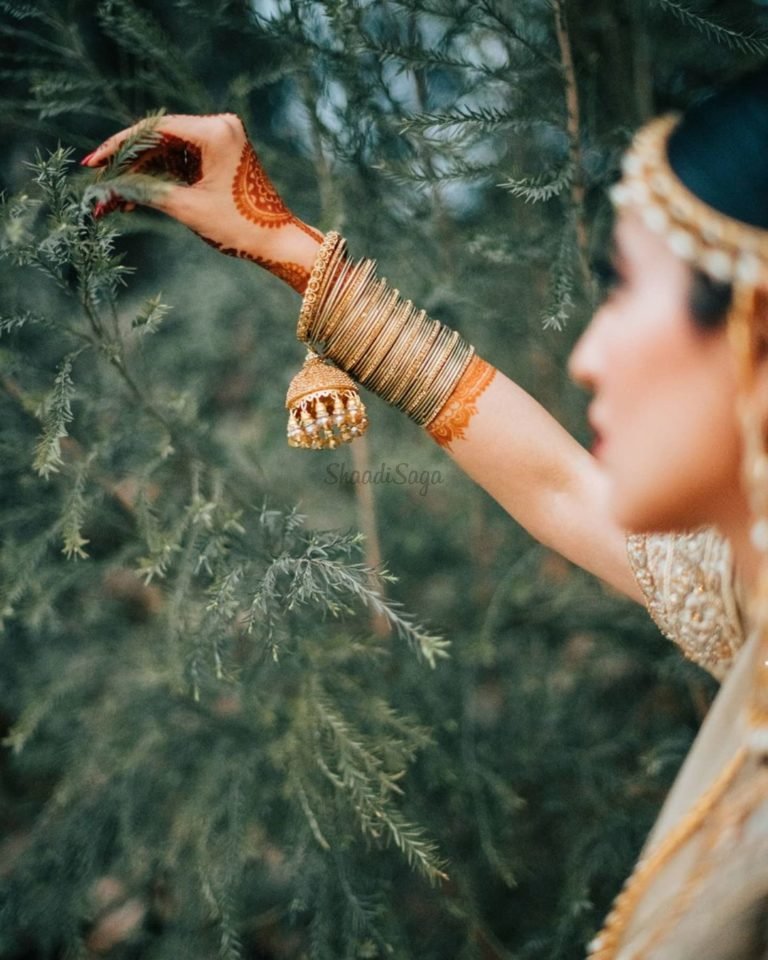 In recent years, little bridal kalire has become more fashionable, and they are one of the most popular kalire styles. These smaller copies of classic beauties are both adorable and fashionable, and they make a significant contribution to a bride's wedding day wardrobe.
5. This Pretty Silver Bridal Kalire Design Is Another Option For Those Who Like To Keep Things Simple.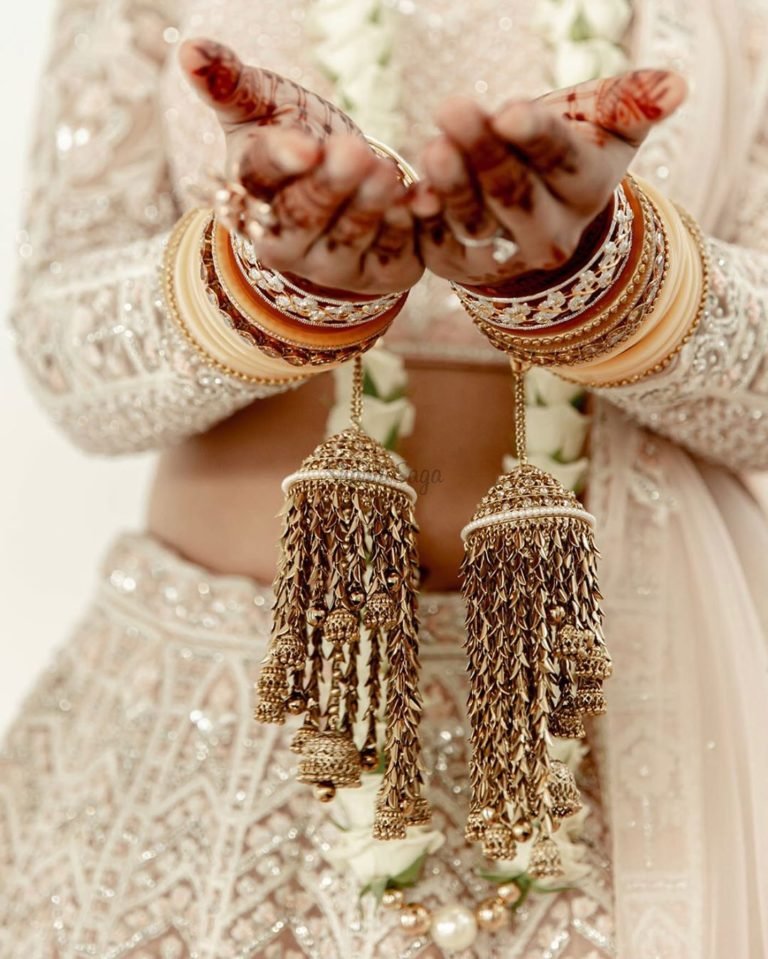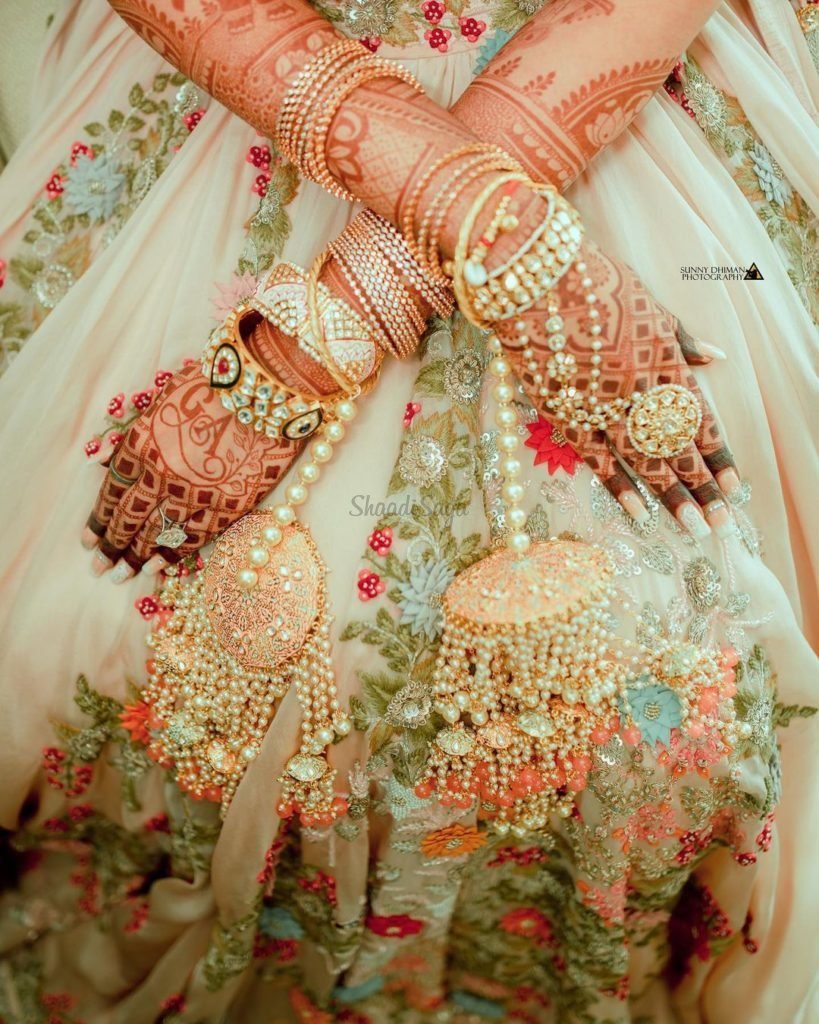 If you happen to be someone who thinks that less is more, or if you just want your kalire to get all of the attention in the world, there isn't a better pair of simple kalire designs for you to choose from. We are over heels in love with these stunning ones in silver!
6. The Combination Of Pastel Pink And Pearl Is HEART-WARMING!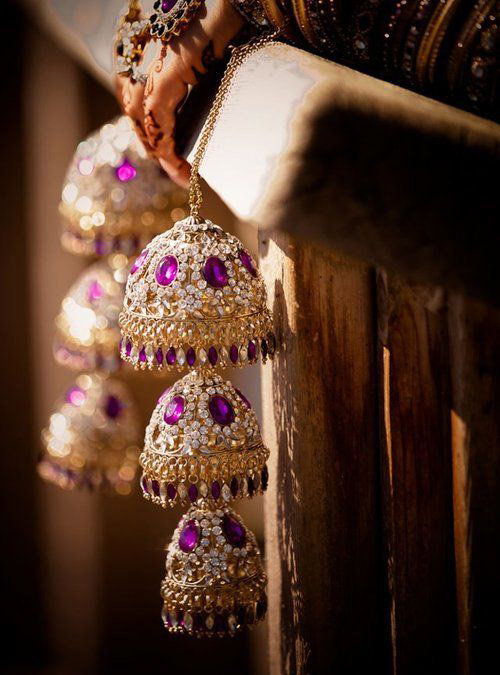 Our favorite pieces from the collection are these delicate pastel pink kalire earrings, which are adorn with pristine white pearls. Her whole outfit, from her kalire to her wedding lehenga and the bangles to her stunning beauty, has grabbed our hearts completely. Check out these beauties! Isn't it true that they're very stunning?
7. Purple Kundan Work On This Bridal Kalire is Sure To Turn Some Heads.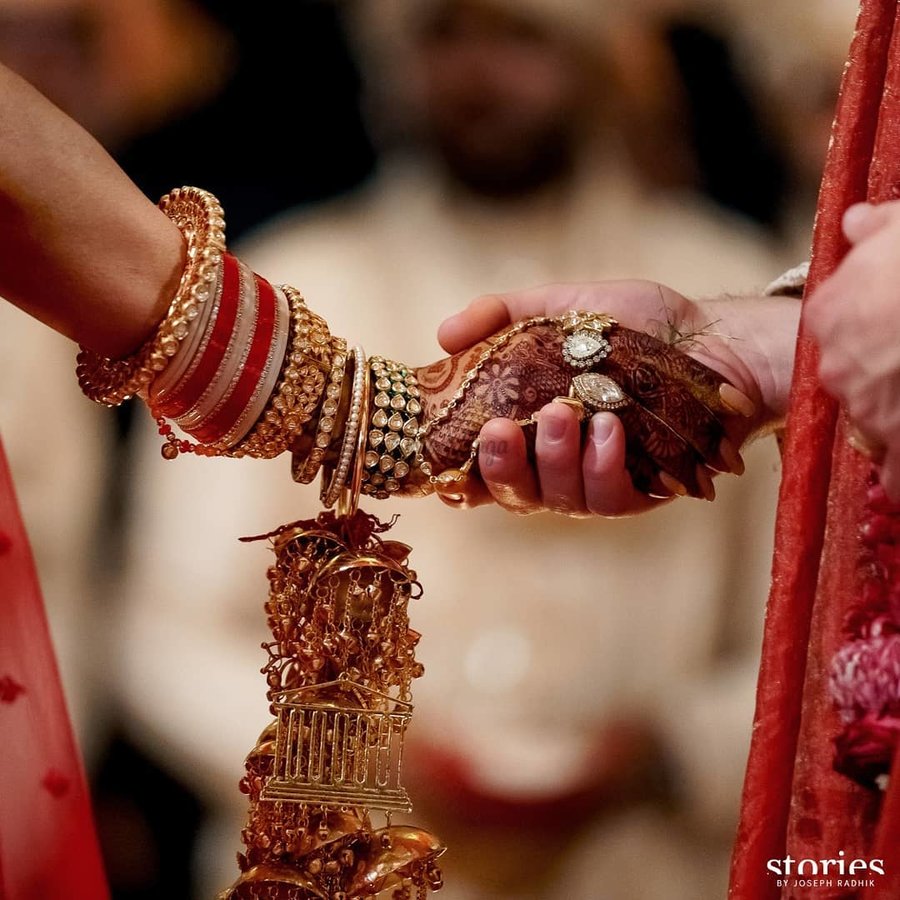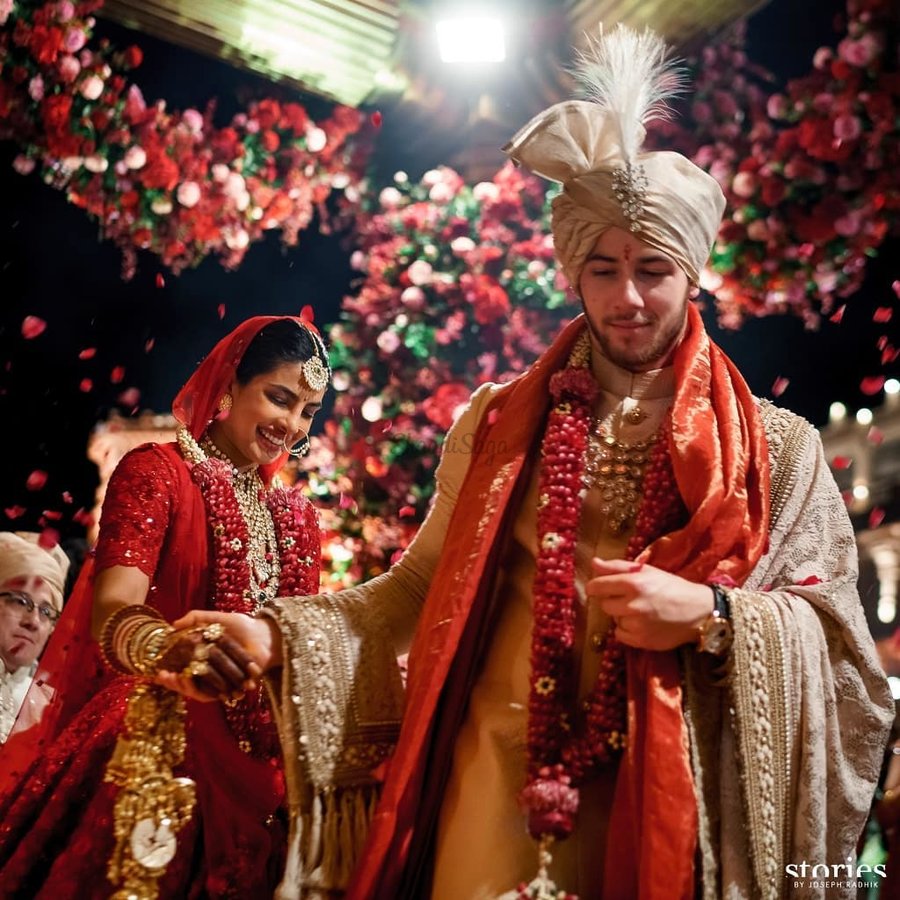 Purple is a captivating color that is also bold and vibrant at the same time. Featuring sparkling white or silver stones that are decorate with purple crystals, this one-of-a-kind pair of wedding kalire stands out from the crowd. For the longest period, your visitors will be talking about this magnificent piece of jewelry.
8. The Power Of This Diva's Aura Speaks For Itself. We can't Imagine Her Donning Anything That Isn't Deserving Of All The Accolades.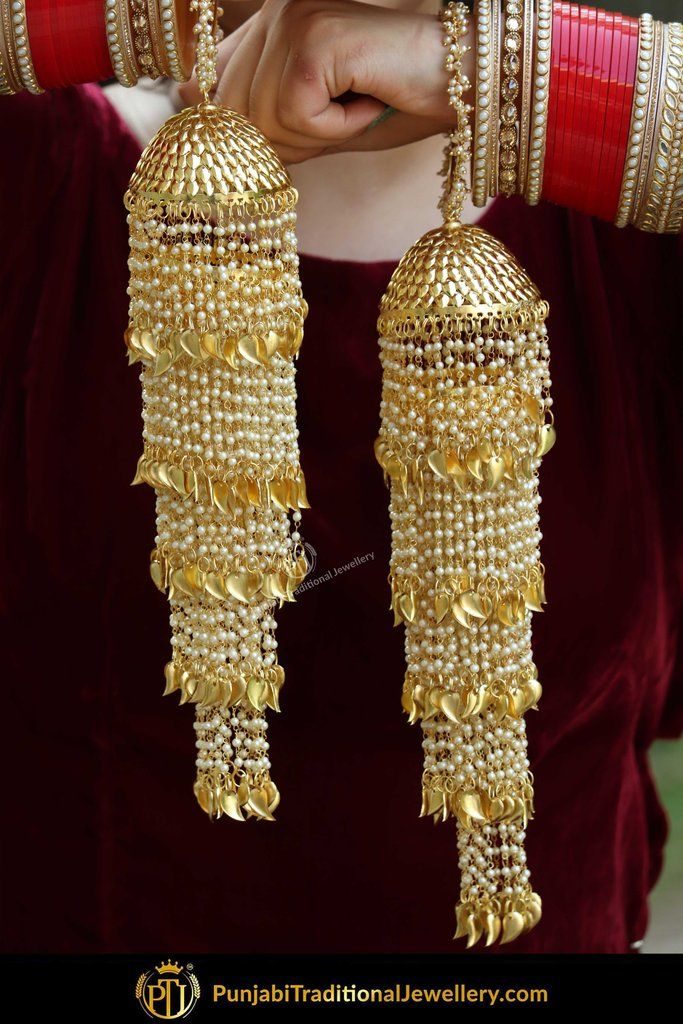 The stunning diva is nothing short of a source of inspiration. Every time she leaves her home, she provides us with new fashion trends to follow. And in this case, we're talking about her enormous size. She seemed to be flawless from head to toe. While we're still swooning over her wedding day ensemble, take a look at her lovely golden kalire, which looks stunning when coupled with her all-red bridal lehenga!
9. With little question, the most intricate floral bridal kalires are among our most favorite pieces to wear.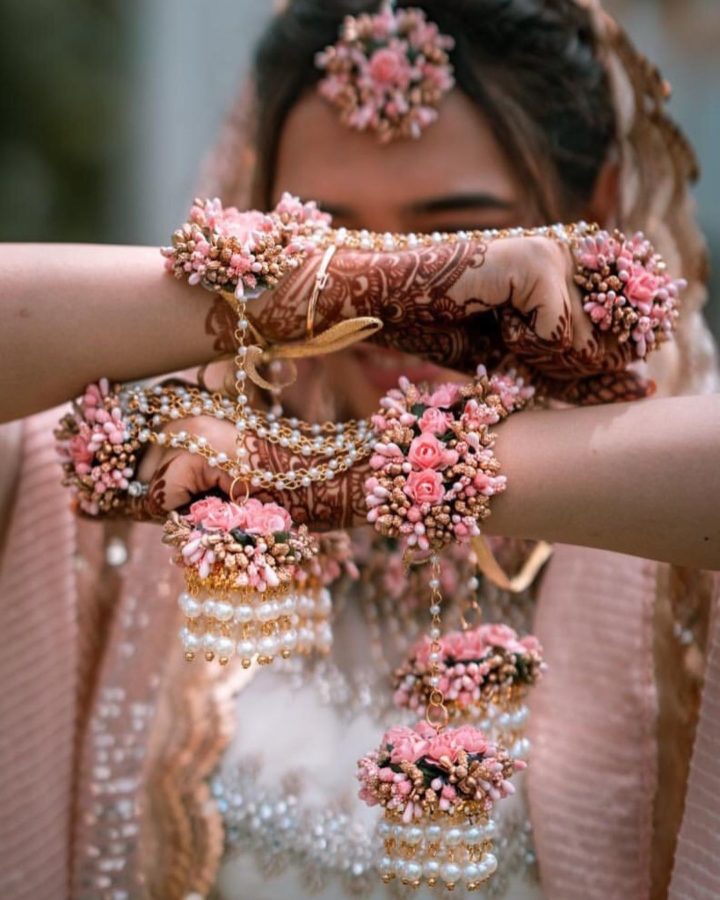 Since the introduction of the tradition of embellishing bridal kalire with beautiful flowers into the Indian wedding fashion scene, it has only gained in popularity and recognition. Floral kalire has become one of the most popular pieces of bridal jewelry in recent years. A widely sought-after design, gorgeous silk flowers embellishing classic wedding kalire are a must-have accessory that surely improves your bridal appearance.
10. This Bride From Punjab Made The Decision To Bring Her Culture Along With Her As She Walked Down The Aisle To Her Wedding.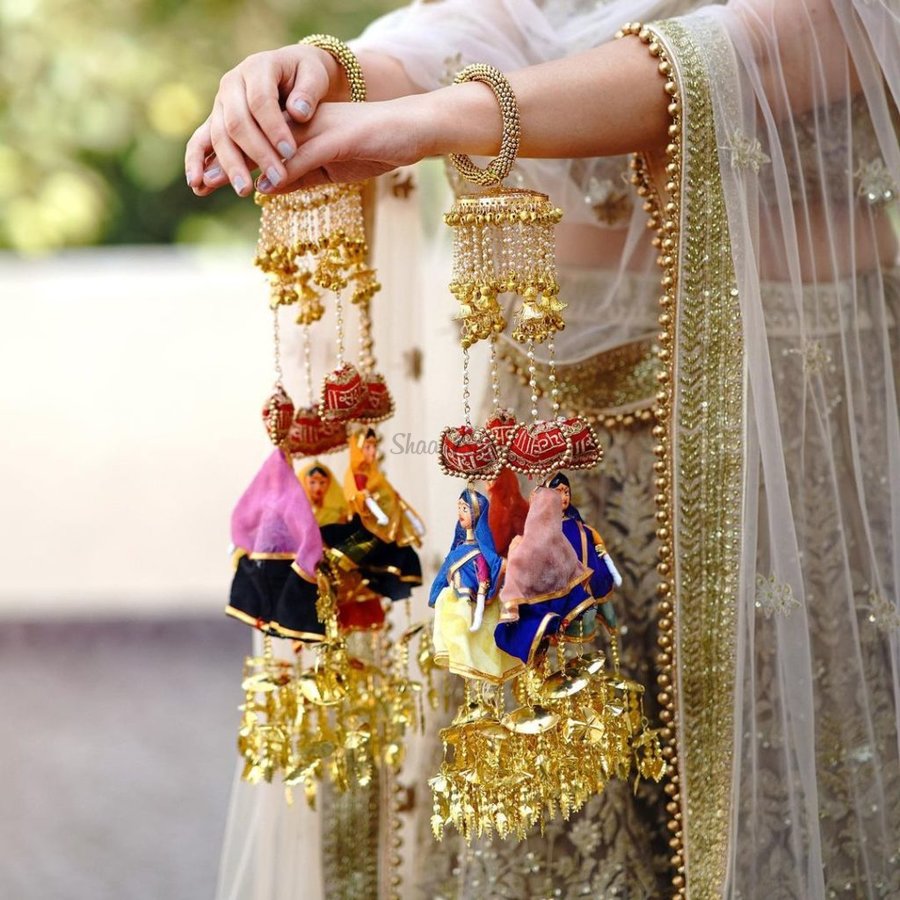 In her kaleere, the bride, Priya Bhatia, wore a piece that highlighted both her culture and the magnificent crafts of Punjab. Katrina used miniature puppets to construct this one-of-a-kind handmade kalire that is unique to her. This piece is further elevating by the modest but stunning golden design. It is definitely one to be admire.
11. Beautiful Bridal kalira With Barat Motif Adorning It Is Giving Us The Shaadi vibes, And We Are In Love With It!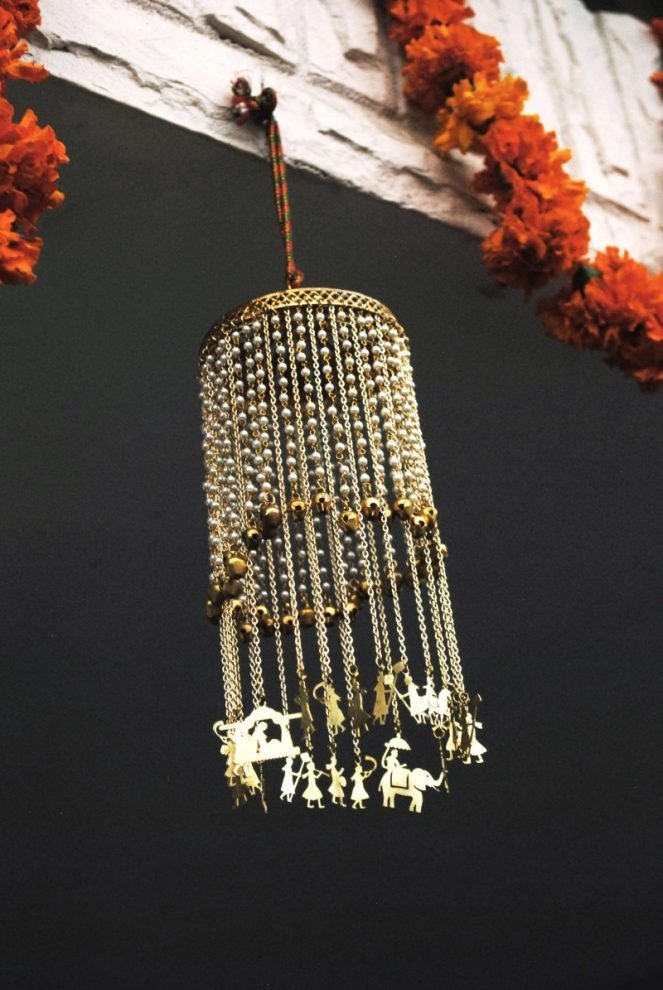 We are over heels in love with this stunning piece of jewelry for the bride on her wedding day. However, we can't help but note the bead details and adorable ghungroos that add to the overall appeal of this ornament.
12. These Simple Ones Have Little kalash(es) Hanging All Around Them, Which Gives Them A GORGEOUS Appearance!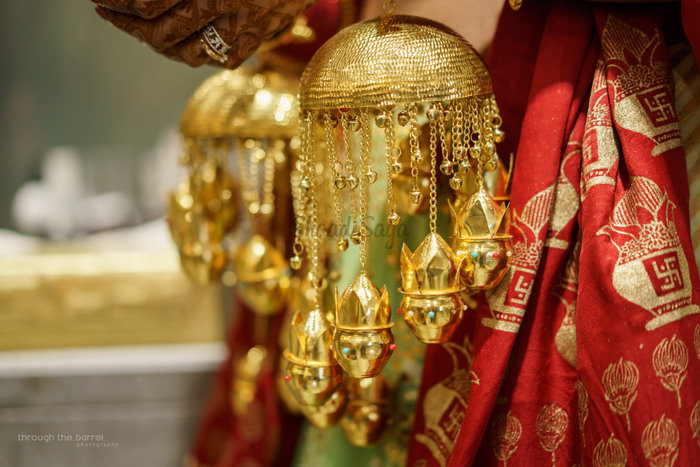 We fell in love with this simple but timeless kalire from the moment we laid eyes upon it. Kalire are quite fashionable and traditional at the same time when they are painted in gold. The inclusion of the umbrella accent elevates the already gorgeous piece of jewelry to greater heights.
13. In Honor Of A Bride Who Is Equally Enthusiastic About Roses As We Are!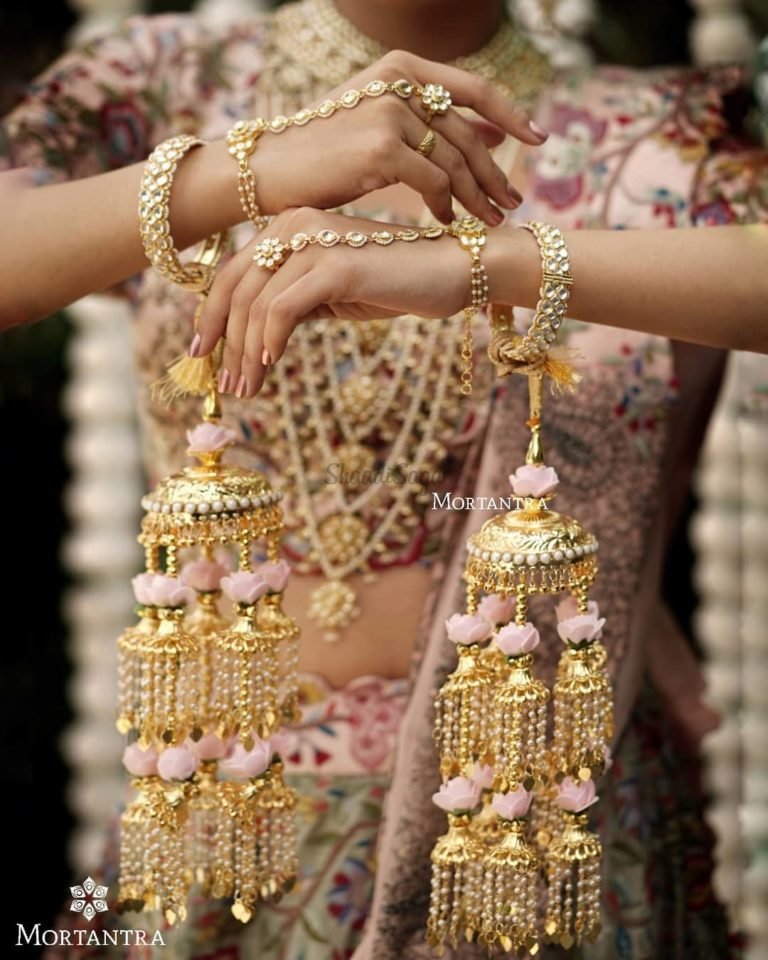 We can't seem to get enough of roses! We truly want to incorporate them into every aspect of wedding décor and dress. Our favorite part about this bride's wedding kaleera was how she opted to add these charming pink flowers to her already beautiful golden kaleera to make it even more stunning!
14. For Those Who Want To Be Noticed Among The Crowd, These Charming Palki-Shaped Bridal Kalires Are The Way To Go!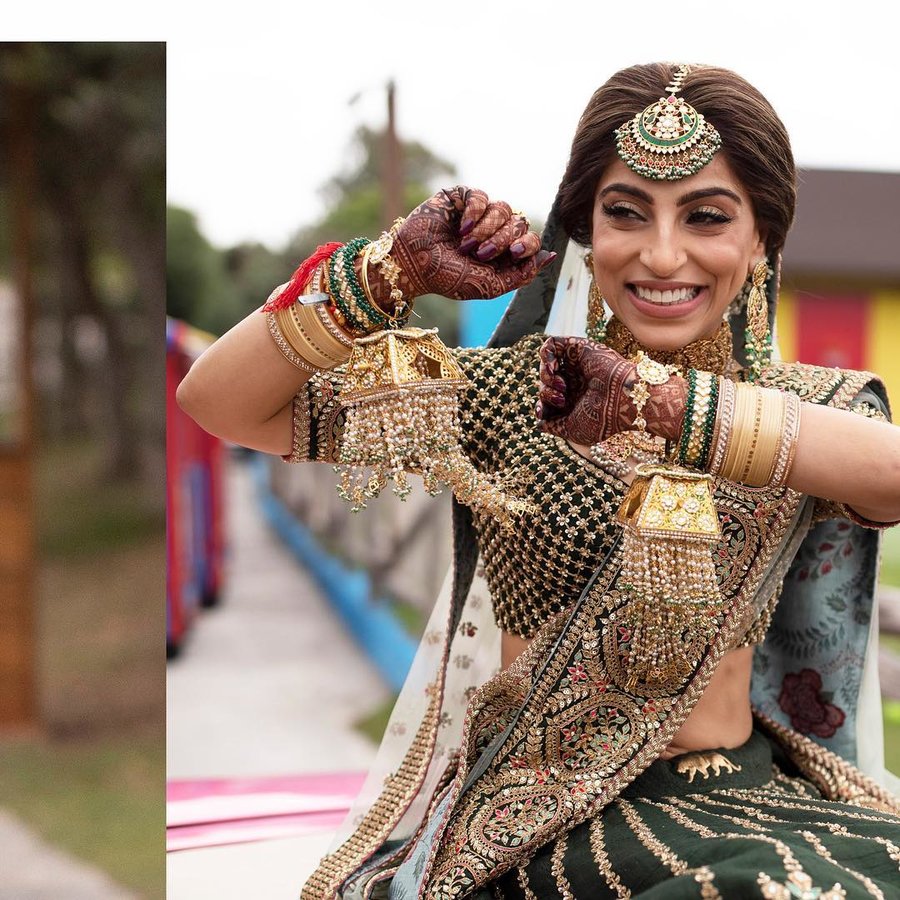 We were immediately taken by this bride's one-of-a-kind kalire the instant we laid eyes on her. Unlike any other kalire we've seen before, this one has a palki form. She kept the kalire hangings simple in order to counterbalance the hefty palki top. Did we mention that we can't seem to get enough of her enchanting smile?
15. The Latest Bridal Kalire Is Adorned With Pom-Poms And Is Really Stunning!
Pom-Poms are becoming a huge trend with today's young ladies! It is possible to find them nearly everywhere, including apparel and accessories. How could wedding jewelry be excluded from this discussion? Simply by looking at these exquisite bridal kalire, you'll be tempted to get one for yourself!
16. Our Hearts Are Racing As We Look At These Intricate Bridal Kalire And Want To Get Them Right Now!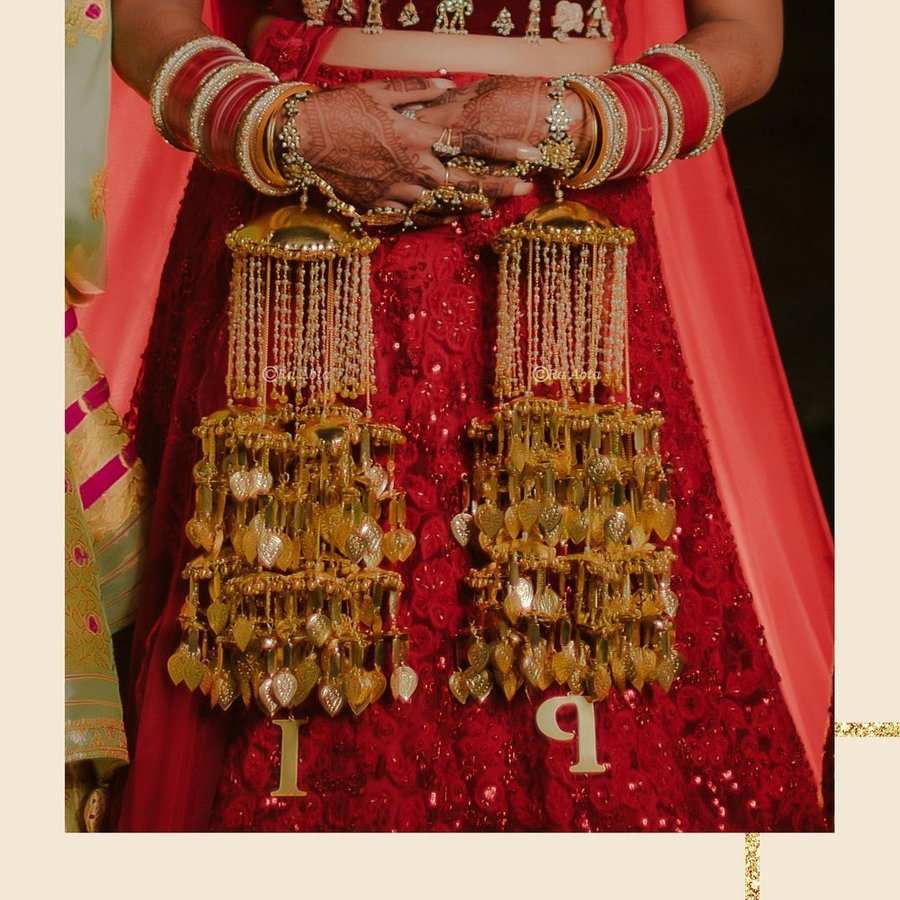 We can't take our gaze away from the stunning kalire that she has on her wrist! Do you think we're to blame? They are just stunning. Every tiny element of them is so meticulously created that we are completely smitten!
17. We Are Head Over Heels In Love With These Golden Traditional Bridal kalires With A Modern Twist.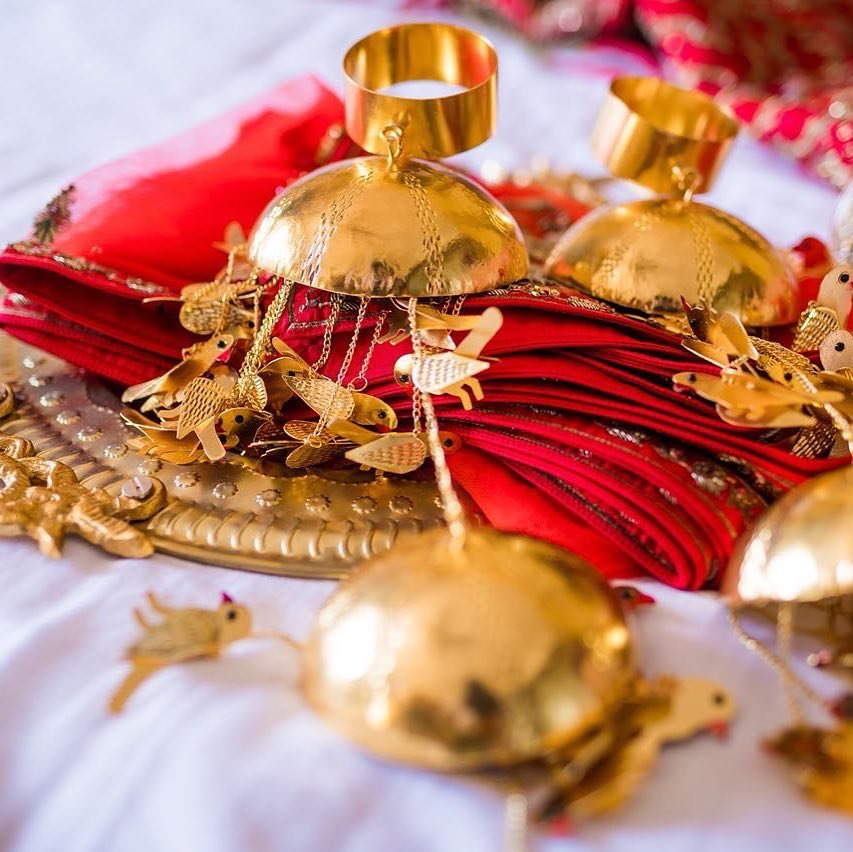 Mrinalini Chandra has created a simple but elegant umbrella-shaped wedding kalire that is both functional and aesthetic. In order to keep things simple, she added little bird-shaped embellishments to the bottom of the kalira, which resulted in an absolutely stunning aesthetic for this particular piece.
18. Using Pearls And Jhumkis, This Traditional Bridal Kalire Design Is Really Stunning!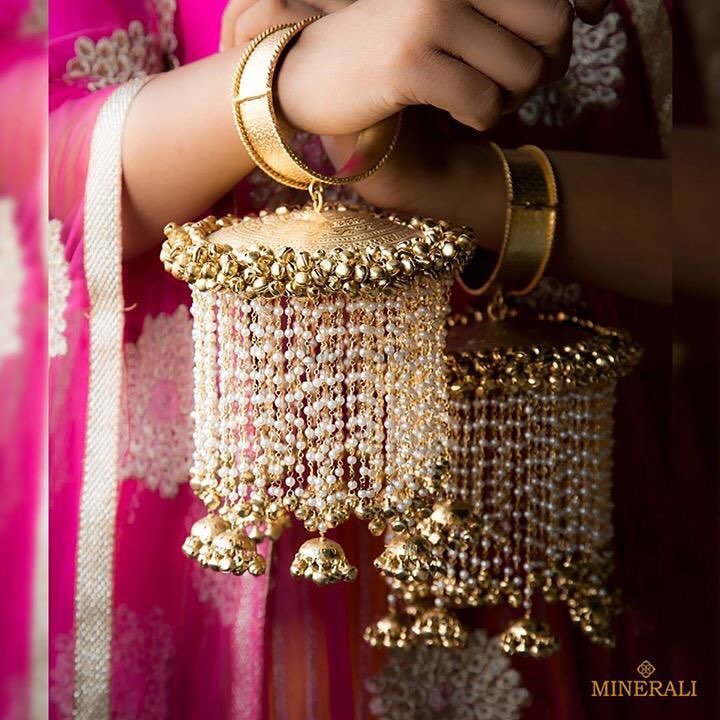 This traditional wedding kalire is just a combination of two of our favorite décor pieces, namely, pearls and Jhumkis, in a single piece. While they provide the appearance of a waterfall, they touch us right in the heart and make us want to remain there for the longest time period possible.
19. The Personalised Bridal Kalire Design Is Very Stunning!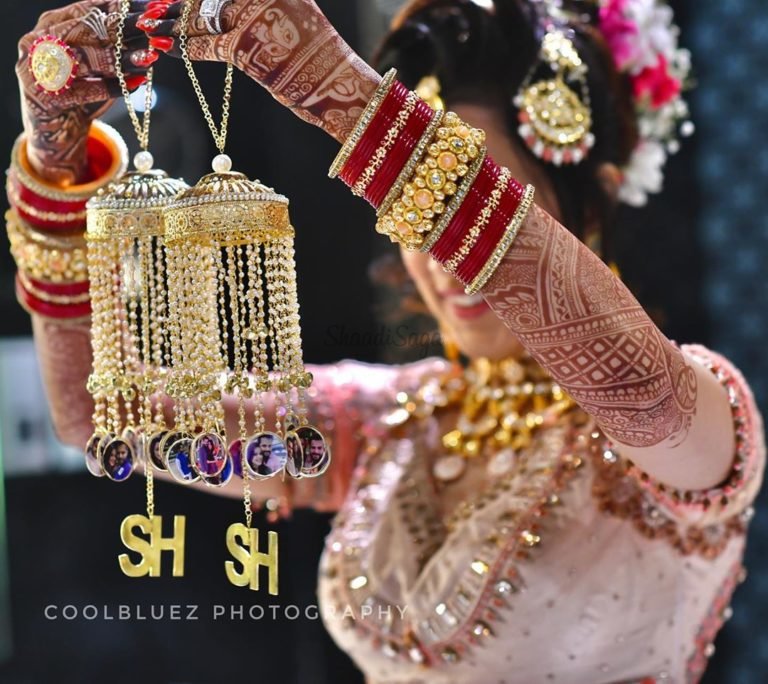 Incorporating your couple photographs as charms into your wedding kalire designs is a unique and creative approach to give a customized touch to your bridal kalire designs. This bride not only integrated her and her husband's initials, but she also placed photographs of them at each string end, making her item stand out even more!
20. What Do You Think Of The Beautiful Jhumkas-Infused Bridal Kalire Designs? What Can I Say, They Are 'Out Of This World' Stunning?
One cannot help but notice how beautiful this woman seemed on the most important day of her life. Her modest kalire designs 2021, which was embellish with jhumkas, drew our attention, and we couldn't stop ourselves from drooling over them. Check them out for yourself and make a decision!
21. Unique Bridal Kalire Designs For Brides Who Enjoy Experimenting with Their Appearance!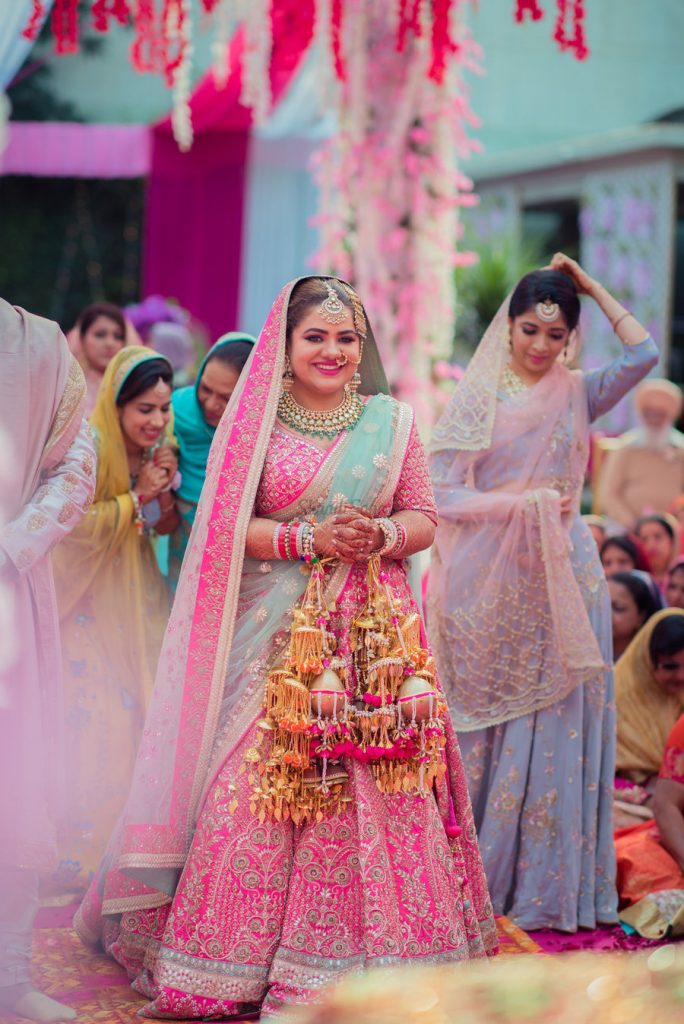 Kalires with modern embellishments such as pom-poms, shells, and tassels are available for brides who want something a bit different for their wedding. They are quite lovely and provide a burst of color to your wedding ensemble.
22. Those Of You Who Don't Want To Go Overboard With Your Wedding Decor Will Appreciate This Celebrity-Inspired Bridal kalire!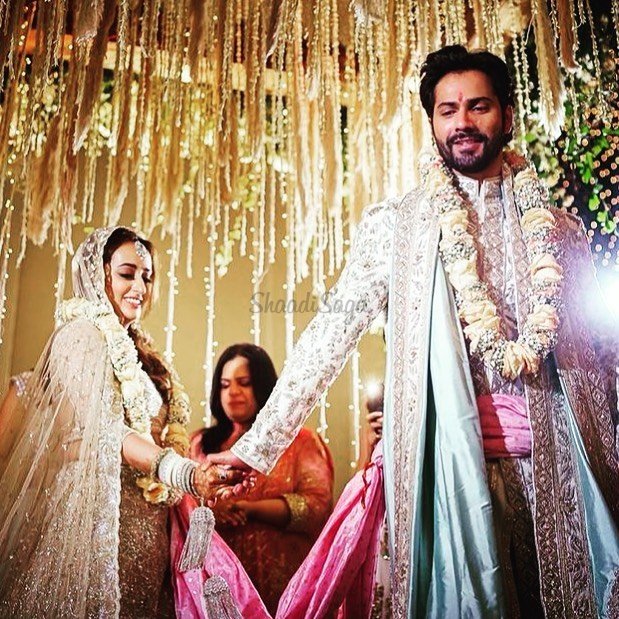 Despite the fact that we were heartbroken when Bollywood superstar Shah Rukh Khan tied the knot with childhood love and fashion designer Natasha Dalal, the wedding provide us with some big fashion aspirations to make up for it. Her custom-made porcelain kalire by Mrinalini Chandra is just stunning; we are head over heels in love with her piece.
23. Coconut Kalire Are Special To Us Because They Are A Combination Of Two Stunning Cultures!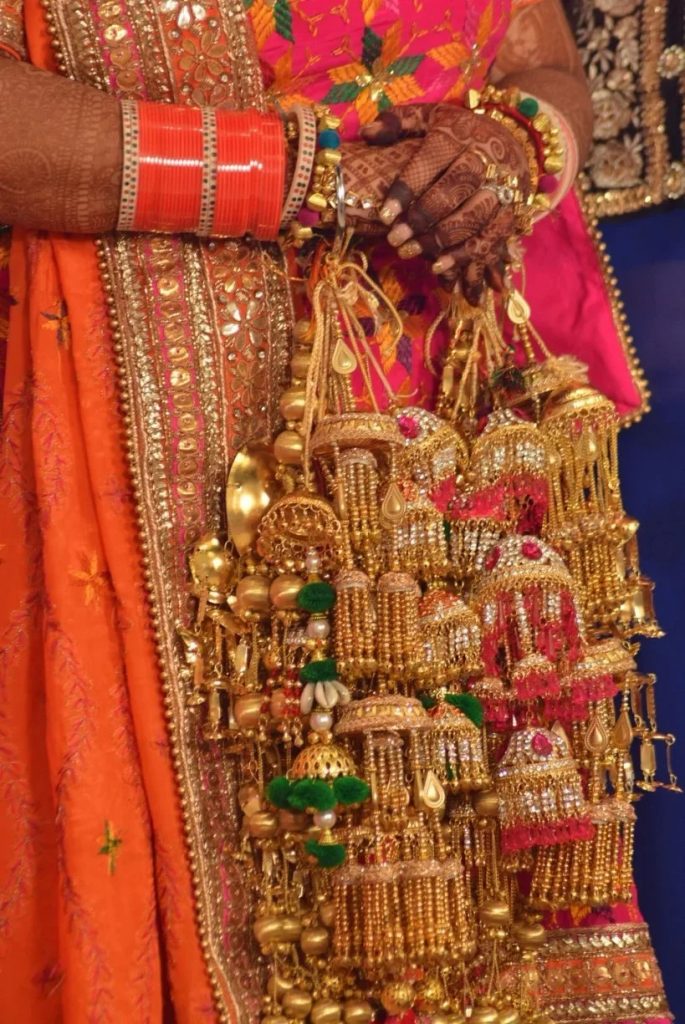 Weddings with coconut kalire, as they're known, combine two wonderful traditions: the Punjabi heavy bridal kalire and the South Indian custom of serving coconut and coconut milk throughout the reception. And don't they seem to be anything less than a dream?
24. With This Beautiful Golden kalire With Silk Tassels, We've Fallen In Love With It All Over Again!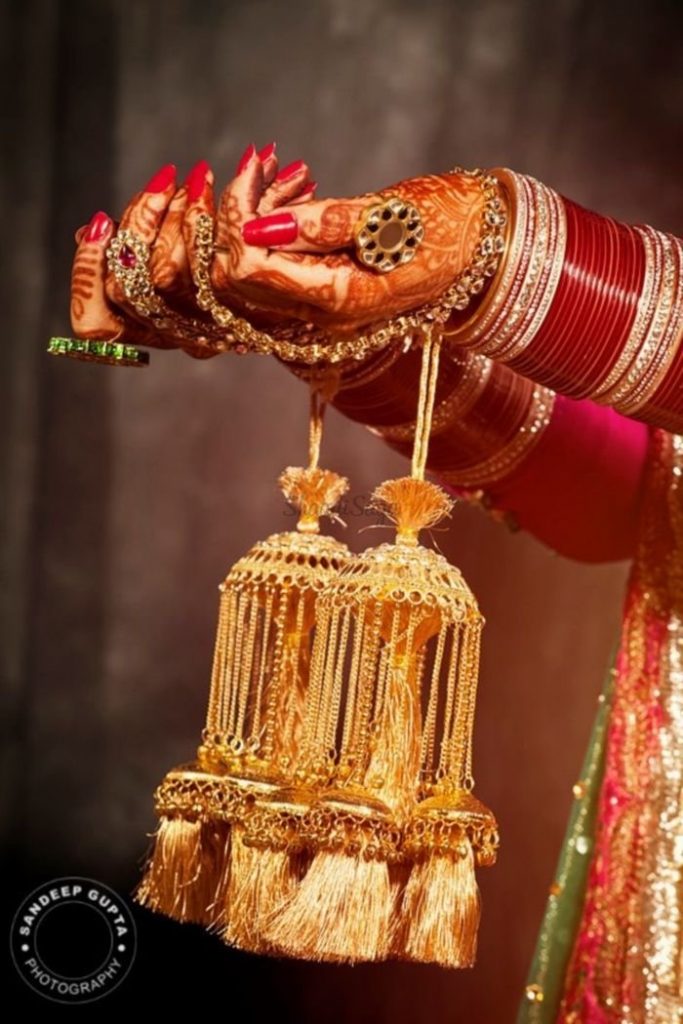 This all-gold wedding kalire with tassel design is a dream come true for any bride! This photo of Kalire is perhaps our favorite on the Internet. Since the designer has done an excellent job with it.
25. Our Hearts Are Being Rule By Another Dress With Pom-Poms Detailing!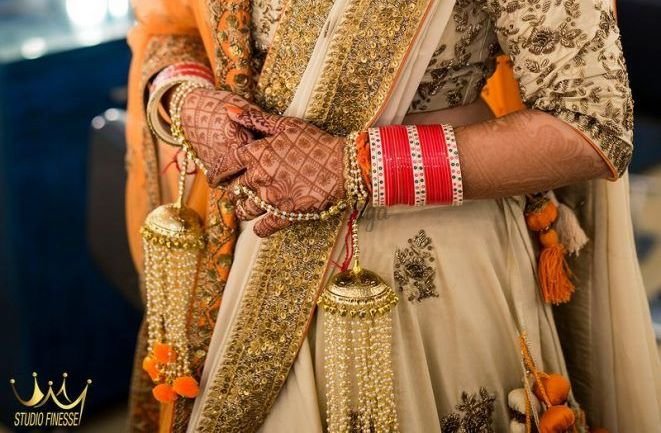 Using these lovely mustard yellow pom-poms, she opted to add a burst of color to her classic mini Himachali kalire design. Causing us to fall in love with her wedding style!
Last Thoughts!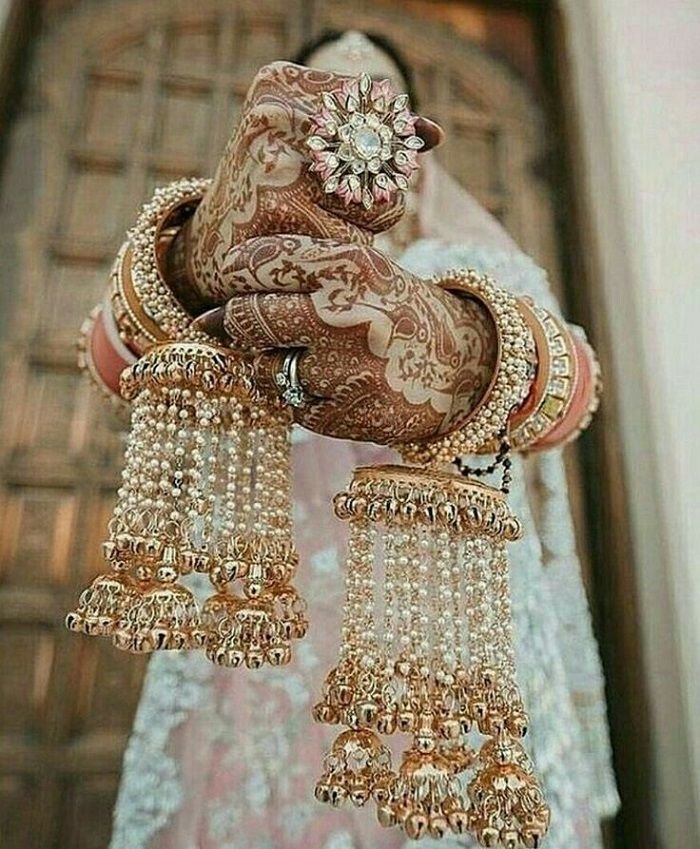 That's all there is to it! They are the most beautiful bridal kalire design ideas for a bride to use on her wedding day! Which one did you like the most and why? Please share your thoughts in the comment area on our Facebook page. And, don't forget to follow us on Twitter and Facebook. Just to be the first to know when we post a new blog for you. Adios, ladies, till we meet again!