18 Unique Bridal Jewellery to Make You Rule on Your Big Day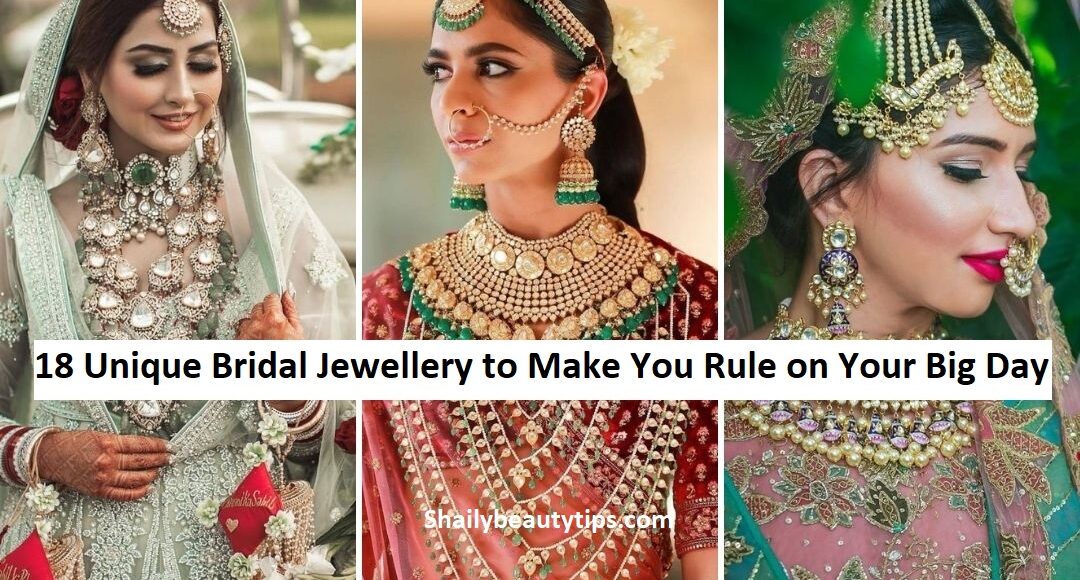 The wedding fashions shown by 2022 are among the most stunning we have seen so this far. Everything that has been seen has been just stunning, from the clothes to the cosmetics. Nevertheless, the section devoted to the bridal jewellery set caught our attention the most. During the wedding season of 2022, we came across many distinctive pieces of bridal jewellery, and we cannot wait to share them with you. So, here goes the list of unique bridal jewellery.
Unique Jewellery Trends for Brides to Wear in 2022 Weddings
1. Vintage Naths
Your everyday wedding ensemble may be elevating to something statelier with the simple addition of a vintage Nath. In addition to that, it exudes an alluring air of yesteryear. Therefore, a vintage Nath would be the ideal unique bridal jewellery for your wedding outfit if you are going for a more retro-chic appearance.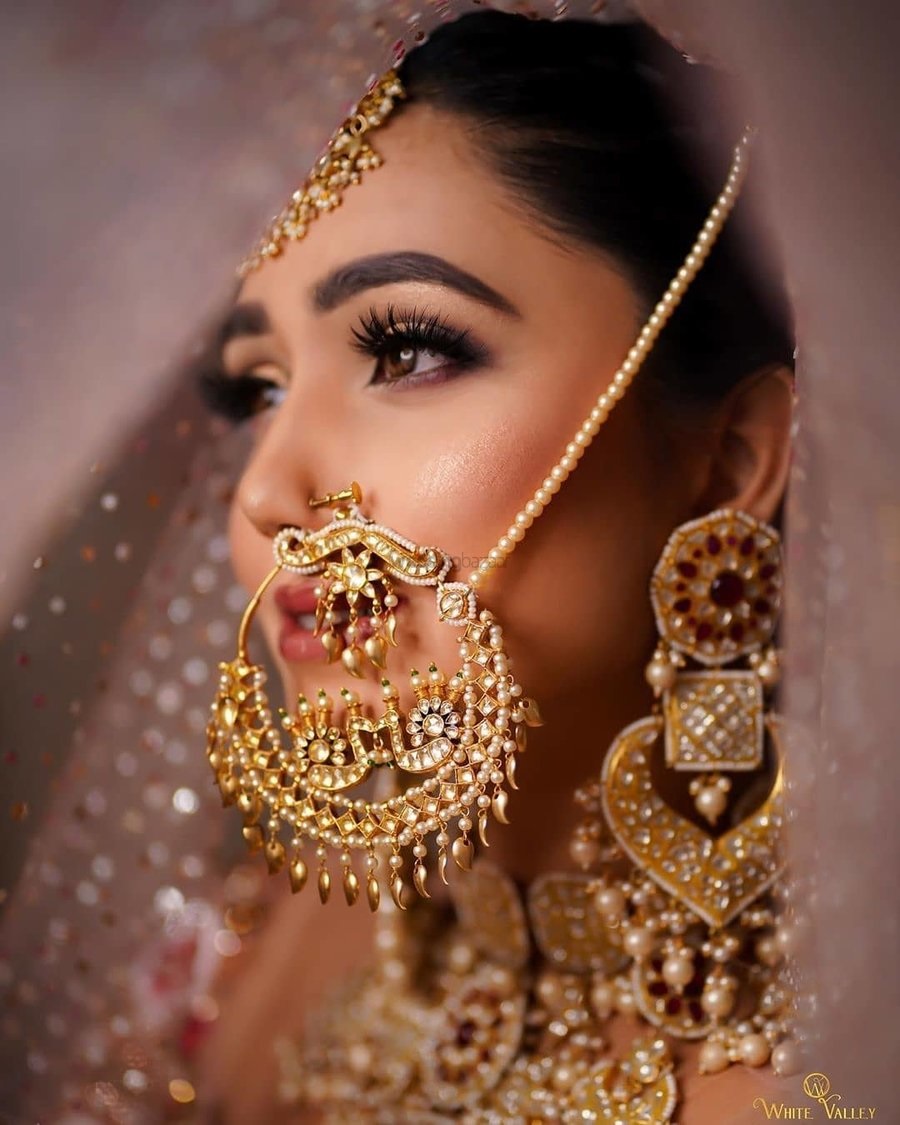 2. Hand Harnesses
On the day of the wedding, a bride will be adorning with jewellery from her head to her toes, but a particular focus will be place on her hands. At this point, the eye is drawn to the endearing hand harness. It is that one item that blends the elegance of bracelets, rings, and chains into one beautiful whole. Don't be afraid to take risks if you want your wedding appearance to have more beauty with unique bridal jewellery.
3. Sheeshpatti
Sheeshpatti is a piece of unique bridal jewellery that dates back centuries and has been in use by brides to enhance their natural beauty. It has been making a resurgence as of late, and we are all excited about it! It combines a mang tikka with a conventional headband into a single piece. On your special day, adorn yourself with a Sheeshpatti creation to look and feel like the queen that you are!
4. Statement Haars
Statement tresses, as the name implies, are the ideal unique bridal jewellery for a bride who wants to go for an extravagant appearance while yet maintaining her charm. The Statement Haars have an appearance that is as classic and refine as it gets.
5. Silver Bridal Jewellery 
The use of silver for wedding jewellery is an unorthodox option for brides in the strictest meaning of the word. It is daring and very lovely in every way. Not only does this unique bridal jewellery made of silver have a stunning appearance, but it is also quite lightweight. If you want to make a statement while still being able to be your most comfortable self, silver jewellery is the way to go.
6. Unique Bridal Chooda
We have seen enough photographs to substantiate the claim that the chooda is one of the most beautiful unique bridal jewellery that may be worn by a bride on her special day. Recently, we came across some unique bridal Chooda designs, and we think they are just as stunning, if not even prettier, than the traditional ones.
7. Mang Tikkas & Passas
When it comes to the unique bridal jewellery worn during Indian weddings, more is often less. On their wedding days, several brides have been seen wearing Mang Tikkas and passas together. And we can't take our eyes off of them! It is ridiculously extravagant, yet it is also the very definition of stunning beauty!
8. Diamond Naths
Your already stunning appearance is elevating to an unrivalled level of elegance with the addition of a diamond Nath. Put it on the day of your wedding, and you'll shine just as brightly as the diamonds on your Nath's jewelry.
9. Seashell Haathphools
There is only one thing that is more beautiful than flowery haathphools, and that is haathphools made of seashells. They manage to be both sophisticate and eccentric all at once, which nearly makes understanding them impossible. Therefore, when it comes to selecting unique bridal jewellery for the events that come before the wedding, seashell Haathphools should be your first option.
10. Floral Kaleere
Nothing compares to the appeal of a flowery kaleere that is both fresh and aromatic. They are essential to the haldi ritual you will be doing. As these gorgeous flowers rest so delicately on your smooth skin, not only will you seem ten times more attractive, but you will also experience a tenfold increase in your sense of beauty.
11. Kamarbandhs
A Kamarbandh is an essential accessory to have if you want to take the appearance of your wedding ensemble to the next level. This unique bridal jewellery draws attention to your waist like nothing else can and makes you seem really elegant. These days, you can simply buy a Kamarbandh that matches your wedding attire, which is something that we really like.
12. Floral Naths
Because they exude an air that is at once lovely, light, and airy, floral naths are the kind of thing that would go well with both your haldi and your mehendi. You are going to fall head over heels in love with these because of how simple they are to handle and how lightweight they are.
13. Floral Rings
If you want your Haldi Mehendi party to be lovely and full of fun, you just must forget to have flower rings available for guests to wear. Because they provide your hands such elegance and allure. You won't even need to accessories them with any bulky unique bridal jewellery if you wear them.
14. Unconventional Kaleere
Bringing this entertaining and informative blog to a close with some unorthodox kaleere because, well, why not? Before you choose your own Kaleere, you may get all the inspiration you need from these adorable and unusual examples of Kaleere.
15. Jewellery made with pearls
It is claim that pearl is the most valuable of all stones. Pearl is a great option for women who want their unique bridal jewellery to be understated or simple. And this includes many modern brides. You may give your wedding look a hint of royalty in the most understated manner possible by accessorizing with multi-layer Pearls, delicate Pearl strands, and striking pieces of Pearl jewellery.
Your pearl maang tikkas, pearl earrings, pearl bracelets, and more may come together to form the ideal pearl ensemble. This will make you seem like a princess. Pearl is one of the few materials that can easily be incorporate into any outfit while also adding a touch of sophistication.
16. Pachcikam Jewellery
This kind of traditional jewellery was first created in the Indian states of Gujarat and Kutch. It is a kind of artwork that is note for its singularity and the crude intricacy and complexity that it exhibits. In contrast to other pieces of jewellery. This one is construct using silver as its foundation. And has a variety of precious and semiprecious stones put into it.
The process of manufacturing this kind of jewellery may be rather laborious. But the finish product is high in regards to the exceptional handiwork that went into its creation. And the quality of its finish. Pachcikam is a wonderful style that is one of a kind and elegant, and it is a really one-of-a-kind of jewellery.
17. Temple Jewellery
This form of unique bridal jewellery was initially introducing into the realm of dancing jewellery. And later it found its way into the realm of wedding jewellery. Originally, it was employable in the idols of gods and goddesses in temples. It is still in use in many temples to decorate the idols that are housed there.
It is a style of hefty jewellery that is set in intricate designs. And also has religious pendants of Lakshmi, Ganesh, and other deities. South Indian ladies often accessories their wedding looks with unique types of jewellery from local temples. Not only does this have a magnificent appearance, but many believe that it also brings in fortune and success.
18. Gemstone Jewellery
One of the most exquisite pieces of jewellery is one that has been set. With some valuable stones such as rubies, emeralds, and sapphires in gold. The unique shapes and colours of these jewels set them to differ from traditional best wedding gold jewellery.
Gemstone jewellery is a great investment, and one that is often mix with Diamonds and strung in Gold. Because of their high value and refine elegance, they are the most sought-after pieces of wedding jewellery. Put on some traditional pieces of jewellery made from precious stones to give your ensemble a regal air.