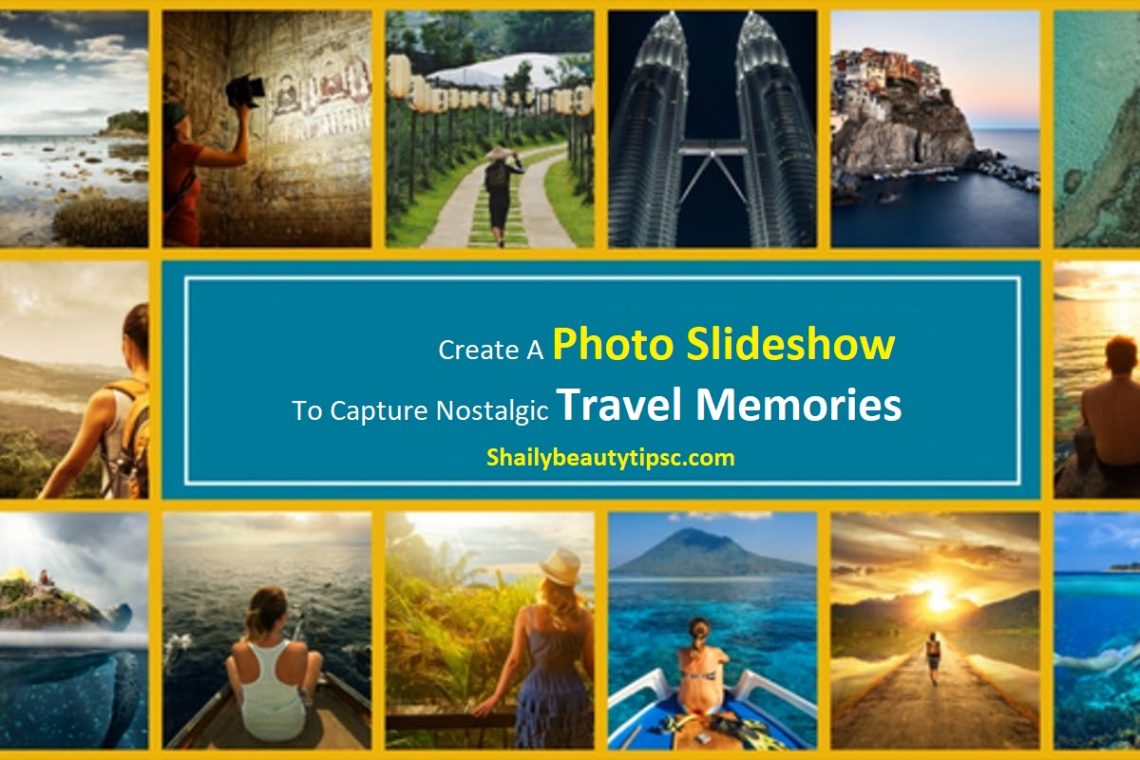 Create A Photo Slideshow To Capture Nostalgic Travel Memories
There's nothing quite like a good photo slideshow to capture memories from your travels. After all, who can resist looking at pictures of themselves smiling in far-off lands or gazing at breathtaking scenery? 
This guide is for you if you want to create a slideshow that captures your nostalgic memories! In this blog post, we'll teach you everything you need to create beautiful slideshows that bring back happy memories from your travels. So put on your travel hats, and let's get started! But first, let's understand what a slideshow is.
What is a Photo Slideshow?
The purpose of a photo slideshow is to display digital photos on a screen in a pre-determined order. With the help of chronologically ordering your photos, you can create a slideshow that takes you back in time to your past vacations.
This is an excellent way to reminisce about your trips and share them with family and friends. All you have to do is arrange your photos in sequential order and select a template or design for your slideshow. After you have finalized the design, you can begin putting together your slideshow!
How To Create A Perfect Memorable Photo Slideshow?
Photo slideshows are a great way to capture memories and share them with friends and family. Here are some tips on making a slideshow that will leave a long-lasting impression.
First, consider using props and costumes to add some extra interest. Then, choose a theme or concept for your slideshow – anything from love to travel to pets! This will help you organise all the photos and make them look more polished.
Next, use music that matches the mood of your photos, and make sure each slide is visually appealing.
Finally, customise your slideshow with transitions and graphics, making it as unique as you want it to be! With a little effort, you'll have a slideshow that's sure to impress.
How to Find the Best Vacation Slideshow Songs?
Nostalgic travel memories are the best kind, aren't they?
Whether you're a seasoned traveller or just starting, capturing those special moments with your loved ones is a cherished memory. But what do you do if you have no photographic memories of your travels? No problem!
You can use a slideshow maker to create a photo slideshow that will bring back all the wonderful memories of your trip. Just choose the right songs to capture the emotions of your trip, and you'll be good to go!
To create the perfect slideshow, you will need some catchy slideshow songs that will help to capture your nostalgic travel memories. Try looking for sentimental and inspiring music, and find songs that will remind you of the wonderful moments you have experienced while on your trip.
Things to Keep in Mind Creating a Photo Slideshow
Whether planning your first overseas trip or revisiting a favourite destination, capturing those memories in an aesthetically pleasing photo slideshow is the perfect way to relive the experience again and again. Here are a few simple ways to keep in mind when creating your slideshow:
Choose high-quality photos that will look good on the screen.
Try to capture different angles and perspectives of your destination.
Frame your photos to create a cohesive and beautiful presentation.
Add music or sound effects to enhance the overall mood and experience.
Perks of Using Online Slideshow Maker for Creating A Slideshow
Taking pictures on travel trips is all about capturing the moment, and we advise you to use online video-makers to create photo slideshows. With these easy-to-use tools, you can easily create a slideshow of your favourite memories from your trip with no hassle.
Besides being easy and convenient, online slideshow makers also offer a wide range of template options to choose from, so you can create a slideshow that perfectly captures your nostalgic travel memories. You can either choose to use a pre-made template or design your own and add photos and videos of your trip in just a few clicks.
Not only is this an easy way to design all your photos in one slideshow, but you can also share your slideshow with friends and family members online for their enjoyment.
With online slideshow makers, you can create a slideshow in just a few minutes and make sure that it is perfect and error-free before you.
How to Choose the Right Slideshow Maker?
Choosing the right slideshow maker can create a perfect slideshow that will take you back to your most cherished travel moments.
There is a range of slideshow makers available online, and choosing the one compatible with your device and preferences is essential. You can also choose from various themes and designs to make your slideshow look perfect. So, here are some tips to help you choose the right slideshow maker for your needs:
Select a slideshow maker that is compatible with your camera setup.
Choose a slideshow maker with a wide range of features and options to customise your slideshow.
Select a slideshow maker that is easy to use and won't take up much of your time.
Choose a slideshow maker that is free to use.
Select a slideshow maker that lets you preview your slides before committing to the final version.
You have to select a slideshow maker that has clear and simple instructions to get you started.
Select a slideshow maker that allows you to easily upload and organise photos from the camera roll or folders within your device.
Blog Conclusion
A slideshow is a great way to capture your nostalgic memories. It will be a keepsake for you to cherish, but it will also make sharing your trip with family and friends a breeze! Do you have creative ideas for photo slideshows? Share them below!