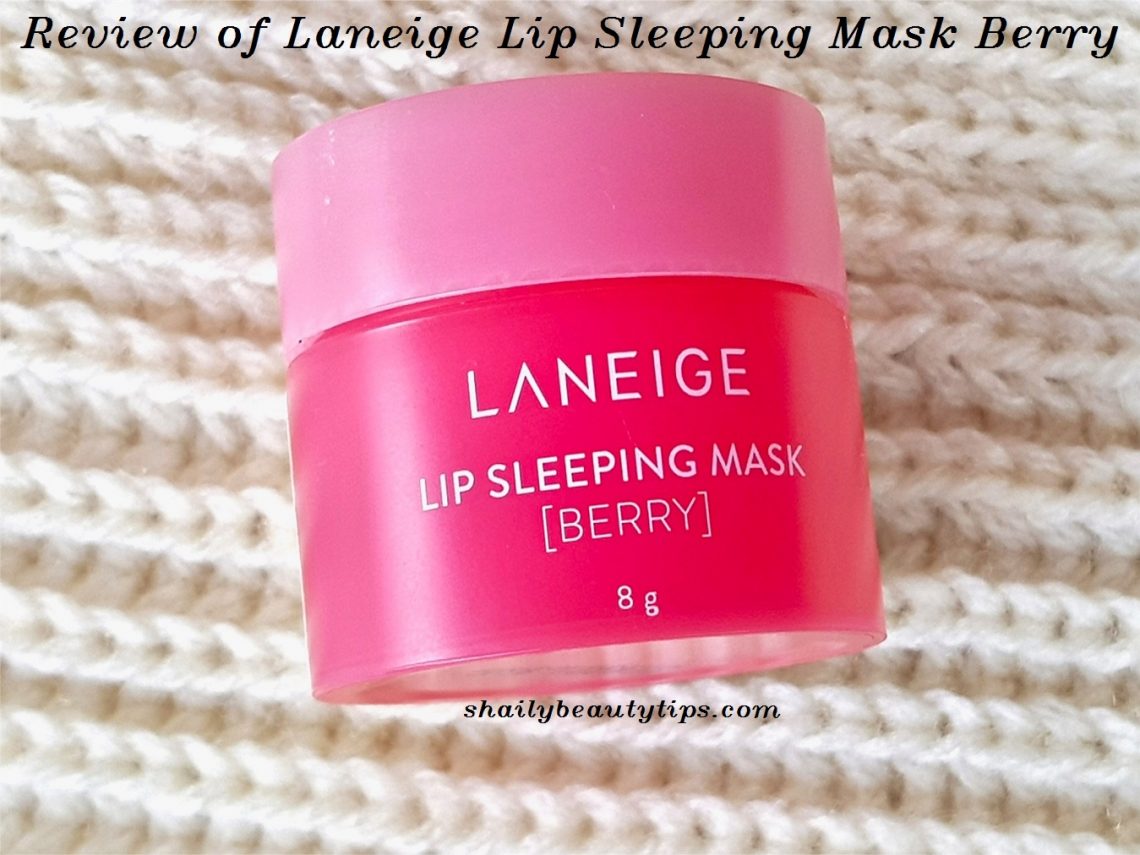 Laneige Lip Sleeping Mask Berry Review
Taking care of your skin is an essential thing. If you take care of your skin daily, then you can have naturally glowing skin. People use makeup regularly, which can hamper and affect your real skin texture as those products contain chemical substances. To protect your skin from the harmful chemical effects of the contents of the makeup product, you must prep your skin before makeup application. As for the skin, taking care of your lips is also essential, as it is a go-to go thing for girls to apply lip balms and lipsticks. Lip balms and lipsticks contain harmful chemicals as well. Laneige lip sleeping mask is one of good for lips.
Why Laneige Lip Sleeping Mask?
Laneige is a brand that has been providing lip care products for several years. Laneige launched many products. Their products are always famous for their attractive packaging and cute tag names. Laneige is a luxury South Korean beauty brand, which was made in the year 1994. We all know how the products of South Korea are. Their products are natural and value for money. The brand Laneige, i.e. the product Laneige lip sleeping mask in India, was bought by Nykaa retailer in India. I tried the product Laneige lip sleeping mask berry. And now this lip sleeping mask is my favourite lip care product. So I will share my experience and give Laneige lip sleeping mask review to you.
Laneige lip sleeping mask is available in different scent formulas. I picked up the flavour berry as I like that. You can choose any other as per your choice. Laneige lip sleeping mask has a soft balm texture. The mask is for quick absorption. Laneige lip sleeping mask review in India is positive as it is a great lip care product out of all other lip care range products. This lip care mask from Laneige is enrich with antioxidants and vitamin C. It comes with a different sweet and fragrant blend of raspberry, cranberry, blueberry, and strawberry. Laneige lip sleeping mask benefits from its moisture wrap feature, which boasts minerals and hyaluronic acid to form the protective layer over the lips to lock the moisture and active ingredients.
Use of Laneige Lip Sleeping Mask-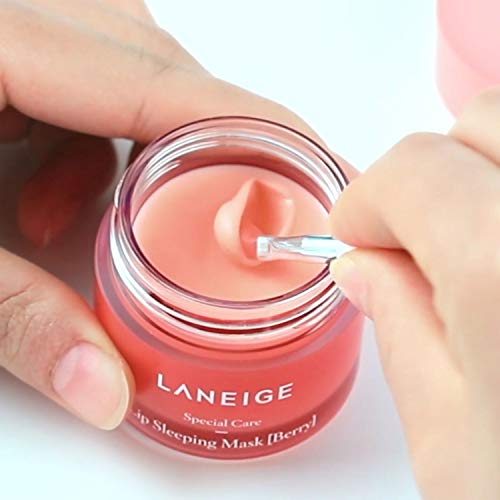 Taking care of your lips is as much as important taking care of your skin. So it would help if you used lip care masks on your lips more frequently or regularly. If you are looking for lip care masks, you can buy this Laneige lip sleeping mask mini. Now the question comes how to use a Laneige lip sleeping mask. So before using the lip sleeping mask on your lips, you must remove the lipsticks or lip balms you have applied to your lips. Then it would help if you cleaned your lips gently and properly. After this, apply the lip mask generously on your lips by using the applicator.
Then you can sleep with it and keep it overnight, as it is a sleeping lip care mask. And then, when you wake up in the morning, wipe off your lips and cleanse them properly. The layer of this soothing lip care mask at bedtime helps in reducing flakiness and makes your lips softer and smoother. You can feel your lips soft to touch and refreshed after you wake up. It is very easy to apply the Laneige lip sleeping mask, as you need to apply it like you apply lip balm or lipstick on your lips. You need to take a very small amount of the product for the application. Otherwise, the mask will feel heavy on your lips and can get inside of your mouth.
Price And The Ingredients Used For Preparing Laneige Lip Sleeping Mask-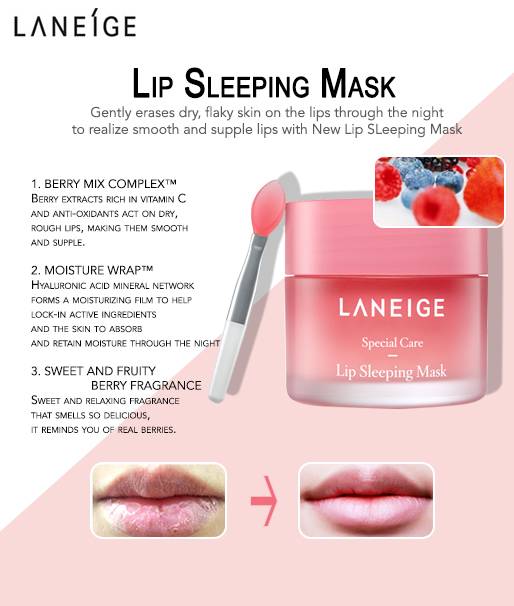 Laneige lip sleeping mask is made up of good ingredients for lip care. There are many ingredients contained in the Laneige sleeping mask. Those names of the ingredients are mentioned in the product as well. Most of the products are fruit and seed extracts. This lip sleeping mask is a natural product. You make a quick inspection of the ingredients used for making this product before buying it. Laneige sleeping mask contains different types of waxes, also synthetic and a bit of fragrance. If you have a sensitive lip, you must go through the contents of the product before buying it. Laneige lip sleeping mask price in India is according to the amount of weight it has. Laneige lip sleeping mask 8g costs RS 500, and Laneige lip sleeping mask 20g costs RS 1150 in India.
Packaging Of Laneige Lip Sleeping Mask-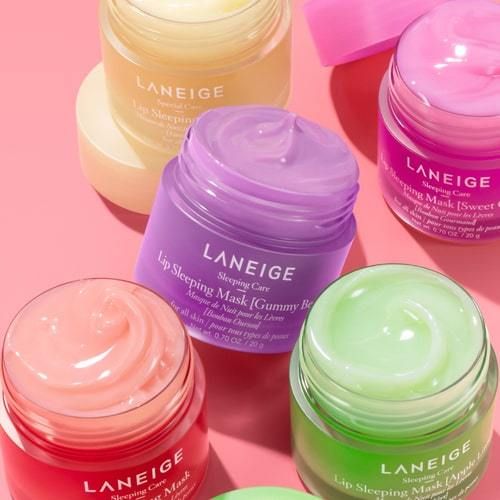 As I have said earlier, the Laneige brand is famous for its attractive packaging of the products. And I like the packaging of Laneige lip sleeping mask berry. Laneige products come with their signature aqua blue colour as they give the tag of "Be full Water Everyday with Laneige". But the sleeping mask comes in different colour packages, which will vary as per the flavour of the lip mask purchased by you. I purchased a Laneige sleeping mask in the flavour berry, which came in a pink plastic package.
I bought a 20gm of Laneige lip sleeping mask, and it came in a frosted glass jar with a spatula and a plastic headcover. The Laneige lip mask in the flavour berry has a colour of pink. On the backside of the jar, the names of the ingredients are mentioned. If you want to purchase the mini-pack of Laneige sleeping mask, which is of 8 gms, then let me tell you that it will come in a plastic tub of pink colour.
My Experience After Using Laneige Lip Sleeping Mask Berry-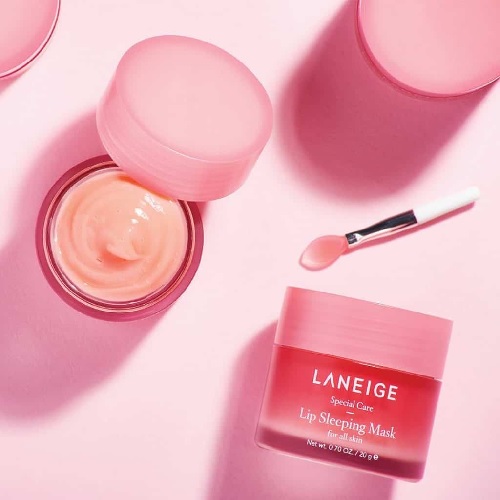 Girls and women are very much into applying makeup and lipsticks and lip balms. Like them, I also use lipsticks and lip balms more frequently. I prefer to apply lip balm as always while going out. Sometimes when I touch my lips, I feel them dry and patchy for a certain period. And I have a really bad habit of biting my lips more frequently. From my early childhood days, I used to apply Vaseline on my lips before sleeping at night. As my mother said, it's the best relief for your lips overnight, which will even help you get softer and pink lips. Sometimes I used to apply "Ghee" on my lips for overnight to make them softer.
On some days, I noticed my lips turned darker. I was looking for a better lip care product for my dry lips. I researched over and tried many lip care products. Those products somehow benefitted my lips, but I was not completely content with those results. Then I looked up and found Laneige lip sleeping mask and finally decided to try it out after reading the positive reviews about it. First, I thought the fragrance was too hard and heavy while applying it over my lips, but gradually after 20mins to 30mins, I found the strong effect of the fragrance had been reduced. In the morning, after you wake up, you need to cleanse your lips with water properly.
Scenario After Wash
There will be no product remaining on your lips as the product will be absorbed completely by your lips. After the wash of your lips, you can feel your lips be soft in touching and hydrated. But I must say that if you have dar lips, then a Laneige sleeping mask cannot help make the shade of your lips lighter. It is only good for making your lips softer, refresh and hydrated. This sleeping mask can be of great help to protect your lips from the harmful effect of chemicals used in lipsticks and lip balms.
Laneige lip sleeping mask is good for moisture and its quick absorption. The cost may seem a bit expensive, but I must say that it is worth the money. You get satisfaction after finishing a product, but Laneige lip sleeping masks last longer than expectations. I bought the Laneige lip sleeping mask of 30 gms worth RS 1150, and I have been using it for more than nine months, but more than half of the product is still left inside the glass jar. More of it sometimes I used to apply it in the day time as well according to my preference. So Here you can calculate and derive that it is just expensive or it is worth your money.
Conclusion-
Laneige sleeping mask is worth the money. It lasts longer than expectations, as I said above. It has good packaging, and you can carry it with you anywhere you want. The benefits of the Laneige lip sleeping mask is true to the claims made by it. The lip mask is ideal for all. The Laneige sleeping mask is extremely nourishing and hydrating. It is one of the best lip care products.