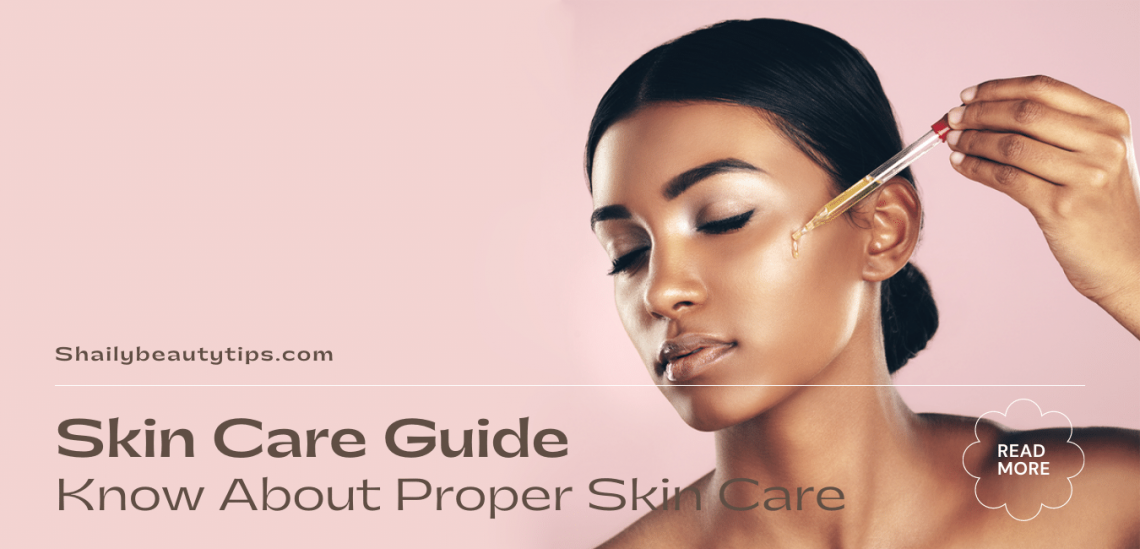 Skin Care Guide- Know About Proper Skin Care
Skin is the most serious concern of every individual. Skin is like our cover guard. However, skin is mostly affected by our physique. The Sunrays directly touch our skin. The UV rays also can provide harmful reactions to our skin. Pollution, dirt, germs, every element torture our skin extensively. For all these our skin becomes toxic. So to protect our skin from all these bad impacts, we need proper skin care. Now, if you are asked what proper skincare is. We will receive various answers. It's up to you how you'll take care of your skin and what will be your skin care products list.
In this article, we are going to discuss some basic and necessary skin care tips along with some essential products.
Basic Skin Care:-
There is a particular way of skincare that is called CTM. It's the basic skincare routine that needs three essential products- cleanser, toner, and moisturizer. Now to choose the products of CTM, you need to be conscious about which products are suitable for your skin. Each person has a diverse skin type and has multiple issues related to their skin. For those who have normal skin, any products can be suited decently. But those who have dry or oily skin, have to be more careful because every product is not for them. But for all skin types, it is a must to use the basic three products- Cleanser, Toner, and Moisturizer.
1. Cleanser –
Cleanser can help you to clean your face. As there are lots of germs, dirt, pollution, oils, etc. in our skin. So first you have to clean your face with a cleanser. Clean your face a minimum of twice a day. In the morning, after waking can clean your face. It will remove the extra oil and sweat from your face. At night, before going to bed, you can once clean your face. Or if you return home from outside, can clean your face instantly to remove the dirt.
Normal Skin–
If you have normal skin, then you can choose any good cleanser for your skin. It can be face wash or cleansing milk.
Oily & Sensitive Skin-
Excessive sebum is the cause of oiliness. If you have oily skin or sensitive or acne-prone skin. Then always go for a herbal or natural product. The mild cleanser which is made with neem, tulsi, aloe vera, cucumber, turmeric, etc., is suitable for these types of skin. The shea butter, oatmeal, Aloe Vera mixed cleanser suits nicely the sensitive skin. The foam-based cleanser will be your perfect choice. Apart from that, the cleanser includes benzoyl peroxide, salicylic acid, etc.
Dry Skin-
And if you have dry skin, then you have to choose some thick cleansers which are made with generally orange, lemon, or Aloe Vera, etc. As the skin becomes dehydrated, so also you can use shea butter or glycerine added products.
2. Toner –
Toner is especially a water-based liquid. After cleaning, you have to spray toner on your entire face. Then let the toner to be dried. Toner will give you a soothing effect and keep your face hydrated. As the cleanser will make your face dry.
Normal Skin–
For normal skin, simple rose water can be your best toner. Lactic acid can be a suitable ingredient.
Oily & Sensitive Skin–
For oily or sensitive skin, the cucumber or neem toner will be suitable. Salicylic acid is a perfect ingredient for oily skin. The use of Vitamin C can also soothe your skin from rashes, pimples on excessive sensitivity.
Dry Skin-
For dry skin, the orange or lemon toner rose water will be perfect. The dry skin demands hydration. So that you can apply glycerin to your skin. And also you can use essential oils for excessive dryness.
3. Moisturizer –
Now the third essential product is moisturizer. After cleaning and toning, your face will need a creamy texture. As toner can't make your skin smoother. So that moisturizer is required.
Normal Skin–
For normal skin, you can choose any moisturizer as per your choice. You can use the moisturizer with hyaluronic acid or ceramides.
Oily & Sensitive Skin-
For oily or sensitive skin, you have to avoid the thick cream type moisturizer. In that case, you can use lotion which is lighter than a moisturizer. The moisturizer which contains hyaluronic acid, ceramides, etc. can be your good companion.
Dry Skin–
For those who have dry skin, a heavy and creamy moisturizer is a must. Glycerin, Hyaluronic acid is better to be used to get a charm in your dry skin.
For the aged women or the ladies who have dull, aged, and wrinkled skin. For them, the moisturizer with jojoba oil, Vitamin A, E, C is very much essential to use.
Now, if you have to stay unprotected for a long duration outside. Besides these three mentioned products, you need sun protection too. Because the Sunray affects more on the uncovered area like the face, neck, and hands. Your skin will be tanned for the sunray. So that, sunscreen is an essential product in your skincare products list.
4. Sunscreen –
This is a gel-type or water-based or creamy textured product that protects our skin from sun rays. Sunscreen has variations of SPF, which indicates how much the sunscreen can protect our skin in the sun. Many sunscreens have PA++, which means they can defend the harmful UV rays too.
Normal Skin-
Now there are many various types of sunscreen. For normal skin, any type of sunscreen will be acceptable.
Oily & Sensitive Skin-
For oily or sensitive skin, always you should go for a gel or water-based sunscreen or can choose a sun powder. But you have excessive sensitive rash-prone skin, and applying sunscreen becomes a problem. Then you can ignore it and try to use a covered scarf, hat, etc.
Dry Skin–
For dry skin, a creamy textured sunscreen is perfect. But you have to keep in your mind that after using sunscreen, wait for at least 15 to 20 minutes and then go out.
Most of the women have a wrong perception that they need no sunscreen, as they have not to go out. But it is very much needed to apply sunscreen at the cooking time too.
So, these are some basic skin care products list. But these are not the end. Your skin may demand more and more extra nourishment. Naturally, in summer the above-mentioned basic skincare products are enough. But in winter, the winter skin care products list is partly different. As winter is the season of dryness. So your skin will demand additional care. After a few months, the winter will appear. So we all have to be ready for that furthermore.
Conclusion
If you have healthy, acne-free, and glossy skin, you will look gorgeous without any makeup. And to maintain healthy skin, you certainly have to follow all the skincare tips with the products of the skin care products list. You can use DIY skincare products too.