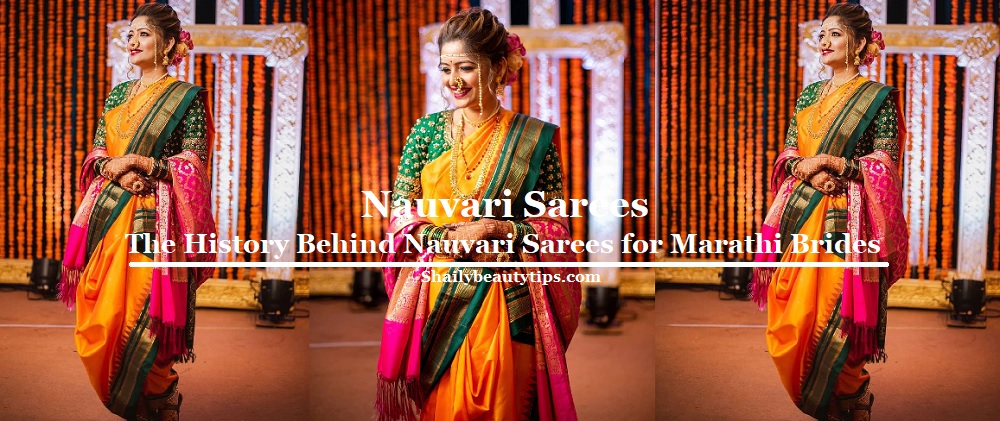 The History Behind Nauvari Sarees for Marathi Brides
The Nauvari Sarees is the pride of every Maharashtrian woman. Also known as Kashta or Lugade saree, the name 'nauvari' comes from the use of a nine-yard cloth for the saree. The name 'Kashta', on the other hand, is because of the dhoti style draping of this saree. In earlier days, the saree was worn as a dhoti or Kacham by both genders.

Nauvari sarees are stunning and emphasize the look of women. Undoubtedly, they are extremely comfortable and perfect for running a busy errand. If you are looking for outfit ideas for your upcoming wedding, this deep-dive into the history behind nauvari sarees is sure to serve you some inspiration!

Cultural Significance of the Nauvari Saree
Nauvari sarees are deeply rooted in Maharashtrian culture and heritage. It is said that since the Maratha kingdom time, women used to help the male members of their family during the war. Nauvari sarees were derived during that time because they are similar to male trousers and thus involve extra comfort and freedom of movement.

Although women were seen flaunting these sarees during wartime, they also adorned them at weddings! The official dress of a Maharashtrian bride is a beautiful nauvari. But other guests are also seen wearing the same. Other than this, women don a nauvari saree on special occasions as well, like Gudi Padwa and Ganesh Chaturthi.

Nauvari sarees are seen in major historical pictures. Women warriors like Rani Lakshmibai are seen wearing nauvaris. The pleat tucking into the waist and backward pallu is what has made these traditional Maharashtrian sarees remarkable. Even the 19th-century distinguished painter Raja Ravi portrayed women in nauvari sarees.
Nauvari Sarees: Spiritual Relevance
Nauvari sarees also have a very interesting spiritual relevance attached to them. If you have a closer look at the saree, the saree's front lower portion resembles a conch-like shape, similar to the Shrikrushna principle. The upper portion from the waist can be perceived as the Lakshmidevitattva principle.
The women who wear the saree also perceive Marak shakti, which is the destroyer of energy, and Chaitanya, the divine consciousness, along with the Bhav. With these characteristics, many women believe that the saree harnesses positive intellectual energy, destroys the ego, and also lessens negativity.
With such a spiritual significance, this traditional Maharashtrian saree is sure to uplift your wedding experience!
Draping Style of Nauvari Sarees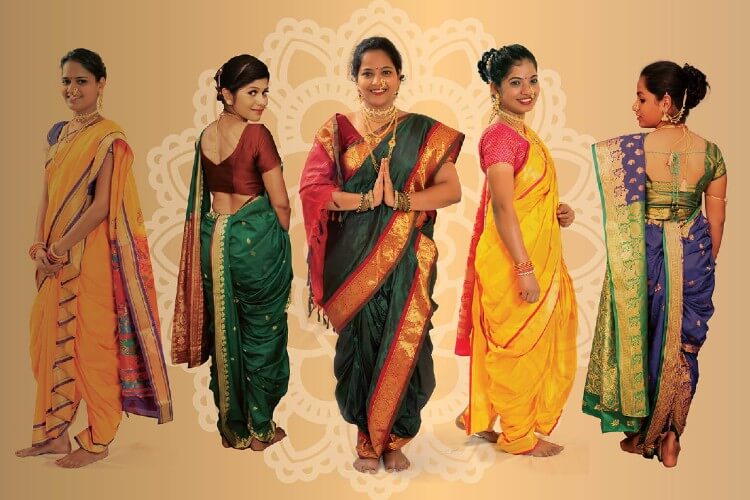 The traditional nauvari seen in Marathi weddings and festivals is quite common. But other than this, the Koli drape of the nauvari saree is also quite famous.
This drape, made popular by the Koli fishing community of Maharashtra, is worn by the women of Rajasthan, Himachal, Uttar Pradesh, Gujarat, Maharashtra, and Haryana. This form of the nauvari saree is typically worn as a two-piece garment.
Although extremely elegant, Nauvari sarees are a difficult task to drape. Luckily, Maharashtrian brides can now get pre-stitched nauvari sarees that can be draped within seconds.
Once you have found your partner through any Marathi Matrimony app, you are ready to shine in a pretty nauvari saree for your big day.
The Variety and Designs of Nauvaris Today
Nauvari sarees are as rich as the Marathi culture. Earlier, these sarees were available only in cotton fabric. But thanks to the modern designers today, the sarees are now available in both silk as well as satin fabric.
While nauvari sarees were previously limited to only bright colors, they can also be seen in light pastel shades like lavender, off-white, baby pink, and likewise. They are further accentuated with beautiful embellishments and designs.
A nauvari saree with a thick golden border embroidered with gold or silver threads is the perfect choice for a bride. A bride can wear a nauvari made of the finest paithani silk for her big day. Nauvari sarees can be worn with a three quartered or even a sleeveless blouse. You can even opt for modern-day ornamental and designer blouses to go with these lovely sarees.
There are many more modern ways of draping the traditional nauvari. These sarees are accessorized with a layered neckpiece and some attractive foot jewelry.
Global Touch
Do you know that Nauvari sarees have even catered to the global masses? Thanks to designers like Julie Bendkhale of Zuilee, Vaishali Shandangule, and Nachiket Barve, the traditional Marathi bridal attire has made its way to the fashion runways of the world.
In Closing
From Maharashtrian Brahmin women draping this elegant saree during auspicious gatherings to Kolhi fisherwomen wearing it to work, the nauvari unifies Marathi women across places, backgrounds, and communities.
So, ladies, what are you waiting for? Time to don the gorgeous nauvari saree for your wedding ceremonies! But before that, check out an eligible partner's profile on any Marathi Matrimony site and find your soulmate with very simple steps. We wish you all the best in your matchmaking journey ahead.